A severe convective storm affected large parts of New South Wales, including Sydney, the Central Coast and Wollongong from 4:00 to 7:00 pm on December 20, 2018. The storm generated large hail, damaging winds and flash flooding in many areas of the state.
According to the Australian Bureau of Meteorology (BOM), there were ground reports of hail of 8 cm diameter in Berowra Heights in Sydney's north and similar size hail in Casula and Liverpool in the city's southwest. 
The Nattai National Park west of Picton also experienced large hail. Initial damage reports indicated that the suburbs of Berowra Heights, Hornsby, Liverpool, Gosford and Lithgow were the most severely affected. Given that the event occurred during the Christmas holidays, many residents and businesses have not fully assessed the extent of damages; therefore, loss estimates are expected to increase in the next few weeks.
Meteorological Discussion
The BOM issued severe storm warnings in the afternoon of Thursday, December 20 across large parts of the state of New South Wales, including Sydney, the Hunter Valley, Newcastle, Wollongong and Dubbo. Multiple storm cells tracked across Sydney and the Central Coast from 4:00 to 7:00 pm local time.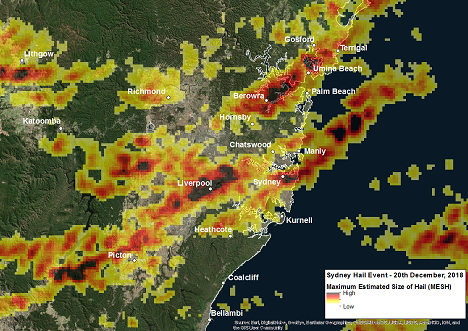 Hail Swath for the Sydney Hail Event Source: Dr Joshua Soderholm, Monash University, using radar data from the Australian Bureau of Meteorology The initial storm cells moved in a westerly direction across Sydney's southwest suburbs around 4:30 to 5:00 pm (shown immediately below). The southern storm cell moved across Liverpool and Bankstown around 5:00 pm, and then moved across the Northern Beaches at about 5:30 pm. The northern cell tracked toward Hornsby and then northwest toward Berowra Heights and Cowan, where it appeared to intensify, with larger hail. This cell then continued to track toward Gosford in the Central Coast.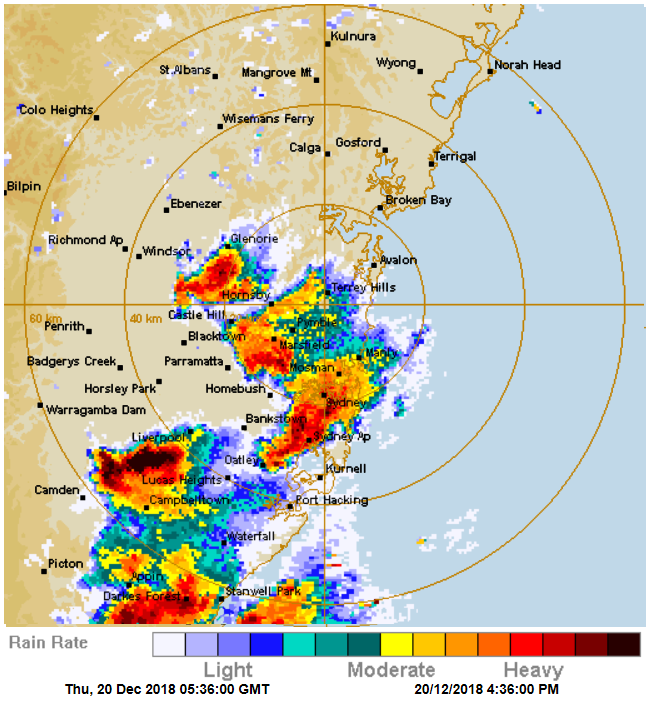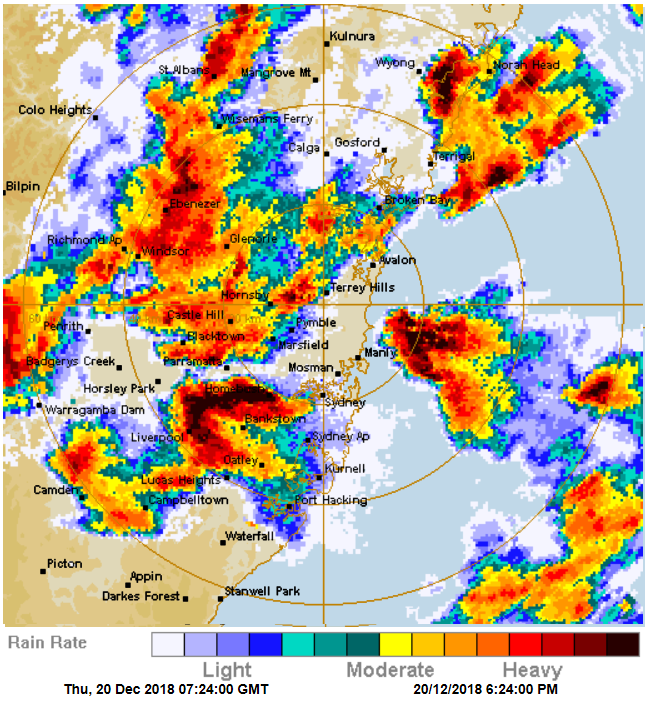 Estimated Rain Rate at 4:30 pm (upper image) and 6:30 pm (lower image), based on Sydney (Terry Hills) Radar Loop Source: BOM
Another series of storm cells developed around 5:30 pm over the southwest of Sydney and the Central Coast. The first cells with hail developed over Lucas Heights, and then moved over Sydney airport at about 6:00 pm. In the north, a second storm cell intensified with hail and moved across Gosford around 6:00 pm. Subsequently, another cell developed over Sydney's southwest, passing over Liverpool and Homebush at about 6:30 pm (lower image above). The first image shown at the top of the page shows an image of the preliminary Maximum Estimated Hail Size (MESH) mapping developed by Dr. Joshua Soderholm of Monash University using the radar data from the BOM.
The hail size estimates are based on a hail algorithm applied to radar scans from the Wollongong radar, with a minimum hail size threshold of 2 cm. MESH is estimated based on radar reflectivity in the thunderstorm clouds, and may therefore vary in size and in space to the actual hail recorded on the ground. The map shows the largest estimated hail in the atmosphere occurred around Berowra in Sydney's north and Liverpool in Sydney's southwest. In addition to hail, significant rainfall was recorded across the Sydney basin and Central Coast regions (first image below).
According to BOM, rainfall totals exceeded 25 mm in several areas of southern Sydney and the Central Coast. The rainfall produced flash flooding in several locations, including multiple points along the Great Western Highway, Macquarie Street in Windsor and Warringah Road at the Roseville Bridge.
There were also reports of damaging wind gusts of more than 140 km/hr at Narrabri and Wee Waa on the northwestern slopes, while Murrurundi and Scone reported wind gusts of 114 km/hr and 111 km/hr, respectively. The second figure below shows the wind gusts measured by Doppler Radar from Sydney (Terry Hills).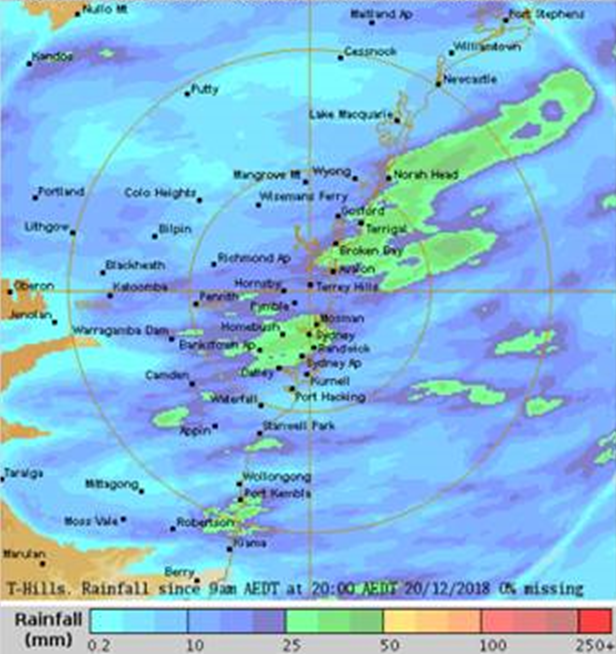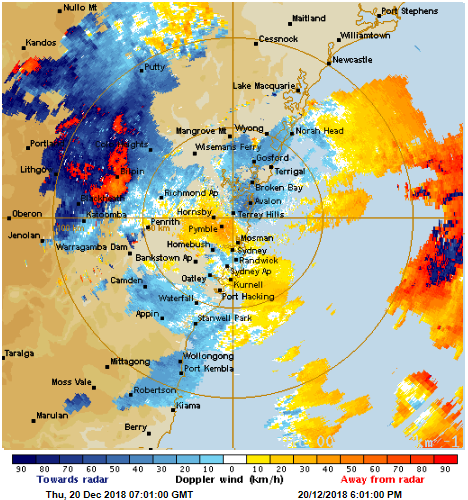 Rainfall Estimates (upper) and Doppler Wind Estimates (lower) Source: BOM Following the Sydney event, several thunderstorms affected Brisbane and the Gold Coast on Friday, December 21 and Saturday, December 22.
Impacts
The BOM has described the storm as the "worst hailstorm in 20 years." The largest hail loss occurred on April 14, 1999, which affected large areas of Sydney's eastern suburbs with maximum hail sizes of 9.0 cm and a normalized loss of around AUD 5.6 billion. Based on initial media reports, many homes and businesses have sustained damage to roofs, awnings and solar panels. Additionally, overflowing gutters caused interior damage to some properties. For motor, initial damage reports indicate that many windshields were smashed, and cars have been impacted by flash flooding. Meanwhile the events of December 21 and 22 produced loss of power to around 45,000 homes and some hail damage to homes and cars.
However, impacts appeared to be more limited than those from the Sydney event. The Insurance Council of Australia (ICA) has issued declared postcodes for claims collection. The declared list includes 541 postcodes covering large parts of New South Wales. According to the ICA, the NSW Office of Emergency Management (OEM) has established information points in Berowra Heights and Chipping North to assist with recovery. In terms of insured losses, the event remains in the early stages of development.
The ICA reported that insurers received around 45,000 claims by 8:00 am on December 22, with an estimated loss of approximately AUD 210 million. About three-quarters of these claims are from motor. This loss estimate is expected to rise over the next few weeks, in part because many are traveling and businesses are closed for the holiday period.
Sources: U.S. National Hurricane Center, U.S. National Weather Service, Reuters, Associated Press, New York Times, Insurance Journal, The Weather Company, RMS
Guy Carpenter publishes CAT-i reports for major natural catastrophes worldwide. These reports cover catastrophes including worldwide tropical cyclones, earthquakes, major UK and European floods and any other natural event that is likely to incur a significant loss to the (re)insurance industry.