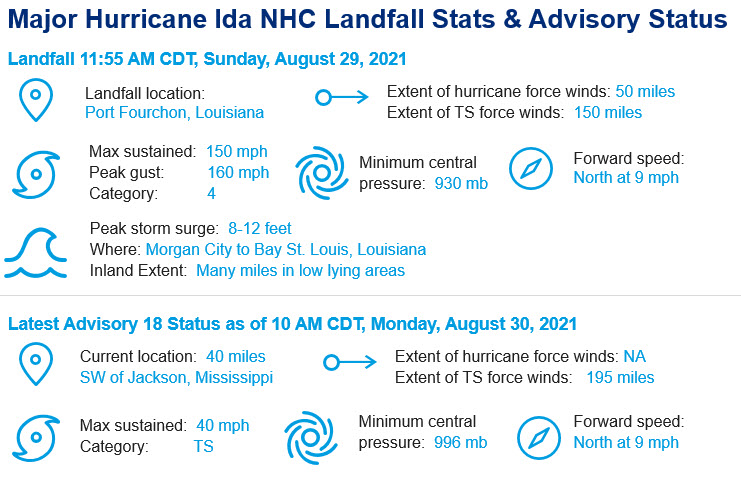 ​​​​​​ Key Ida Headlines
Ties for strongest Louisiana hurricane landfall: Major Hurricane Ida made landfall as a top end category-4 storm near Port Fourchon, LA on Sunday, August 29th; Ida's landfall occurred exactly 16 years after the landfall of Hurricane Katrina. Hurricane Ida joins Hurricane Laura in 2020 and the Last Island Hurricane as the strongest on record in Louisiana, and the 5th strongest to make landfall in the continental United States.
Catastrophic Impacts from Hurricane Ida: Early assessment shows catastrophic damage from Hurricane Ida near the landfall location of Port Fourchon, LA, as well as throughout portions of southeast Louisiana.  Sustained winds of 150 mph, with higher gusts, caused major structural damage at and near the landfall point. Storm surge in excess of 7 feet was observed from Morgan City to Bay St. Louis. Flash flood emergencies are developing over the entire state of Louisiana due to rainfall, while tornado warnings are occurring in the outer bands to the east of the storm. Catastrophic transmission failure has rendered all of Orleans Parish without power. Power failures are affecting 80% of the state of Louisiana.
Early Assessment Indicates Significant Damage
Initial wind damage: As the sun rises over southwest, Louisiana, early reports indicate extensive damage to infrastructure and buildings along with widespread siding and roofing damage to homes in surrounding communities. Peak wind gusts of 153 mph in Port Fourchon, and 136 mph in Grand Isle, LA were observed before equipment failure. Extensive treefall is likely from a combination of high winds and water.
Storm surge: Initial observations indicate a peak storm surge elevation just under 8 feet, concentrated along the Mississippi coastline near Waveland. Surge elevations of 5-7 feet were observed in Lake Borgne and Lake Pontchartrain. Higher surge elevations are distinctly possible in southwest Louisiana and will become apparent in post-event data collection. While the post-Katrina levee system seems to have protected the city of New Orleans, there are indications that other levees in the region were overtopped by surge waters, including the town of Jean Lafitte.
Power outages: Over 1,080,000 customers in Louisiana and 133,000 customers in Mississippi are without power as of Monday morning. Catastrophic transmission failure has caused Orleans Parish, including the city of New Orleans, to completely lose power. These statistics will likely increase as Ida moves through northern Mississippi and Alabama later today.
Rainfall: Since making landfall yesterday, Ida has produced heavy rain over portions the Central Gulf Coast, where 5-10 inches (locally 15+) has occurred immediately east of Ida's track. Rainfall rates of up to 3 inches per hour were observed in New Orleans. Several flash flood emergencies have unfolded in the region in the past 24 hours, and are expected to continue as Ida moves inland.
Tide Gauge Data at Bay Waveland Yacht Club, MS. Source: NOAA
Louisiana Power Outage map as of Monday morning. Source: poweroutage.com
Observed storm total rainfall for Hurricane Ida. Source: NOAA
What's Next for Ida?
Ida forecast to produce heavy rain as it moves to the Northeast: The current forecast for Ida is to transition from a tropical storm to a tropical depression later today. Ida is expected to travel to the Northeast through Tennessee, Kentucky and West Virginia before emerging back into the Atlantic over the Mid-Atlantic on Thursday. In the short term, heavy rainfall and strong winds are expected to cause significant tree damage and power outages in northern Mississippi. Longer term, heavy rainfall is expected to cause flooding impacts along the entire track of the storm.
Tropical Storm Ida moving north through Mississippi, Monday August 30, 2021. Source: Tropical Tidbits.
Ida is expected to track to the northeast as a depression before exiting the Mid-Atlantic coast on Thursday.  Source: NOAA.
​​​5 day quantitative precipitation forecast, indicating heavy rain along the path of Ida.  Source: NOAA/WPC
Additional links of interest:
U.S. National Hurricane Center
NWS New Orleans NWS New Orleans Official Twitter
Local Products Associated with Tropical Storm Ida