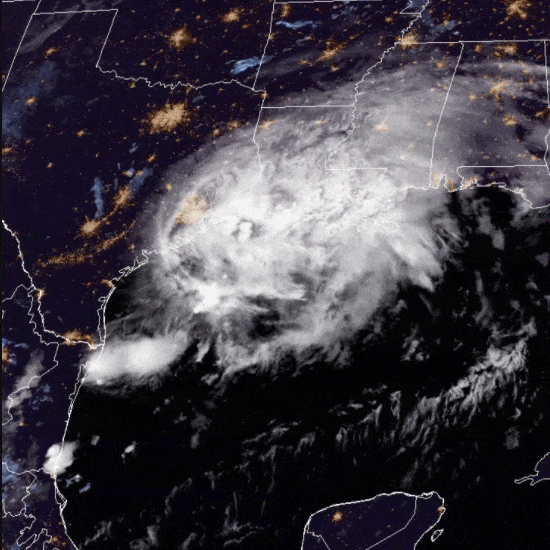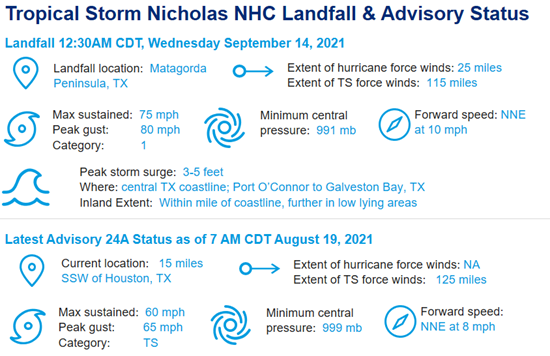 Key Headlines
Hurricane Nicholas: Nicholas was the fifth Atlantic storm to rapidly intensify before making landfall as a minimal category-1 strength hurricane with maximum sustained winds of 75 mph. Only 1995 had more events rapidly intensify this early in the season. The most important headline on Nicholas is life threatening and dangerous inland flooding. Observed rainfall totals of 6-15″ with forecasted totals in excess of 20″ are possible spanning upper coastal Texas through southwest Louisiana.
Nicholas joins North America landfalls from Hurricanes Larry and Olaf in the last week: With the traditional peak of hurricane season in the second week of September, the 2021 season continues to be impressive from both basin storm counts and landfalls as two additional landfalls have occurred across North America in the last week.

Hurricane Larry made landfall around 11:45PM AST Friday September 10 near South East Bight, Newfoundland. Maximum sustained winds at landfall were 80 mph, with a minimum central pressure of 960 mb. Larry is the first hurricane landfall in Newfoundland since Igor in 2010.
Hurricane Olaf made landfall near San Jose del Cabo, Baja California Sur, around 9 PM MDT on Thursday, September 9 as a category-2 storm, packing maximum sustained winds of 100 mph. Damage reports indicate downed trees and power outages in Los Cabos, but overall building codes in the region are generally engineered to endure wind speeds of these levels.

The Halfway Point Scorecard:  14 named Atlantic storms in the first half of the season ranks only behind the more active seasons of 2005, 2011, 2012 and 2020. The US has seen eight landfalling storms thus far in the 2021 season, three of which were hurricanes. Since May of 2020, an incredible 19 named storms have made US landfall, compared to the long term average of three named storm landfalls per year.
Will the active Atlantic basin season continue? Conditions continue to look favorable for normal to above normal activity in the second half of the season as both warmer than average Atlantic sea surface temperatures and a building La Nina point towards higher probabilities of elevated activity.
More Details
Nicholas is foremost an inland flood risk: Heavy to excessive rainfall in coastal Texas associated with landfalling tropical systems is increasingly part of the risk profile for any storm in this region of the country. The highest rainfall amount as of Wednesday morning September 14 is 13.96″ in Galveston, TX, while the highest maximum sustained wind of 78 mph occurred on Matagorda Island. As of 8AM CDT, 375,000 customers are reported to be out of power. Local meteorologists in Texas, Matt Lanza and Eric Berger, have created a flood impact scale for the region, with a rating of 3 out of 5 in terms of flood severity. Please see their infographic portraying inland flood risk to the upper coast of Texas and adjoining inland areas.
Forecast reasoning for a heightened second half of the Atlantic season:  The tropical and mid-latitude Atlantic, the Caribbean and waters off the East Coast of the US are all at the most anomalously warm levels of the season.  Additionally, forecasts call for a building La Nina event in the second half of the season which should result in below average wind shear, helping facilitate late season development.
Is there anything to watch in the basin right now behind Nicholas?
Two areas are being monitored. A disturbance northeast of the Bahamas has a 60% chance of being named in the next five days, with current projections tracking between Bermuda and the East Coast of the US. The second region of concern is a strong tropical wave west of Africa, which has a 90% chance of being named. Longer term, this area of interest needs to be monitored for potential approach to the northeast Caribbean seven to eight days from September 14.