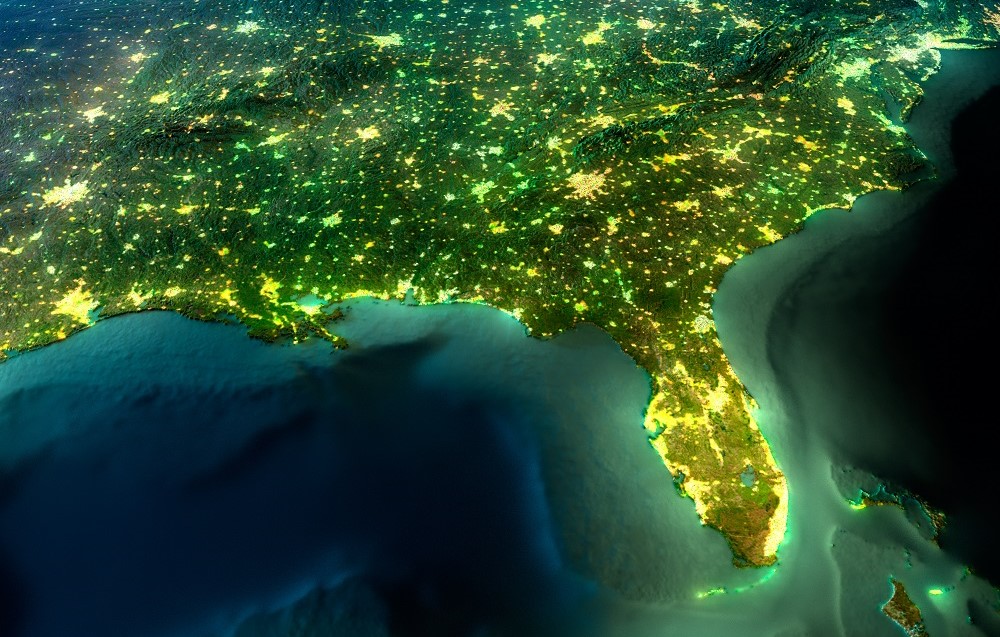 The Hurricane Ida post-event report comprises the following sections:
Updated Insured Loss Estimate Updates
Regional Impacts
Notable Impacts by Peril
Additional implications for the Insurance Industry
Key Dates in the Timeline of Hurricane Laura
[caption id="attachment_55744" align="aligncenter" width="710"]
Hurricane Ida Track and Position Reports. Source: NOAA/NHC.[/caption] This second Post Event Report on Hurricane Ida is focused on the widespread damage across the Mid-Atlantic and Northeast US from extensive flooding and a tornado outbreak. The first Post Event Report on Ida, issued on Thursday September 2, assessed the implications from Hurricane Ida's category-4 landfall.  
Updated Insured Loss Estimates
As of Thursday September 9, the following companies have issued insured loss estimates in association with Hurricane Ida, according to media reports (losses in Billions USD).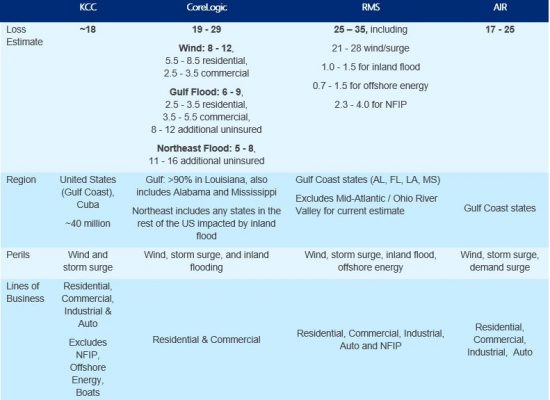 Sources: Karen Clark & Company (KCC), CoreLogic (EQE), Risk Management Solutions (RMS) and AIR Worldwide (AIR).
Regional Impacts

Sources: AP News, Reuters, PowerOutage.US.
United States
At least 50 deaths have been reported in six Eastern states, as Ida's remnants overwhelmed rivers and sewer systems and spawned several tornadoes.
Maryland
A tornado damaged more than 100 homes southwest of Annapolis. According to local officials, substantial damage was reported in the area around Londontown, Mayo, and Edgewater. One death was reported in the state due to flooding.
Delaware
In Wilmington, more than 200 people were rescued after the Brandywine River reached record levels, flooding roads, bridges, and homes.
Pennsylvania
Four deaths were reported in the state and more than 450 water rescues occurred in Montgomery County. More than 900 people were told to evacuate along the Schuylkill River in Philadelphia due to deteriorating conditions. Flooded apartment complexes and homes, and submerged vehicles were reported in the Center City neighborhood where the Schuylkill River was more than four feet above flood stage.
New Jersey
At least 27 deaths in the state have been blamed on Ida, with the majority from vehicles caught in flash floods. In Elizabeth, New Jersey, four deaths occurred in an apartment complex and nearly 600 people were forced from their homes due to rain and river flooding, according to the town's mayor. An EF-3 tornado in Mullica Hill damaged homes and vehicles, according to the National Weather Service.
New York
There were 17 confirmed deaths in New York; four in Westchester County and the remainder in New York City. Nearly 500 vehicles were abandoned on flooded highways and at least 17 trains were trapped by flood waters.
Connecticut
One death was reported in the state after a state police sergeant died when his vehicle became trapped in rising flood waters. At least 18 people were rescued from flooded homes in Plainville, and in Bridgeport, emergency workers responded to stranded vehicles, where at least 22 streets were flooded.
Rhode Island
Downpours from Ida's remnants contributed to large stretches of a road collapse in Portsmouth, damaging vehicles. In North Kingston, more than 15 people were evacuated from an apartment complex due to flooding.
Notable Impacts by Peril
Antecedent moisture conditions  
Prior to the arrival of significant precipitation, the Mid-Atlantic and Northeast regions had an exceptionally wet August leading to elevated antecedent moisture conditions. Remnants of Tropical Storm Fred and Hurricane Henri contributed to the saturated soils and resulted in amplified flood impacts. In addition to tropical events, non-tropical heavy rainfalls in the region prior to the arrival of Ida elevated river levels and water tables inhibiting the ability for the natural systems to accommodate Ida's precipitation.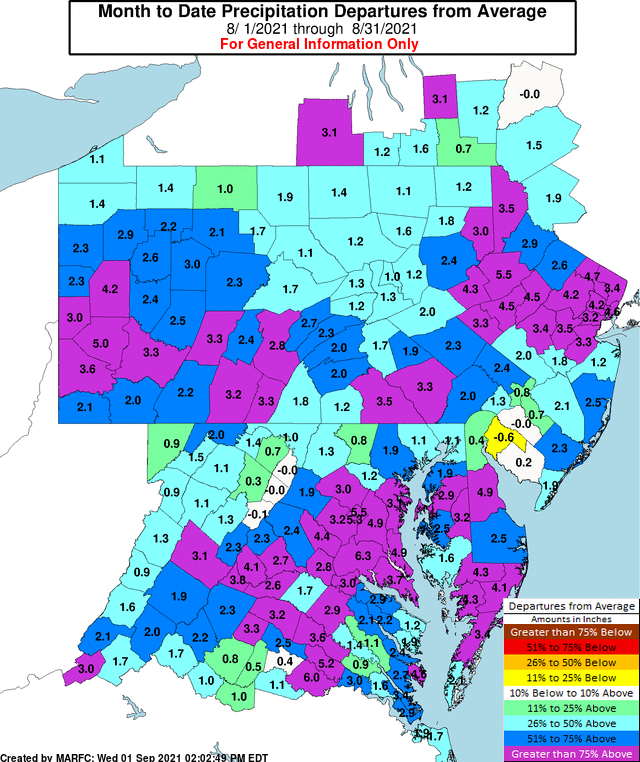 August Precipitation Departures from Normal. Source: Mid Atlantic River Forecast Center/National Weather Service.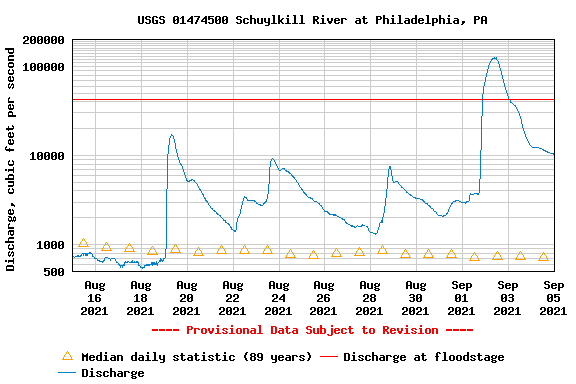 Schuylkill River Discharge Compared to Historical Normal. Source: USGS.
Excessive rainfall
After Ida made landfall on August 29, it weakened rapidly to tropical storm and then tropical depression status while moving from the Northern Gulf Coast into the Tennessee Valley. As the center of circulation moved into the Appalachians on September 1, it interacted with a stalled frontal boundary running from the Midwest to the Mid-Atlantic. This interaction, together with abundant tropical moisture, produced unusually aggressive mechanics for precipitation, especially to the north and east of the center of circulation. The system produced excessive and historic rainfall as a result, with rainfall rates exceeding three inches per hour at times. General 24-hour accumulations in excess of five inches from southeast Pennsylvania to New England were estimated by the NWS, with embedded amounts exceeding ten inches. As Ida's remnants transformed into a frontal system it was reclassified as a post-tropical cyclone at 11AM EDT September 1.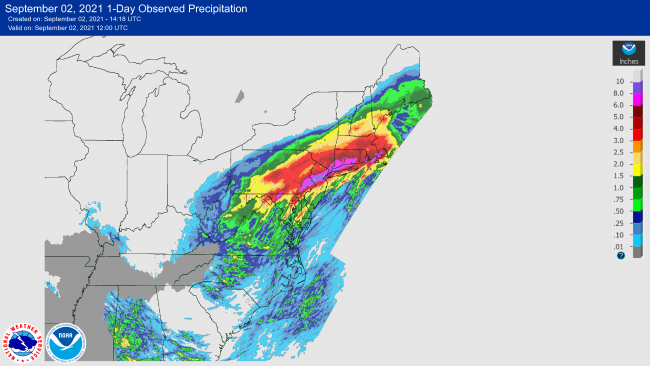 24-Hour Precipitation Estimates, Ending 8AM EDT September 2. Source: NOAA/NWS.
River and urban flooding
On the evening of Wednesday September 1, Central Park in New York City recorded 3 inches of rain in just a single hour, breaking the record previously set by TS Henri by over an inch. The massive rainfall and flash flooding caused numerous issues for commuters. Many subway lines were either completely shut down or running with extensive delays. Rising water levels on the Bronx River Parkway, Brooklyn Queens Expressway, and other major highways in the area created impassible conditions for drivers, forcing many to abandon their vehicles and swim to safety. The Schuylkill River in Philadelphia rose to its highest point in over 150 years and crested at 16.4 feet on the afternoon of Thursday September 2
nd
, causing the shutdown of the Vine Street Expressway.  Increased water levels caused flooding in areas along the river, notably the Manayunk, Logan Square, and Fitler Square neighborhoods.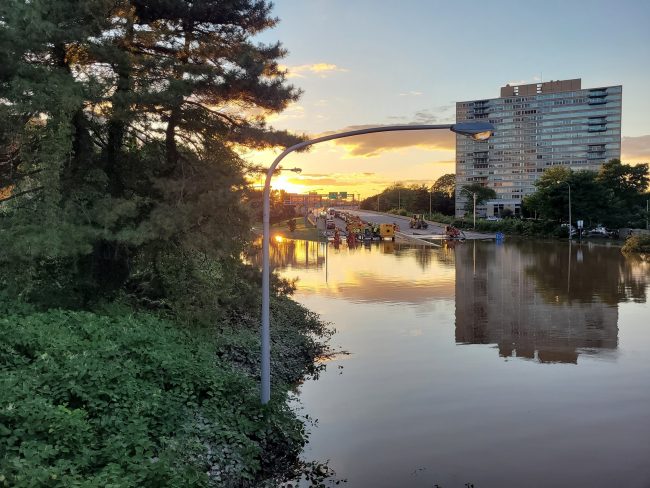 Flood Effects at I-676 and 24th Street, Facing West. September 2. Philadelphia. Source: Guy Carpenter.
Tornado Outbreak
As the system moved into the Mid-Atlantic on September 1, portions of southeast Pennsylvania, Maryland, Delaware and New Jersey were exposed to very warm and unstable air, aided by a break in clouds and additional heating from the sun. Abundant tropical moisture was available in the meantime. In the meantime, changing wind direction and speed with elevation produced robust low-level spin. These conditions allowed rotating severe thunderstorm cells to develop in an environment that was "uncontaminated" by prior activity. These cells produced at least nine confirmed tornadoes across the region, including a devastating EF-3 in Gloucester Co., New Jersey, an EF-2 in Anne-Arundel Co., Maryland and an EF-2 in Bucks Co., Pennsylvania. The Gloucester Co. EF-3 caused extensive damage to affected property including complete roof removal and collapse of exterior walls.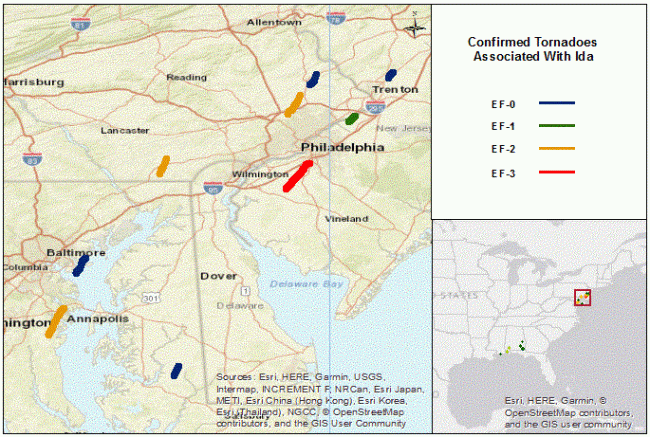 Confirmed Tornado Tracks Associated with Ida. Source: NOAA/NWS.
Implications for the Insurance Industry
The Protection Gap for Flood
Understanding the full picture of flood impacts from Ida will take weeks as more information about insurance take up in the impacted areas becomes evident. Comparing the track of Hurricane Ida with the NFIP take-up rates we estimate that a significant portion of the impacted risks will be uninsured. As areas away from coastal communities continue to have very low flood insurance take ups, the burden of recovery shifts away from private balance sheets to the public purse. While loss estimates continue to develop, the protection gap between insured and insurable risks is evident and significant.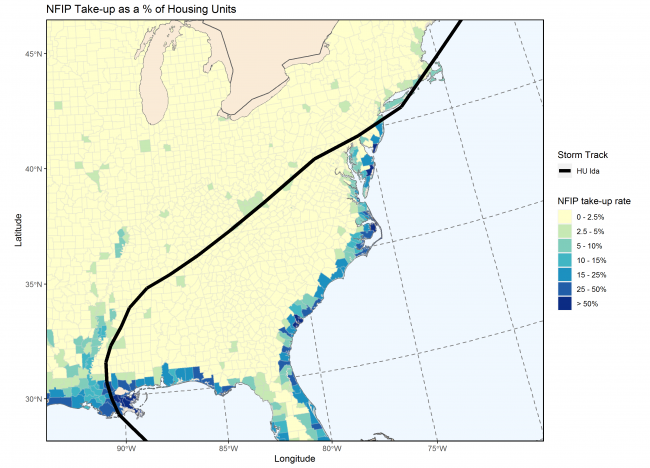 NFIP Take Up Rate as Proportion of Housing Units. Source: Guy Carpenter, FEMA.
Power Transmission and Grid Electrification Challenges in Louisiana
Rebuilding the infrastructure to power the electric grid across the central Gulf Coast region is ongoing.  On Sunday September 5, the primary utility for the region, Entergy, stated that the number of damaged and destroyed power poles from Ida exceeded that from Hurricanes Katrina, Ike, Delta and Zeta combined.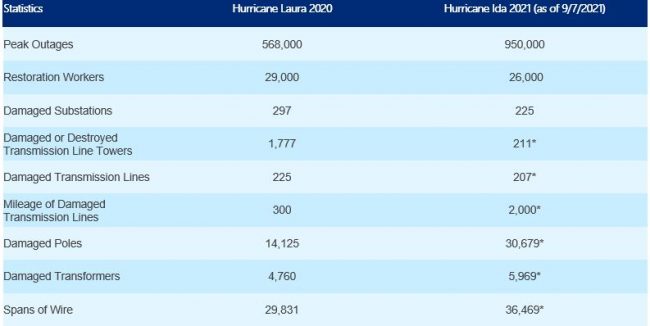 Power Disruptions in Hurricane Laura Compared to Ida. Source: Entergy Louisiana and Affiliated Entities.

Entergy Assessment of Power Pole Damage. Source: Entergy Louisiana and Affiliated Entities.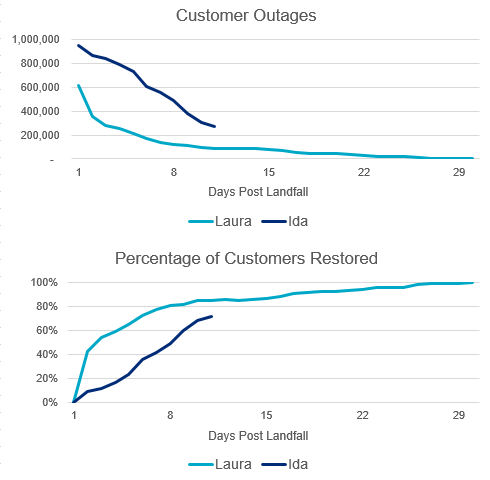 Entergy customer outages and percent of customers restored, comparing Hurricane Laura (2020) and Ida (2021). Source: Entergy Storm Center.
Key Dates in the Timeline of Hurricane Ida
[caption id="attachment_55750" align="aligncenter" width="650"]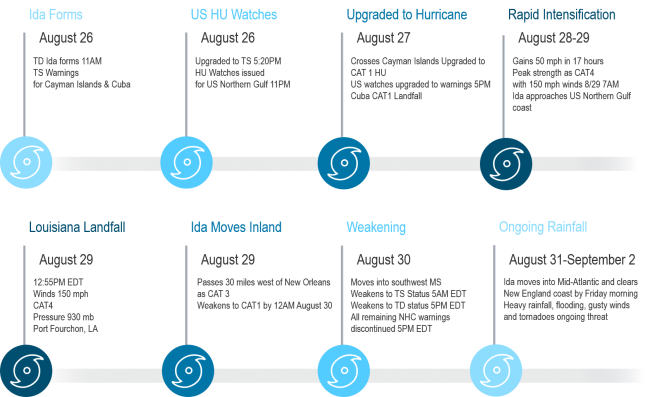 Source: NOAA/NHC.[/caption]   Sources: Associated Press, Reuters, PowerOutage.US, National Hurricane Center, National Weather Service, Karen Clark & Company, CoreLogic, Risk Management Solutions, AIR Worldwide, Mid Atlantic River Forecast Center (NWS), US Geological Survey, Entergy Louisiana and Affiliated Entities.