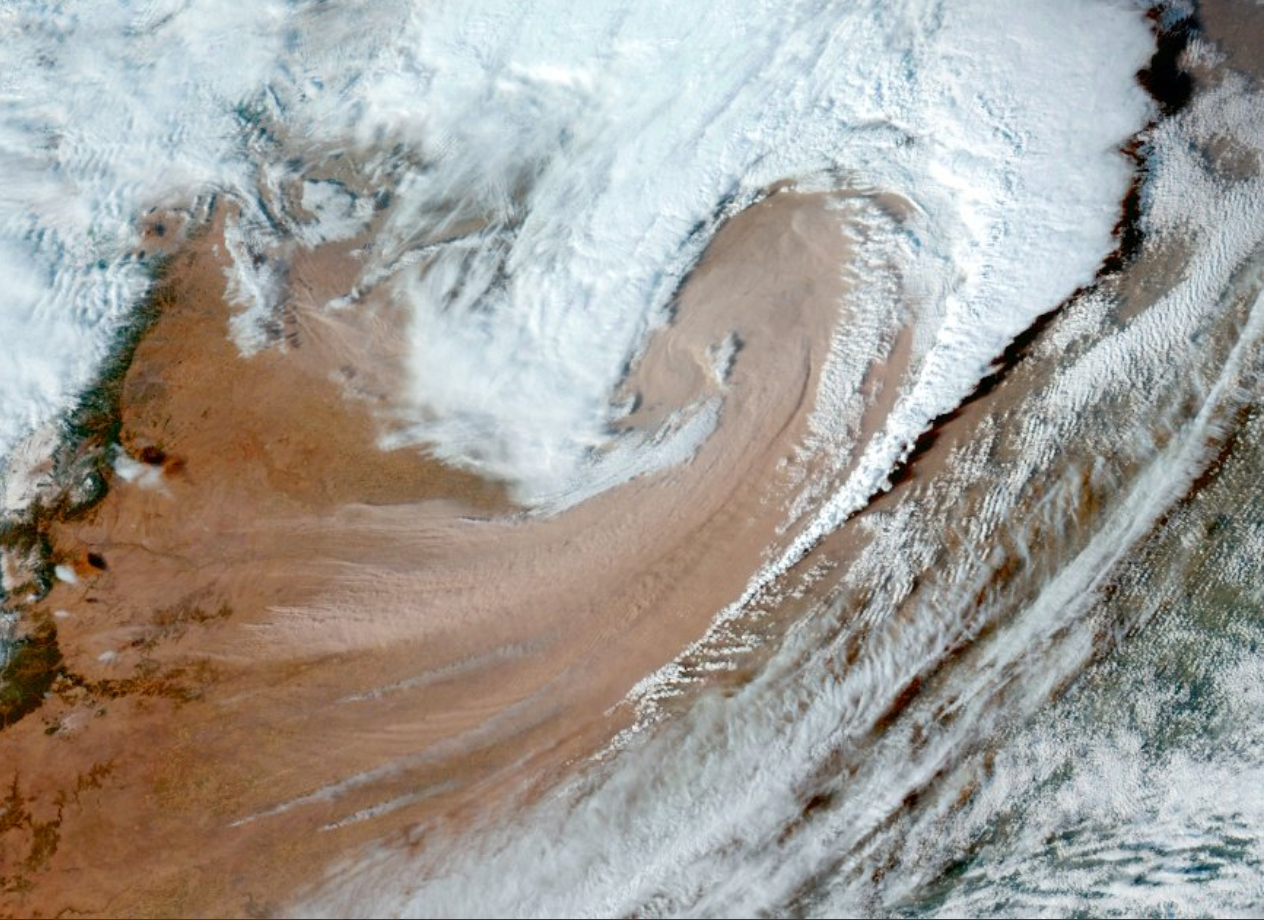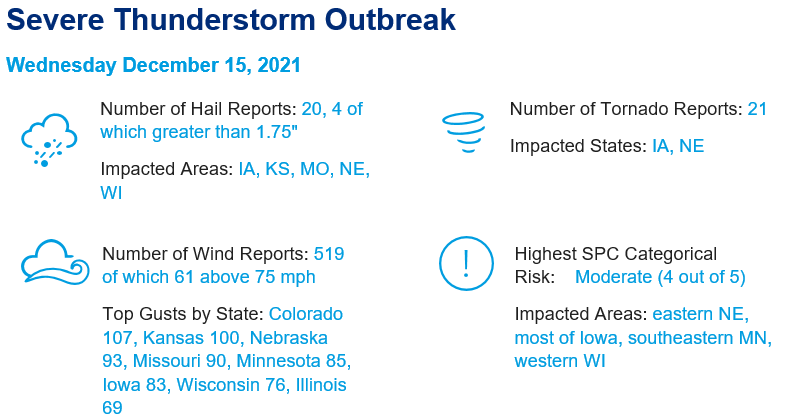 Key Headlines
Strong low pressure system initiates severe weather outbreak: Severe thunderstorm activity affected areas from the Southern Rockies to the Upper Midwest yesterday afternoon into the overnight hours. These storms produced reports of heavily clustered straight-line wind gusts, hail and tornadoes, according to the US Storm Prediction Center (SPC). Numerous wind gusts exceeded 75 mph with a handful in excess of 90 mph.
Extremely Critical Fire Outlook Verifies: In anticipation of Wednesday's event the National Weather Service Storm Prediction Center (SPC) issued a rare Extremely Critical Fire Weather Outlook for parts of Texas, Oklahoma, and Kansas. Extremely Critical Outlooks identify areas where the conditions of sustained winds, relative humidity, temperature, and fuel dryness are conducive to rapid fire growth and extreme fire behavior. Drought conditions in the region covered by Extremely Critical outlook vary significantly from extreme drought in parts of the Oklahoma panhandle to no drought in parts of Kansas. The issuance of an extremely critical fire weather outlook despite the variability in drought conditions in the region speaks to the severity of the meteorological conditions on Wednesday.
Early Assessment of Wind Impacts
Weather Environment: This activity was enabled by unseasonably warm, moist and unstable air together with very robust wind shear and exceptionally strong winds aloft, ahead of a frontal system crossing the area. Thunderstorms initiated early afternoon and rapidly organized into a potent squall line, producing heavily clustered straight-line wind gusts with embedded tornadoes.
Widespread Wind Gusts: Behind the squall line, sinking air brought exceptionally strong winds aloft to the surface, bringing numerous wind gusts in excess of 75 mph with the highest number of significant gusts reported since 2004 per the National Weather Service (NWS).
Climatology: Such activity is very rare in December, with only a handful of dates in December producing severe thunderstorm activity in Iowa, Wisconsin and Minnesota dating back to the 1950s. Cold-season severe thunderstorm activity is usually limited to the Northern Gulf States but can penetrate further north when the storm track and associated jet stream follow a southwest to northeast orientation across the interior, which can occur more often during La Nina winters.
Initial Damage Reports: Initial SPC damage reports indicate widespread power outages affecting over 400,000 according to media reports. Downed trees were also widespread along with light to moderate property damage, primarily to roof and siding materials together with tree damage. Wind impacts were more severe for older structures and outbuildings. Catastrophic structural failure was reported only in isolated cases per initial SPC reports. Semi trailers were also overturned due to high winds, particularly on north/south oriented highways. 
Early Assessment of Fire Impacts
The region covered by the extremely critical fire weather outlook is dominated by low to moderate load, dry climate, grasses and shrubs fuel types. These fuels lend themselves to high fire spread rates but moderate fire intensities due to their loading. This is not to say these fuel types cannot cause damage when ignited, they are meaningfully different than the higher load scrub and forest fuels types seen in other parts of the country. Among the most notable fire ignited on December 15 are the following:
In the Texas panhandle the North 207 Fire is 15,000 acres as of 8 AM CST on December 16 with 30 percent containment. The fire forced the evacuation of Skellytown, Texas on Wednesday although that evacuation order is now lifted. At this time there are no reports of structure damage. Also in the Texas panhandle the Parker Creek Fire in Oldan and Hartley County was 3,500 acres as of 8 PM on December 15 CST with 45 percent of the fire perimeter contained. Forward progression of the fire has been stopped and at this time there are no reports of structure damage.
The Cobb Fire near Guymon, Oklahoma was 10,000 acres as of 7 PM CST on December 15 according to the Oklahoma Forest Service. The fire forced the evacuation of parts of Guymon with one structure destroyed although forward progress of the fire had been stopped.
Numerous fires broke out across Kansas with the largest located in Ellis and Russell County where initial reports indicated that several structures have been destroyed according to local news reports. At publication there was no initial estimate of fire size although large fires of greater than 100,000 acres have occurred in the region.
The outlook for Thursday calls for windy conditions to persist for the region. However, a drop in temperatures and wind speeds will allow for increased fire suppression activity on active fires. The SPC still views southwestern Kansas and the western Oklahoma panhandle at Elevated fire weather conditions for Thursday December 16.