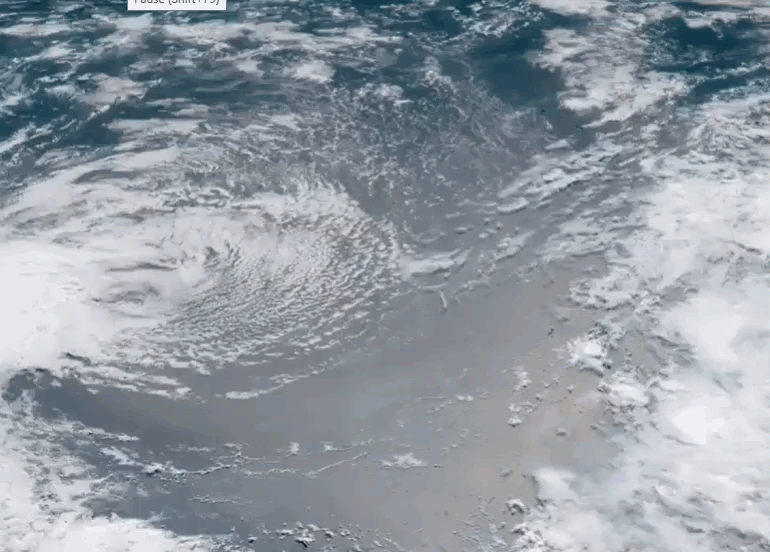 Tonga Volcanic Eruption

Report Date: January 26, 2022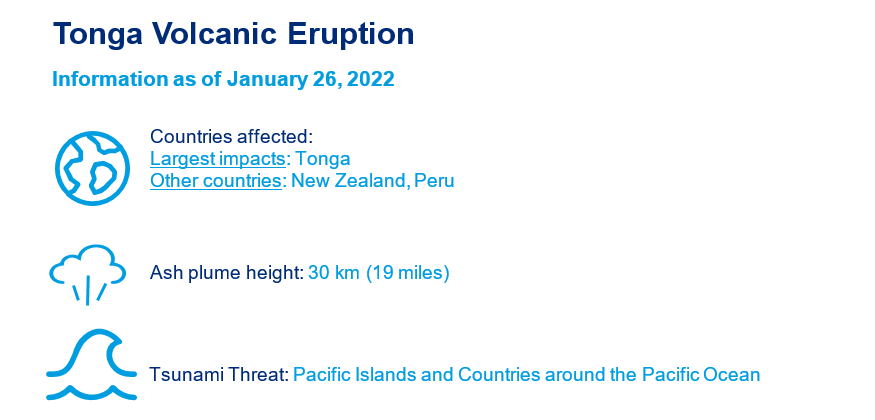 First significant volcanic eruption in more than 30 years, when Mount Pinatubo erupted in 1991.
Strong blast creating a significant gap between two islands: Hunga Tonga-Hunga Ha'apai.
Volcanic ash projected about 30 km into the air.
Tsunami waves around the entire Pacific coast; damaged undersea cable; suspended communications.
At least three fatalities in Tonga and two in Peru.
The Tonga volcanic eruption event report comprises the following sections:
Tonga Volcanic Eruption Location
Global Impacts                       
Physical Discussion
Historical Context and Future View of Submarine Volcanoes
Recovery Support
Tonga Volcanic Eruption Location
The Hunga Tonga-Hunga Ha'apai submarine volcano is part of an active seismic zone formed by the subduction of the Pacific Plate under the Indo-Australian Plate. It is about 65 km (40 miles) north of Tongatapu, the largest island of Tonga. The last series of eruptions occurred in late 2014 to early 2015 and created a landmass between the islands of Hunga Ha'apai on the southwest and Hunga Tonga on the northeast.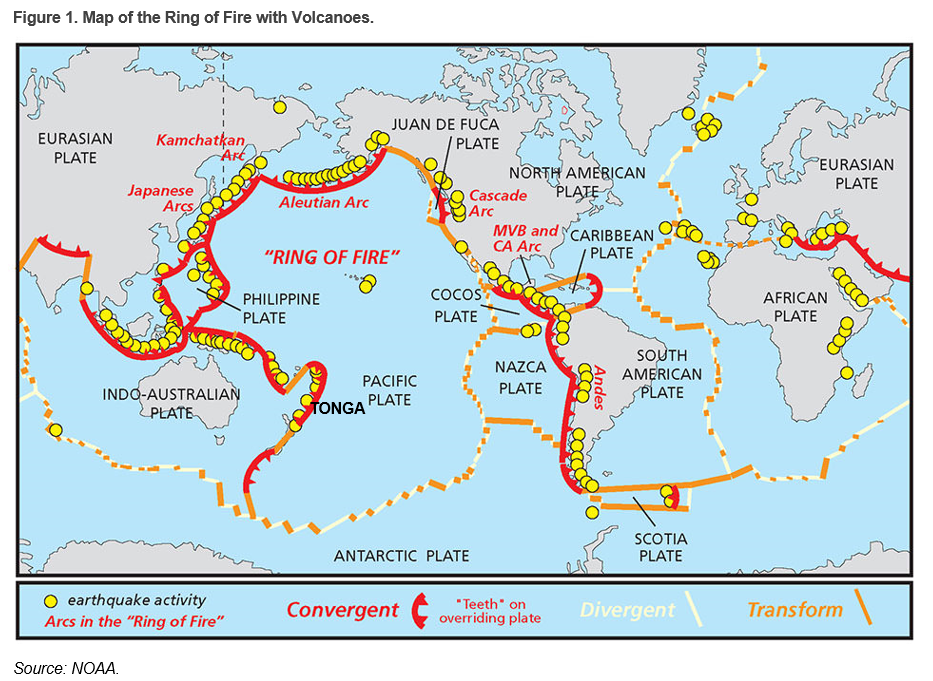 Global Impacts

Tonga
At least three fatalities have been reported by the media.
The volcanic eruption caused a 1.2 m (~4 ft.) tsunami near the capital city of Nuku'alofa on the island of Tongatapu, resulting in heavy damage to that island's west coast as well as several offshore islands.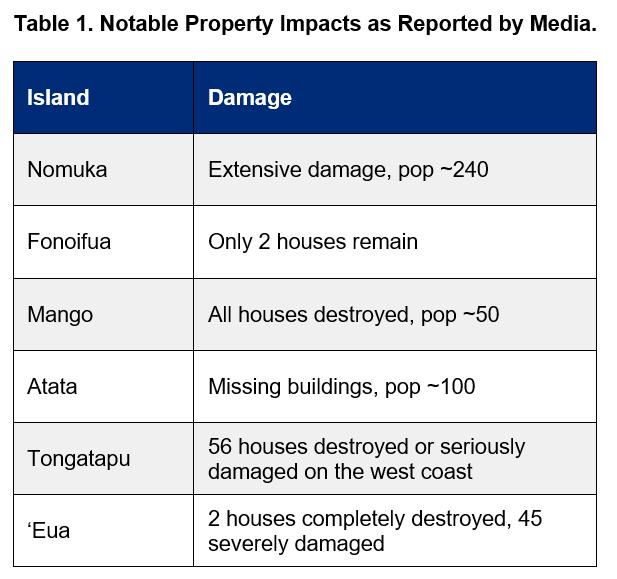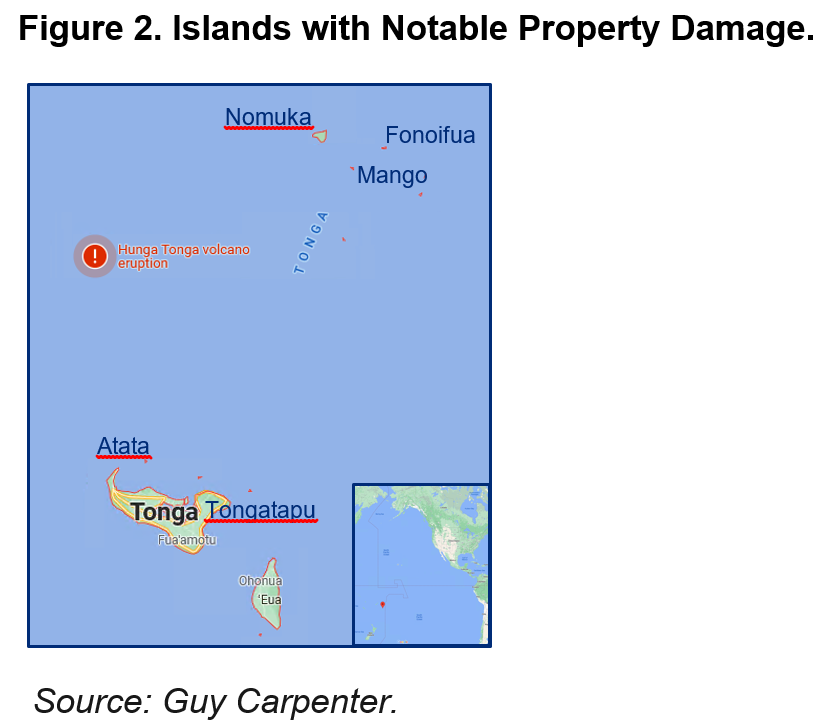 The above islands suffered damage from ash fall and flooding as a result of tsunami waves. Ash fall contaminated drinking water and also affected agriculture, fisheries, roads, and runways. An underwater communication cable was damaged, suspending outside communication for many residents.
Japan
A total of 37 fishing boats capsized or were damaged by waves in five prefectures including Miyagi, Tokushima, and Kochi. In Miyazaki Prefecture, 70,000 horse mackerel (for feeding to tuna) died. Around 20 tons of mozuku seaweed were washed away in Okinawa Prefecture. Aquaculture facilities in Iwate, Mie, Miyagi, and three other prefectures were damaged, including some wakame seaweed and scallop facilities.
New Zealand
Tsunami waves pulled boats from their moorings, and caused collision damage to vessels at the marina at Tutukaka, a settlement in the country's northern-most district.
Peru
Two people drowned in beach areas of Lambayeque in northern Peru, according to media reports.
In the meantime, a tanker unloading crude oil at a refinery in La Pampilla near Lima was rocked by a strong tsunami wave. The incident caused spillage of 6,000 barrels of oil and severe environmental damage. The Peruvian government is seeking compensation from Repsol, the Spanish oil company that owns the tanker.
Other Regions
Tsunami warnings and advisories were issued, and various tsunami wave heights observed in many countries in the South Pacific Ocean, Asia, and across the ocean to North, Central, and South America.
Physical Discussion
The Hunga Tonga volcano erupted on December 20, 2021, creating a large plume of ash visible from Nuku'alofa, the capital city of Tonga, about 65 km (40 miles) from the volcano. Activity decreased in early January, but then resumed with large eruptions occurring on January 13, 14, and 15 of 2022. These produced mushroom-shaped plumes between 15 and 30 km in height over the South Pacific, reaching the stratosphere and expanding radially up to 600 km in diameter at the top of the plume.
Some scientists have compared the latest Tonga eruption to the 1991 Pinatubo eruption in the Philippines, the effects of which lowered the average global temperature by about 0.6 degrees C (one degree F) for 15 months. However, the estimated amount of sulfur dioxide released is a small fraction of Pinatubo, and does not reach the threshold required to create a material global cooling effect.
As ash clouds rose in the atmosphere, the Volcanic Ash Advisory Center in Wellington, New Zealand, issued an advisory notice to airlines, and tsunami warnings were issued by Tonga Meteorological Services for all islands across the region. Loud explosions were heard in New Zealand, more than 2,000 km (1,200 miles) away. 
Significant ash fall was reported on the populated islands of Tonga, 70-100 km to the east. Following the January 14 eruption, waves up to 30 cm were recorded in the Tonga islands. Twenty minutes after the January 15 eruption, a 1.2 m tsunami wave was observed at Nuku'alofa, which was covered in a thick film of volcanic dust. Reports also indicate that tsunami waves as high as 15 m affected the west coast of the island of Tongatapu, as well as 'Eua and the Ha'apai islands.
Tsunami waves traveled with great speed and reached many countries (Table 2), and warnings were issued. The speed and scope of the tsunami waves were unusual. According to media reports, Tsunami warnings in New Zealand, Japan, and Peru were seen as too late by some residents.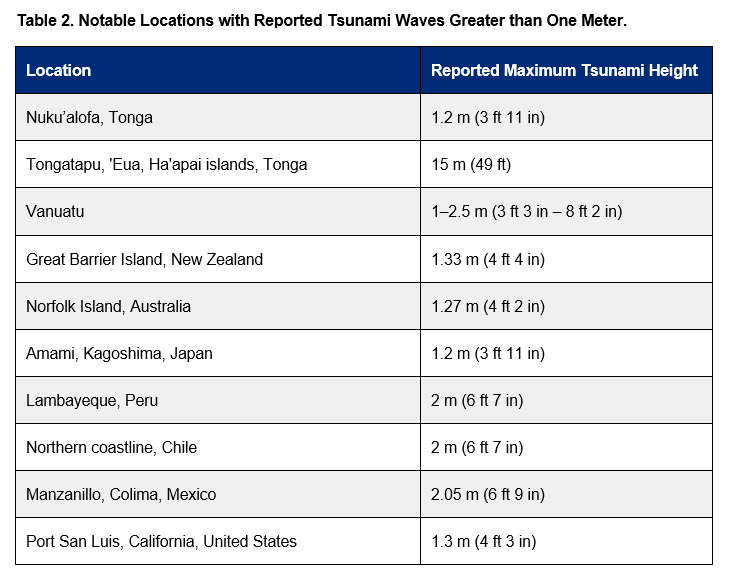 Historical Context and Future View of Submarine Volcanoes
Hunga Tonga and Hunga Ha'apai are two small, uninhabited islands in the South Pacific Ocean, located 65 km north of Tongatapu, the main island of the Polynesian Kingdom of Tonga. The 2 km-long islands are in fact the emerged remnants of a submarine caldera-type volcano that rises 1.8 km from the seafloor, stretching 5 km across and is 20 km in length. For over a decade, the seamount volcano has been displaying activity, with visible eruptions in March 2009 and December 2014/January 2015. The 2015 eruptions ejected enough rock and ash to create newly emerged land between the two existing islands, just short of connecting them into a single island.  On January 14 and 15, 2022, large eruptions at the same location partially destroyed the recently formed land (Figure 3) and caused a tsunami that traversed the Pacific.
The eruptive history of Hunga Tonga recorded in the Global Volcanism Program is relatively recent and very likely incomplete. It consists of a total of five recorded eruptions since 1912, with small estimated magnitudes (a maximum of level 2 on the VEI scale). However, the 2022 eruption was larger than previously recorded events. Scientists currently are determining its size, which could be as high as VEI 5 due to eruption columns reaching at least 30 km of height into the stratosphere. This type of event is estimated to have a return period of around 1,000 years. The 1991 Pinatubo eruption was a magnitude 6 eruption, making the Hunga Tonga eruption the largest in the last 30 years.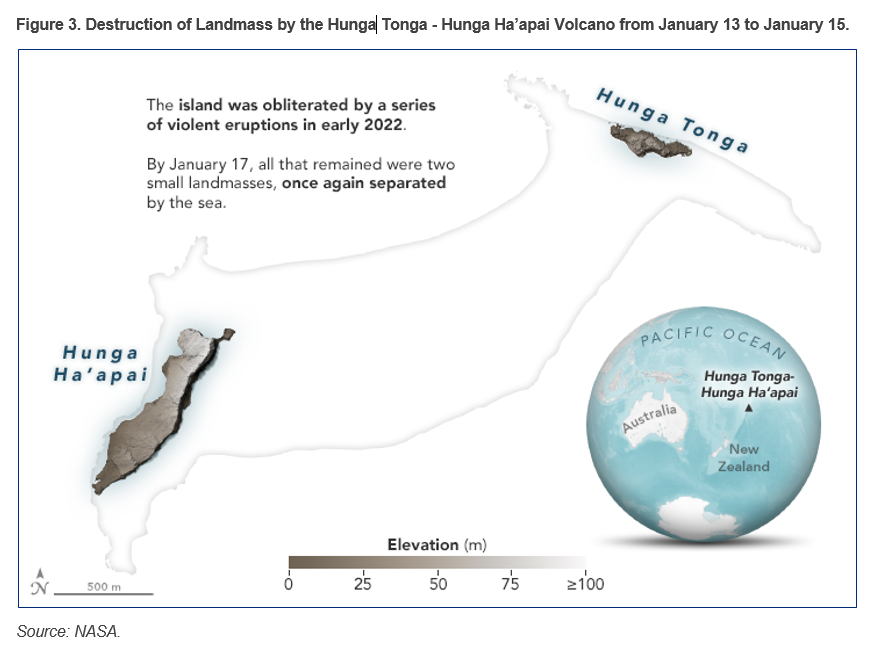 Submarine volcanoes are not well understood, and the tsunamis that follow even less so. The latest Tonga submarine volcanic eruptions generated a large number of observations relating to: the mixing of molten magma with sea water, creating steam; hundreds of thousands of lightning events; atmospheric pressure waves; and tsunami speed and reach. As a result, scientists will gain a deeper understanding of submarine volcanoes and improve forecast and warning systems to protect lives and property.
Recovery Support
The government has transferred residents from the hard-hit island of Mango, where all houses were destroyed, to the main island. It also has disbursed financial support to families and seniors. Considering their vulnerability to global warming, the Tongan people have the challenging task of rebuilding their properties with rising sea levels in mind, which could exacerbate the disastrous impact of tsunamigenic volcanoes.
The Tongan government has asked for contactless international support because of concern for COVID infection, and this is a challenging operation. As of January 25, an Australian warship carrying humanitarian aid was reported to have two dozen COVID cases among its crew. On the same date, Japan suspended their mission due to positive COVID cases among members of their transport team.
According to preliminary assessments, insured losses to the global market should be limited. The World Bank has also released USD 8 million in emergency financing to support recovery efforts, at the request of the Tonga Government. This amount is funded by the International Development Association, the World Bank's fund for low-income and vulnerable countries. Tonga received a further USD 10 million grant from the Asian Development Bank. Several other countries are also offering financial aid and emergency supplies.
Sources: Matangi Tonga Online, Reuters, South China Morning Post, Japan Times, NZ Herald, World Bank, Asian Development Bank, National Geographic, www.stuff.co.nz, www.1news.co.nz, CNN, Britannica, Smithsonian Institution, NASA, NOAA, NWS JMA, The Guardian, Twitter, Vanuatu Tsunami Advisory, Australian Bureau of Meteorology, Radio Bio Bio, El Comercio Perú, National Autonomous University of Mexico, NHK.