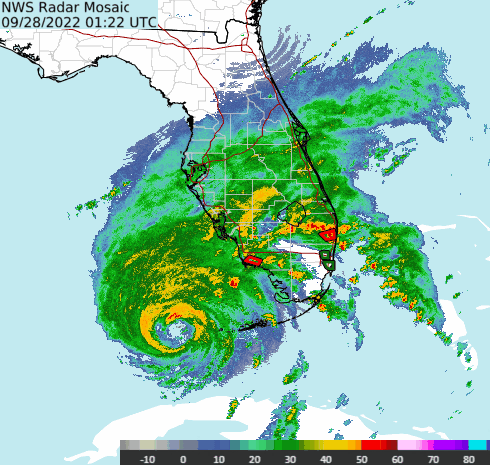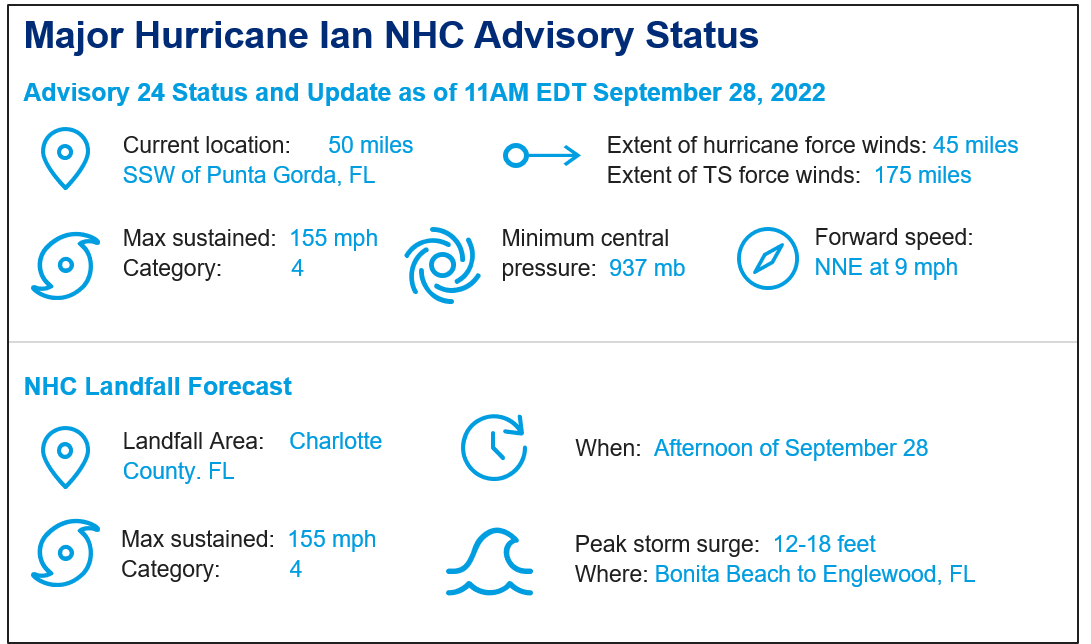 Key Headlines
After a period of rapid intensification, Hurricane Ian has reached status as a top-end category-4 hurricane with maximum sustained winds of 155 mph.
Large scale weather patterns have caused Ian to take more of a north-northeasterly turn toward Charlotte County, Florida at 9 mph. In the meantime, Ian has grown into a large storm with conditions extending well away from the center. 
Ian is expected by the National Hurricane Center (NHC) to move ashore somewhere in the vicinity of Lee, Charlotte and Sarasota Counties as a severe hurricane and then move inland on a track parallel to the I-4 corridor. The outer eyewall is beginning to move ashore. 
Following landfall, the NHC best forecast takes Ian back into the Atlantic with a second landfall along the Southeast Coast near the Florida-Georgia line Friday afternoon.
What Scope and Severity of Impacts Should We Expect?
Storm surge as high as 12-18 feet, which will bring catastrophic damage to property and infrastructure due to seawater inundation and wave battering for the coast and connected waterways. 
Tropical storm to hurricane conditions over a widespread area from the Florida Peninsula to Georgia and the Carolinas. The most severe conditions are expected in the southwest Florida Peninsula along and to the right of the track where catastrophic damage to property and infrastructure, including power and communications systems, is possible. Hurricane conditions have moved ashore over the southwestern Florida Peninsula.
Excessive rainfall amounts as high as 12-18 inches and local amounts as high as 24 inches are expected per the NHC and this will bring riverine flooding and flash-flooding to affected areas. With the current forecast, we will start to see river stages rising this afternoon, and over 30 stream gauges will be reaching flood peaks by early Friday morning. Some of them will be at major flood stage and possibly surpass historical records, including Hillsborough, Alafia, Anclote and Little Manatee Rivers in Tampa/St. Petersburg areas.
This is a storm with a large footprint, and conditions extend well away from the center of circulation. Hurricane, Tropical Storm and Storm Surge Watches and Warnings are in effect for areas under threat. Specifics can be found at www.nhc.noaa.gov and www.weather.gov.
Why Has the Footprint Expanded?
Ian completed an eyewall replacement cycle overnight.  Eyewall replacement cycles typically occur in very strong hurricanes, when a new eyewall begins to develop around the old eyewall.  The new eyewall gradually decreases in diameter and replaces the old eyewall.
Usually, the new eyewall is larger than the replaced eyewall, which increases the area impacted by strong winds and storm surge.  
Some experts have noted that the hurricane wind footprint of Charley (2004) might fit inside the eyewall of Hurricane Ian.
What to Expect Through Thursday Night
Ian is currently a top-end category-4 hurricane. There is some dry air and wind shear present along the track, but the storm is proving resistant to any weakening effects. While some small intensity fluctuations are likely, the NHC does not expect any significant weakening of Ian prior to landfall.
The system is slowly moving to the north-northwest and should make landfall as a top-end category-4 or possibly a category-5 hurricane this afternoon in or near Charlotte County, Florida.
Steering currents should then take Ian across the Florida Peninsula parallel to the I-4 corridor. Some weakening is expected as Ian travels inland across central Florida tonight and Thursday. 
What to Expect After Thursday Night
Following landfall, Ian should clear the Florida Atlantic Coast and emerge back over the western Atlantic.
The influence of a frontal system crossing the Mainland (called a shortwave trough) should steer Ian on a more northerly course toward Georgia by Friday, with a second landfall expected near the South Carolina-Georgia line.
While some gain in intensity is expected by the NHC, the current forecast does not bring Ian back to hurricane status prior to second landfall.
The storm should then move inland and dissipate over the Appalachians.
Gusty winds with tropical storm conditions and heavy rainfall should be expected along with flooding and variable property damage.
What Storm Surge Impacts Should We Expect (and Why)?
The Gulf Coast of Florida has a wide continental shelf allowing for efficient generation of surge particularly by hurricanes on a north-northeast approach.
The large bays and rivers of the Florida Gulf Coast present numerous locations into which offshore surge can be funneled and amplified as well as significant local generation due to the shallowness of the bays and river mouths.
Given Ian's current forecasted landfall some surge is expected in Tampa Bay although the bay will experience Ian's strongest winds blowing out of the northeast meaning Tampa Bay could see significant drawdown of water levels as water is pushed out of the bay.
The Caloosahatchee River in Fort Myers will experience significant onshore winds allowing surge generated offshore to penetrate upriver. The community of Cape Coral, near Fort Myers, is a community with a significant number of inland waterways connected to the Caloosahatchee River and coastal sound allowing for surge to penetrate far further inland than expected for a surge of Ian's magnitude.
Charlotte Harbor, near Port Charlotte, is expected to experience significant surge as the area is expected to experience persistent onshore winds. Extreme onshore winds will generate significant coastal surge and large local surges will be generated on the sound itself. Far inland penetration of surge up the Peace River can be expected. Similar to Cape Coral, numerous communities in the Port Charlotte region contain waterways connected to the river and sound allowing for significant surge intrusion into the communities.
In the Fort Myers region the south and southwest facing coastlines of Fort Myers Beach and Sanibel Island will experience strong onshore winds resulting in significant coastal surge.
Based on current track forecast guidance maximum coastal surge can be expected just to the north of Port Charlotte in the region between Boca Grande, FL and Venice, FL
Significant damage to property and infrastructure can be expected due to seawater inundation, water velocity and waterborne debris, and wave battering for immediate coastal areas.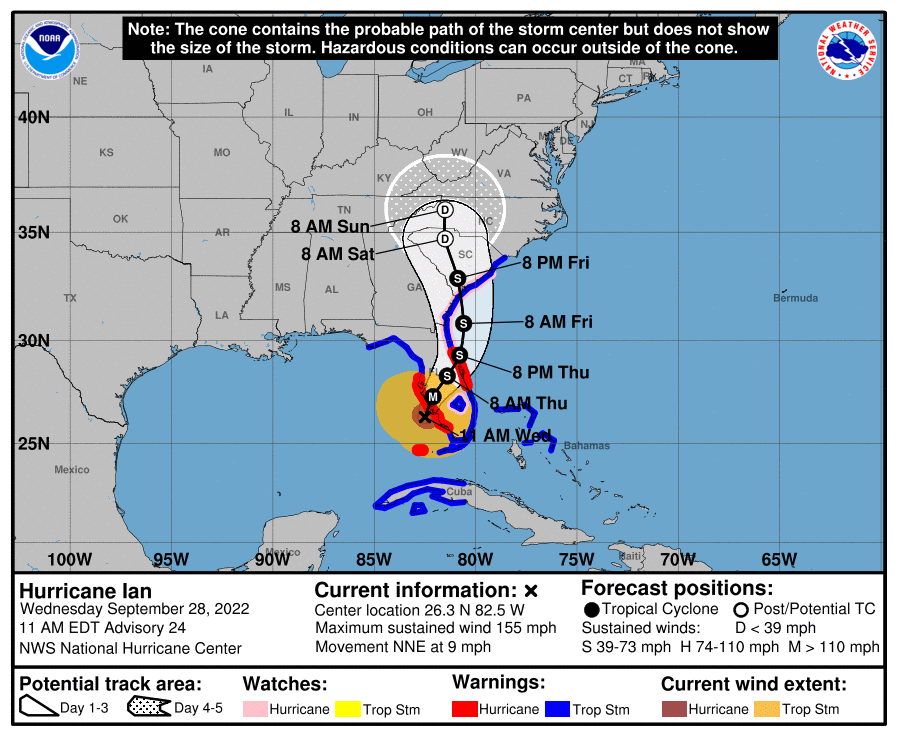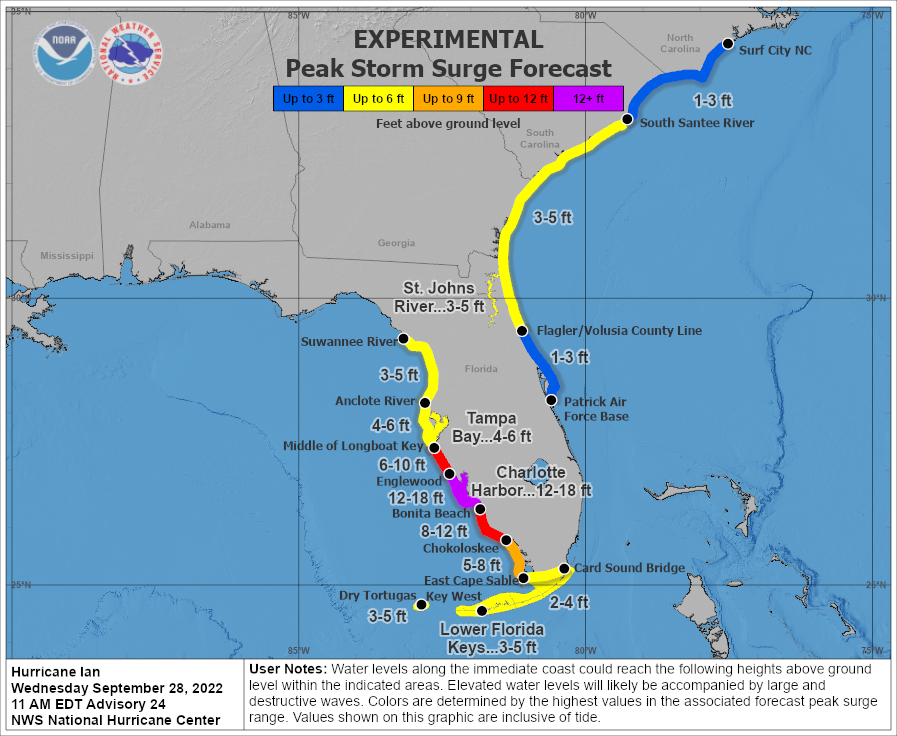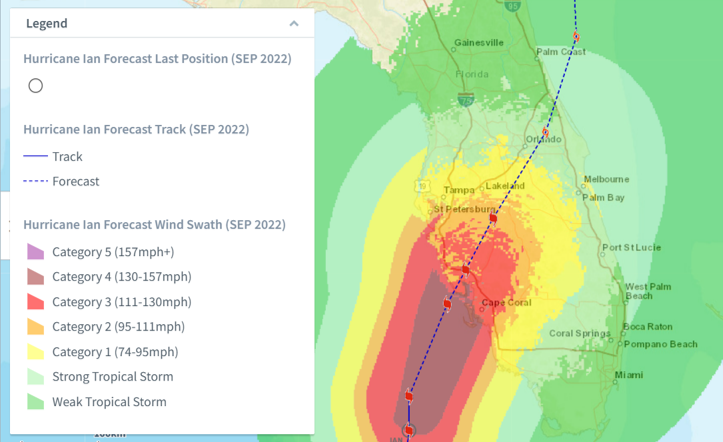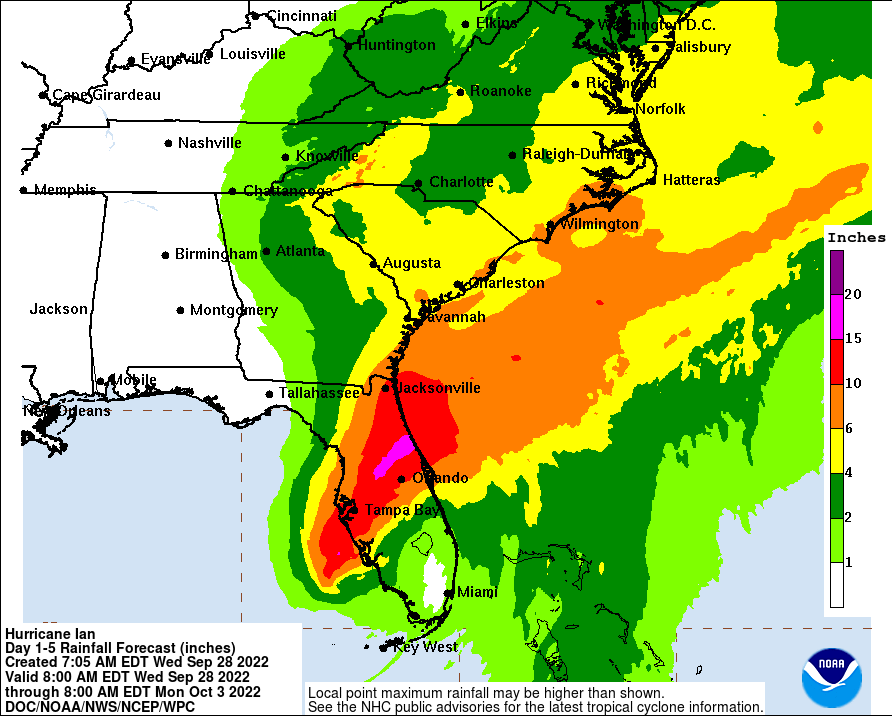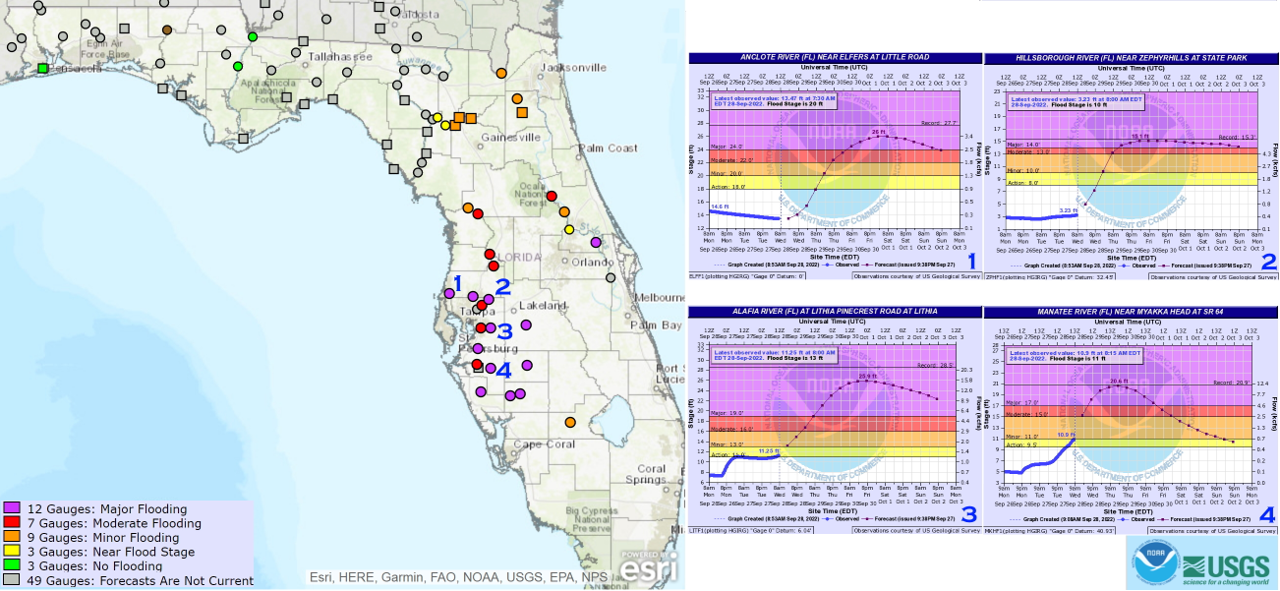 Daily statements on Hurricane Ian from the GC Cat Resource Center will continue for the balance of the week.

Statements from the National Hurricane Center and official emergency management and forecast agencies supersede this update and should be closely followed concerning matters of personal safety.