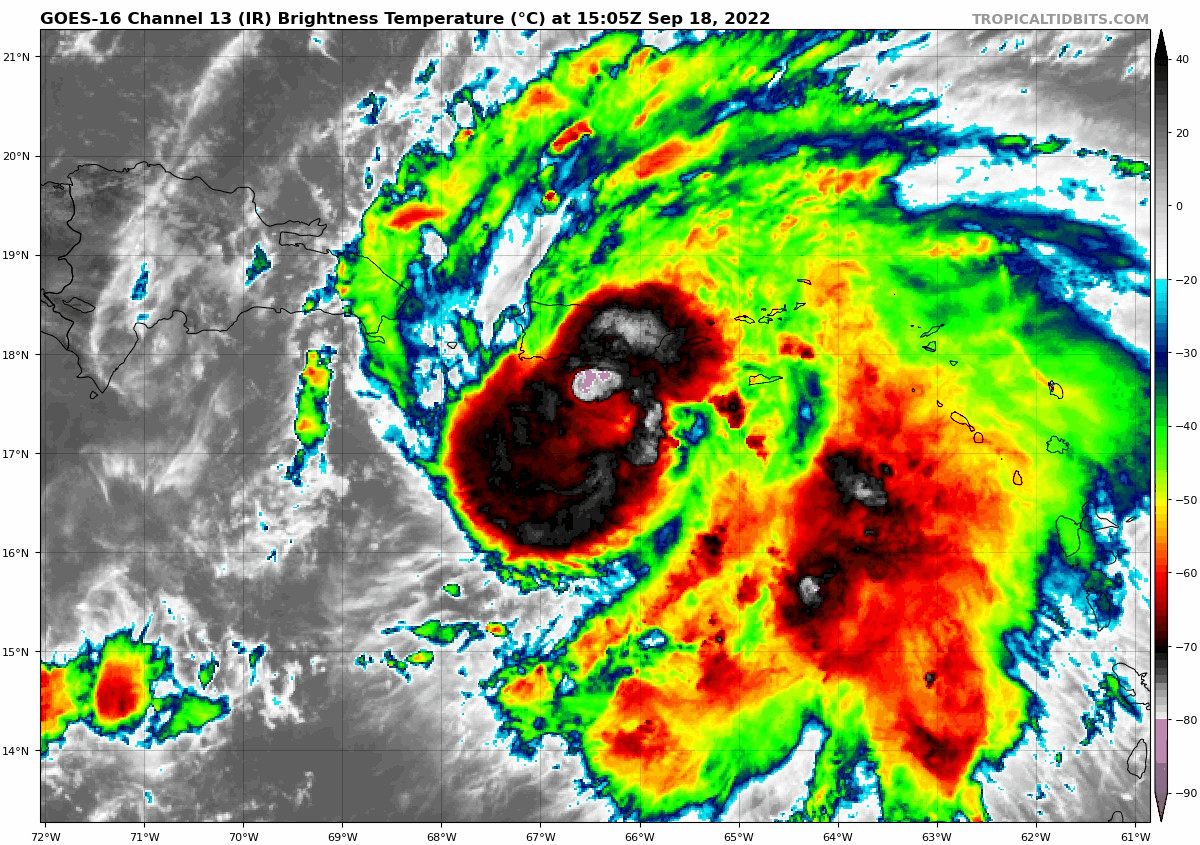 Fiona was recently upgraded to hurricane status by the National Hurricane Center (NHC), and continues to slowly gain strength as an 80 mph hurricane. The storm is now causing flood and wind impacts over portions of the British and U.S. Virgin Islands and Puerto Rico. Fiona should continue to gain strength while affecting these areas, before affecting the Dominican Republic and the Turks and Caicos Islands early this week. Fiona is forecast to strengthen to a major hurricane by mid-week, before affecting Bermuda and possibly Atlantic Canada later in the week and into next weekend.
Where Does the Forecast Take Fiona?
As of 11AM EDT Hurricane Fiona was located about 50 miles south of Ponce, Puerto Rico. Fiona continues a west-northwesterly motion following the southern edge of a large area of high pressure (known as the subtropical ridge). According to the NHC, Fiona should begin a turn to the northwest later today and to the north-northwest on Tuesday as Fiona follows a weakness in the ridge ahead of an upper-level disturbance. This should bring Fiona near or over Puerto Rico this afternoon or evening, over the Dominican Republic tonight and Monday, and near or just east of the Turks and Caicos Islands on Tuesday.

Later in the week, Fiona should make a turn to the north and northeast as it interacts with the mid-latitude storm track and a frontal system leaving the mainland. This should take Fiona on approach to Bermuda late Thursday into early Friday morning.

For the longer term approaching next weekend, long range weather models continue to bring Fiona north and east, to possibly affect Atlantic Canada. This 5-7 day forecast scenario still carries some uncertainty given the long timescale, and some changes should be expected as the situation evolves. Impacts to the Continental U.S. cannot be ruled out, but appear very improbable given current model guidance.
How Strong Should Fiona Get?
Fiona continues to gain strength, with current status as a category-1 hurricane on the Saffir-Simpson Scale, and maximum sustained winds of 80 mph. The storm has shown most of its activity on the eastern flank with slow organization, but just over recent hours has shown a closing eyewall and a considerable burst of activity on the western flank of the storm. Fiona is moving over warm ocean waters with a moistening environment, but with wind shear and land interaction suppressing development.

Over the coming days, Fiona will move into an environment with increasing moisture and lessening wind shear and very warm waters. On this basis, Fiona should continue to gain strength, especially as it moves away from the land masses of Puerto Rico and Hispaniola. Fiona should gain status as a major hurricane by Wednesday morning.
What Impacts Should We Expect?
Hurricane and Tropical Storm Warnings are in effect for areas under threat. Specifics can be found at www.nhc.noaa.gov. Fiona is a large storm with tropical storm winds extending outward as far as 140 miles. Impacts are occurring well away from the center of circulation.

Prolonged heavy rainfall amounts as high as 12-16 inches, with local amounts to 25 inches are expected per the NHC over Puerto Rico, with slightly lesser amounts in surrounding areas. Flooding, flash-flooding and mudslides have been reported and will continue to affect areas of the British and U.S. Virgin Islands and Puerto Rico, and will threaten Hispaniola and the Turks and Caicos Islands over the next day or so.

Tropical storm to hurricane conditions are ongoing, with downed trees and powerlines with resulting power outages already reported in affected areas. Variable property damage can be expected, with more substantial damage to property and infrastructure previously affected by Hurricane Maria (2017). Tropical storm conditions are also expected for the Turks and Caicos early next week, with possible hurricane conditions, with onset of conditions expected by the NHC for this area Monday evening. Conditions should gradually improve for the Caribbean from east to west as Fiona clears the area next week.

Later in the week, interests in Bermuda could be affected by hurricane and perhaps major hurricane conditions, with possibly substantial damage to property and infrastructure. The scope and severity of impacts will depend closely on the exact track of Fiona which still carries some uncertainty. Onset of conditions is most likely for Thursday according to the NHC. Impacts to Atlantic Canada are very possible over the longer term.