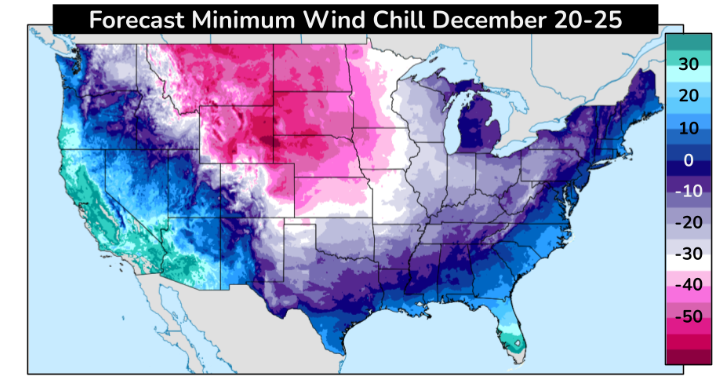 Key Headlines


Extreme Cold: A strong Artic high pressure system is expected to move into the Great Basin, Northern Rockies and Great Plains by Thursday, bringing widespread sub-zero temperatures. Combined with strong wind gusts up to 60 mph, wind chill conditions could reach to around minus 40 degrees. This level of cold is dangerous to life and can lead to frostbite upon minimal exposure. Windchill warnings currently extend from Washington State to Texas.
Blizzard Conditions: Snow combined with the aforementioned wind gusts is expected to lead to significant travel disruptions, especially across the Central Plains, Upper Midwest and Great Lakes states. In addition to travel delays, the region is expected to experience dangerous blizzard conditions, snow covered roads, and localized power outages.
Snowfall: As the storm tracks eastward, snowfall totals are expected to increase, with the greatest chances for significant accumulations in the Great Lakes states, where the snowfall duration will be the longest. Lake affect snow bands could produce locally higher totals.
Rainfall: As the storm progresses further east, a mix of snow and rain will impact New England and mid-Atlantic states, combined with wind gusts of 70-80 mph, causing significant travel disruptions and possibly power outages in the lead up to the winter holidays.
Timing
Currently, the system that is poised to bring extensive winter weather conditions to the northern US is situated off the coast of British Columbia. The exact location and magnitude of impacts will be determined by the track and strength of the system as it drops into the US and tracks to the east. This artic system and associated frontal passage will create significant disruptions and impacts, however it will progress rather quickly across the US, with temperatures and conditions returning to seasonal averages rather quickly post passage.
Wednesday: Heavy snowfall and bitterly cold temperatures will affect the Cascades, Idaho and Wyoming first, gradually extending during the day to the northern Rockies and into the Plains states. Temperatures will drop rapidly, while snow and wind could cause travel delays in the western half of the US.
Thursday: Extreme cold temperatures will continue to linger in the western US and Plains, while the most significant impacts from snow and wind will be centered on the midwestern US cities of Chicago, St. Louis, Milwaukee, Detroit and Indianapolis. There is also an increased risk of ice jams and associated flooding as rivers rapidly freeze. Motor vehicle travel will become dangerous and difficult, while air travelers will face delays and cancellations.
Friday: Snow, rain, and wind will continue to progress to the east, with major impacts expected across the eastern Great Lakes states, the Appalachians, and the east coast of the US in the lead up to the holidays.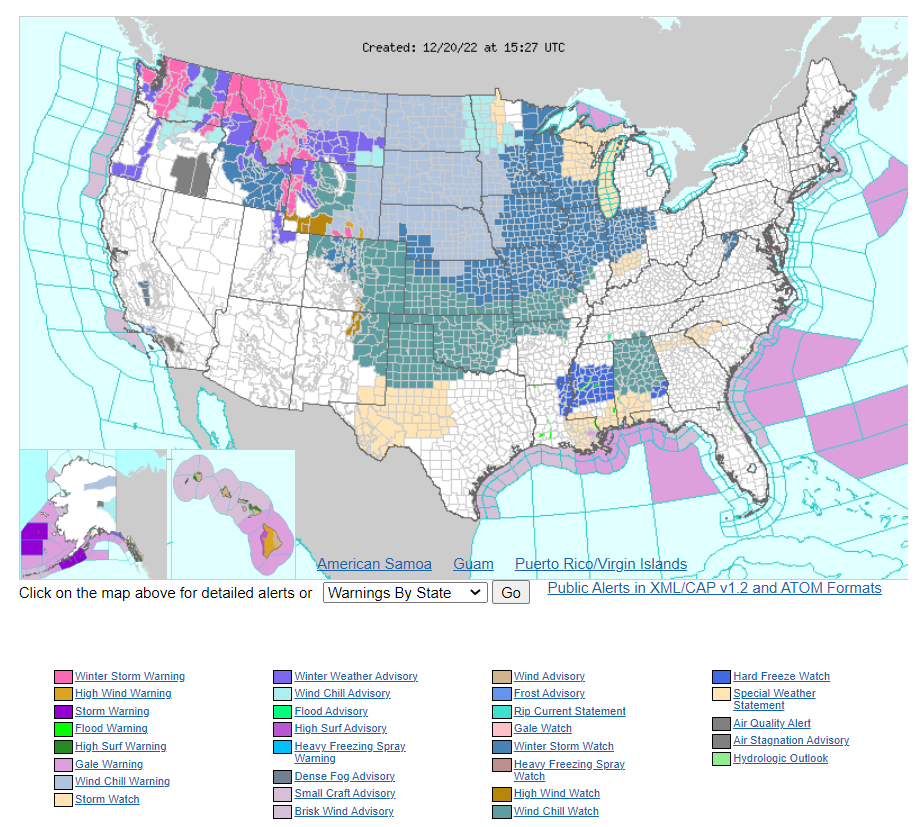 Current Watch and Warning Map from the National Weather Service. Source: NWS.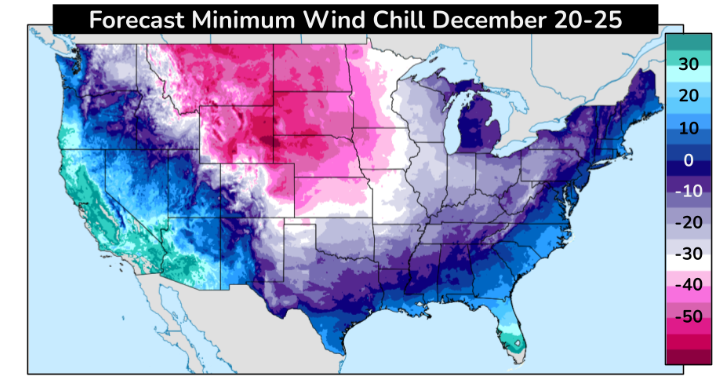 Minimum Temperature Forecast for Saturday Night. Source: Weather Prediction Center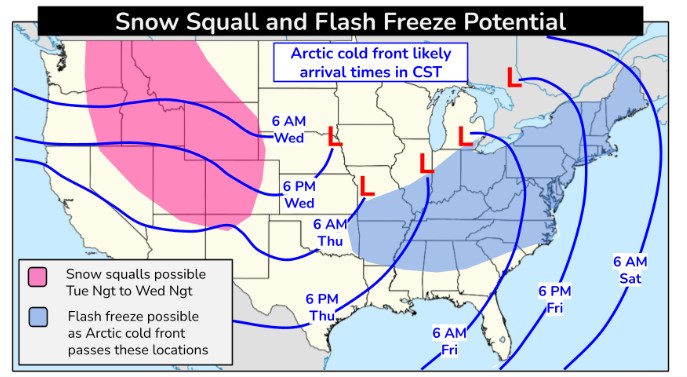 Front Arrival Time. Source: Weather Prediction Center