Key Event Highlights

Extreme Rainfall: An atmospheric river event has brought moist tropical air to California, causing up to 15 inches of rainfall across northern and central portions of the state. More rainfall is expected throughout the next week, bringing up to 8 inches along parts of the coast by Saturday.
High Winds: Strong winds have downed trees and damaged multiple structures. Hurricane-force winds were reported in Northern California, with 119 mph recorded in Kirkwood Meadows. Wind gusts over 60 mph are expected at elevations above 1,000 feet this week.
Flooding and Debris Flow Risk: Widespread riverine and urban flooding has effected Sacramento County and the Bay Area. Due to burn scars and wildfire damage from recent fire seasons, there is a major risk of debris flow and landslides along the Sierra foothills, southern Cascades, and Coastal Range.
Impacts: As of January 9, 12 people have died from the atmospheric river event. Governor Newsom of California has requested a Presidential Emergency Declaration in response to the ongoing storms to support recovery efforts. No damage or loss estimates have been released for the ongoing event.
The West Coast of the United States has experienced several consecutive storms over the past week and a half, bringing heavy rainfall and snow to Northern and Central California. Between December 26, 2022 and January 6, 2023, more than 15 inches of rain in total fell across northern portions of the state. California's mountains also saw heavy snowfall, with snow totals reaching 119 inches on Mammoth Mountain and 33 inches in Tahoe City.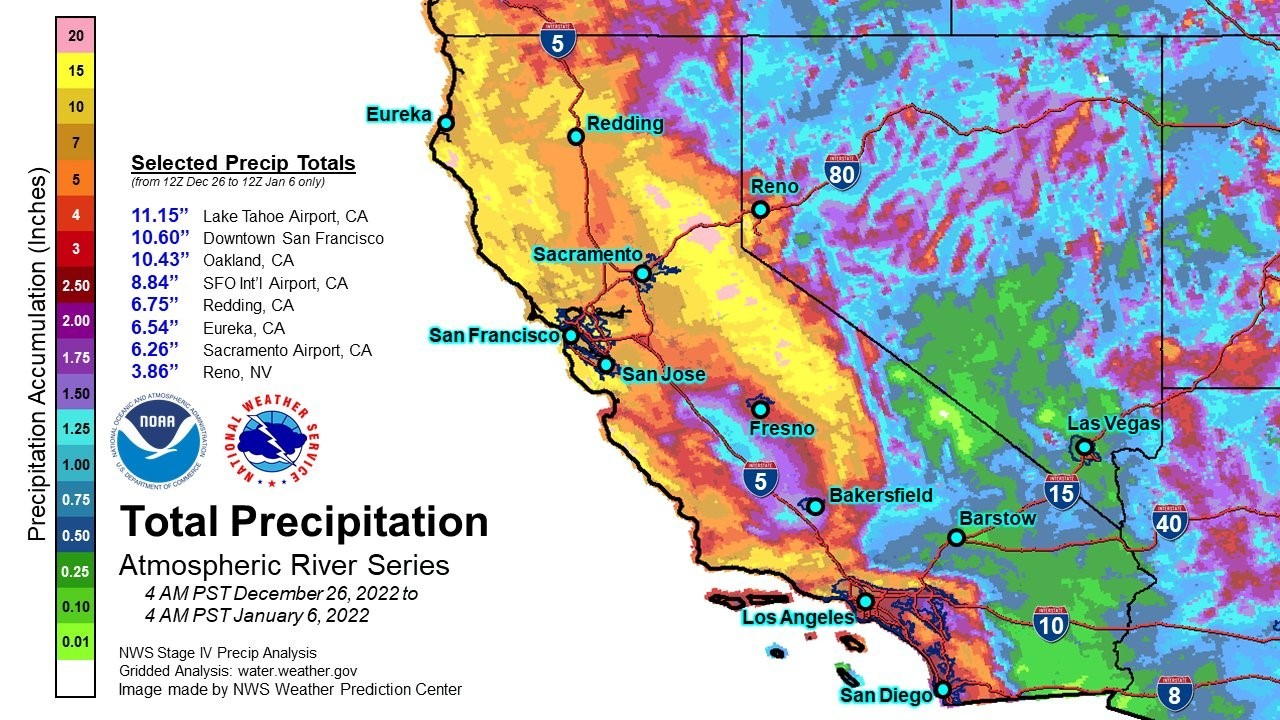 The National Weather Service Bay Area Station reported that a storm between January 4 and 5 brought almost half of the monthly climate average rainfall to Oakland and the San Francisco International Airport. On December 31, San Francisco recorded its second wettest day in its 170+ history with 5.46 inches of rain. This period (December 24 – January 4) also marks the wettest 10 day period for Downtown San Francisco since 1871, measuring 10.33 total inches of rain.


​​​​A high-wind warning was in effect for most of interior Northern California from mid-morning January 4 through late January 5. Damaging wind gusts up to 45-60+ mph along the coast and 70-80+ mph along the ridgetops near the coast were observed in the Valley and foothills. This resulted in widespread damage including downed trees, ripped building roofs, and loss of power for nearly 200,000 customers as of early last Thursday.
The National Weather Service has determined that this series of storms is due to an atmospheric river event. Atmospheric rivers are a weather phenomenon known for transporting large amounts of water vapor from one location to another, with the average atmospheric river carrying about 25 times the amount of water as the Mississippi River. This specific atmospheric river, known for pulling moist air from the tropics near Hawaii and funneling it up to the West Coast, is called "the Pineapple Express." Atmospheric rivers are responsible for bringing between 30-50% of the annual precipitation to much of the West Coast, and they most frequently make landfall along the West Coast between December and February. 
Flood and Landslide
The strong precipitation induced by atmospheric river system resulted in widespread urban and small stream flooding in Northern and Central California, as well as unprecedented major riverine flooding in Southern Sacramento County and San Francisco Bay Area. High levels of rainfall caused several rivers to rise, in particular the Cosumnes and Mokelumne Rivers as well as Colgan Creek. The Cosumnes River flooding has also been exacerbated from five separate levee breaches along a 34-mile levee system in the metro area of Sacramento. Evacuation orders and warnings were issued for residents in Wilton, Glanville Tract and Franklin Pond area. A long stretch of California State Route 99 near Elk Grove was underwater and the inundation has resulted the closure of this highway. The Santa Cruz County coastline has also taken a serious beating from the Atmospheric River event on January 5.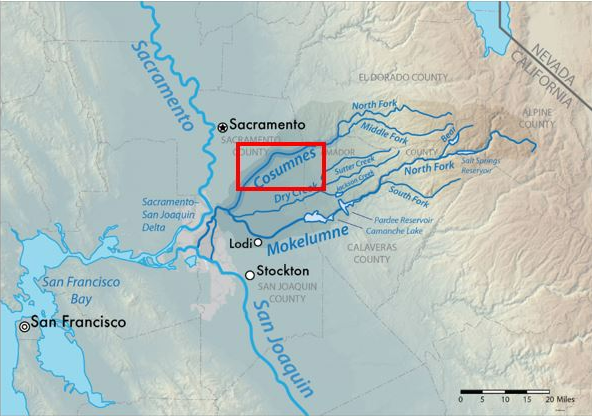 Due to the long-term drought conditions, California's largest reservoirs actually have unusual high flood-buffering "headroom". The current status of the reservoir shows the water-storage is still below the historical average value. The additional storage volume of the reservoirs will help regulate and mitigate peak flows on mainstem of rivers in California for now.


The National Weather Service Sacramento Station stated that several wildfire burn scars in the Sierra Foothills, Cascades and Coastal Range pose a "major" landslide and debris/mud flow risk following the recent storms. The burn scars with the highest possibility of experiencing debris flows are in the areas where the August Complex, Caldor, Dixie, River and Mosquito fires occurred recently.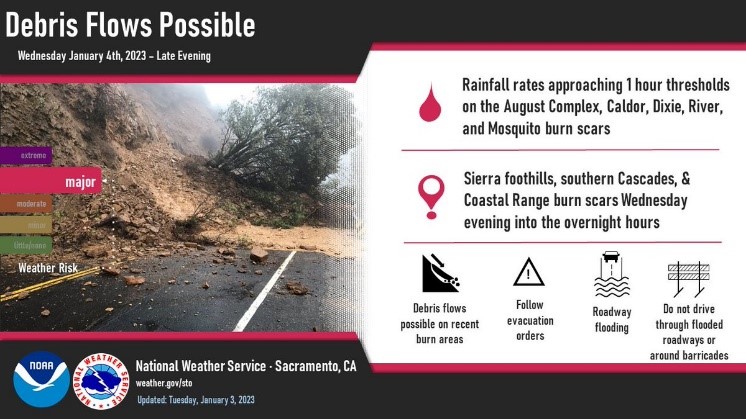 Forecast
Another high-impact atmospheric river event will affect California beginning overnight Sunday night in Northern California and continuing through Tuesday AM in Southern California. Greatest impacts will be observed in Santa Cruz, Monterey, San Luis Obispo, and Santa Barbara County coastlines, and some heavy rainfall of up to 6 inches over a 12-24 hour period are expected in some of these areas. The current outlook for peak rainfall totals will be more focused in North Bay, especially into the early parts of the week. Flood outlooks as of early Monday morning into the week for Russian River at Guerneville and San Lorenzo River at Big Trees show that the estimated river elevations will be in major flooding stages.