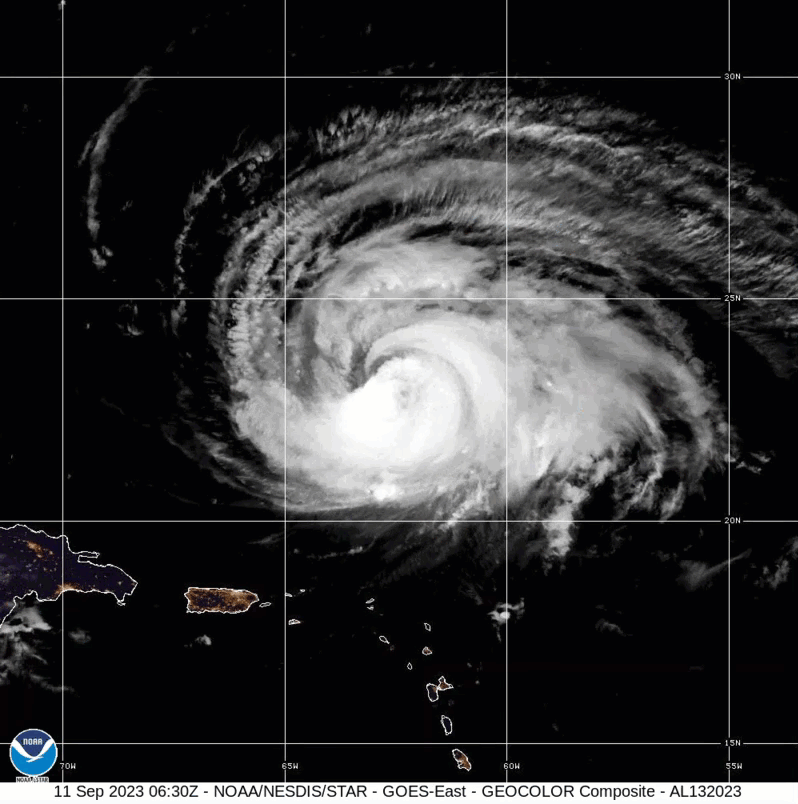 Key Headlines
Slow Movement: Currently located more than 600 miles to the south-southeast of Bermuda, Hurricane Lee is moving slowly to the northwest, guided by a mid-level ridge over the subtropical Atlantic. This slow pace over the next couple of days will allow Lee to feed off of warm ocean temperatures and an environment with weakening shear, creating the potential for intensification. 
Intensity Forecast: Lee could reach category-4 strength over the coming days; the NHC best forecast calls for an intensity peak within the next 36 hours before weakening is forecast during the second half of the week. Factors driving the weakening of Lee include upwelling of cooler waters, increasing shear from a weather pattern later this week, and the cool wake of recent storms Idalia and Franklin.
Impacts to the Atlantic Coast: While there is high confidence in the short term forecast for Lee, uncertainty beyond the three to five day period creates a question mark for the level of impacts, if any, that Lee may have along the US East Coast and Atlantic Canada. 
What are the Range of Outcomes?
Bermuda: The NHC best track forecast currently brings the core of Lee west of Bermuda around Friday morning. With Lee's windfield expanding as it weakens later in the week, some impacts to the island during the second half of the week can be expected.
United States East Coast: Forecast consensus as of Monday morning keeps Lee offshore, but it should be noted that there is low agreement in the model guidance towards the end of the week and forecasts should be monitored throughout the week. Dangerous surf and rip currents are expected along the majority of the East Coast this week.
Atlantic Canada: The last 48 hours of weather model guidance has been consistent in Lee making a close approach or crossing over Nova Scotia and Prince Edward Island late next weekend. As Lee will be transitioning into an extratropical storm, the strongest winds will be along and east of the low pressure center.