Hurricane Idalia marks the first major hurricane landfall of the 2023 season, 11 months since Hurricane Ian. The landfall in the Big Bend region of Florida brought damage to a relatively small number of properties because of the sparse population in this part of the state. Notably, this part of the coastline had only seen three category-3 or higher storms make landfall since 1900.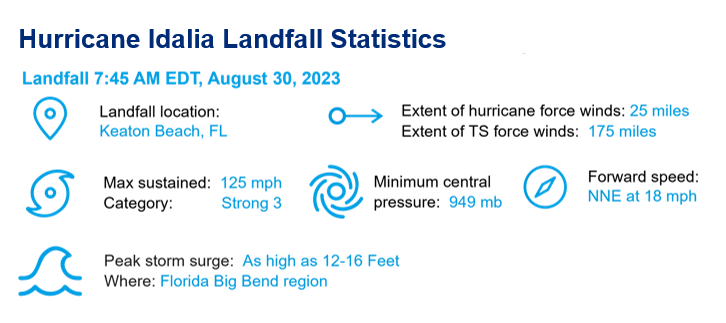 Event Headlines
Hurricane Idalia made landfall 7:45 AM EDT Wednesday, August 30 as a high-end category-3 hurricane, with maximum sustained winds of 125 mph. 
The storm moved ashore near Keaton Beach, FL after a period of rapid intensification peaking at category-4 status before slightly weakening upon landfall.
The landfall in the Big Bend region of Florida brought damage to significantly fewer properties in a relatively sparsely populated part of the state than the last major landfalling hurricane in Florida, Ian in 2022.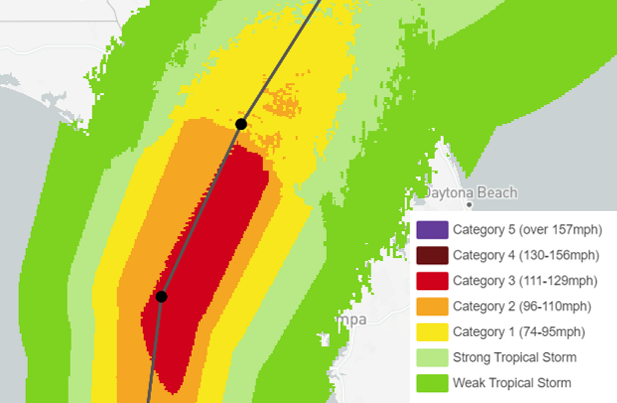 Another Rapidly Intensifying Gulf of Mexico Hurricane
Extreme Warmth in Gulf of Mexico Fueled Rapid Intensification: Once Idalia cleared the western tip of Cuba, the storm experienced sea surface temperatures that ranged from 2-5°F above the 1981-2010 average, and it encountered surface waters near 90°F. The National Hurricane Center reported intensity at 5 am EDT on August 29 and 30 of 75 mph and 130 mph, respectively, corresponds to a 55 mph increase in 24 hours. After touching category-4 strength briefly, an eyewall replacement cycle weakened Idalia, making landfall as a category-3 hurricane near Keaton Beach, Florida less than three hours later.
Rapid intensification before landfall is increasing at an accelerating rate in recent years. In the Atlantic basin, 18 out of 32 hurricanes that formed since 2020 rapidly intensified. Hurricane Ian (2022) and Idalia both achieved this pre-landfall RI criteria. Of 56 tropical cyclones since 1980 to cause at least $1B of insured loss, 73% of them underwent rapid intensification according to a study from Climate Central.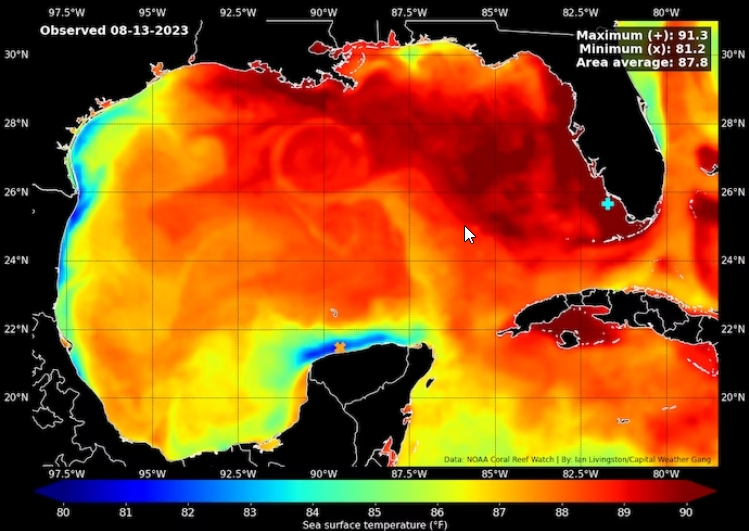 Publicly Available Loss Estimates
Industry Loss Estimates: A range of insurance loss estimates have been provided for Hurricane Idalia in publicly sourced data below. The range of estimates is predominantly a factor of the timing of the assessment.  Early indications of potential impacts to the Tampa metropolitan region resulted in materially higher estimates. When it became evident that Idalia would stay further west, the trend was for a decrease in insured loss estimates.
The Timeline of Hurricane Idalia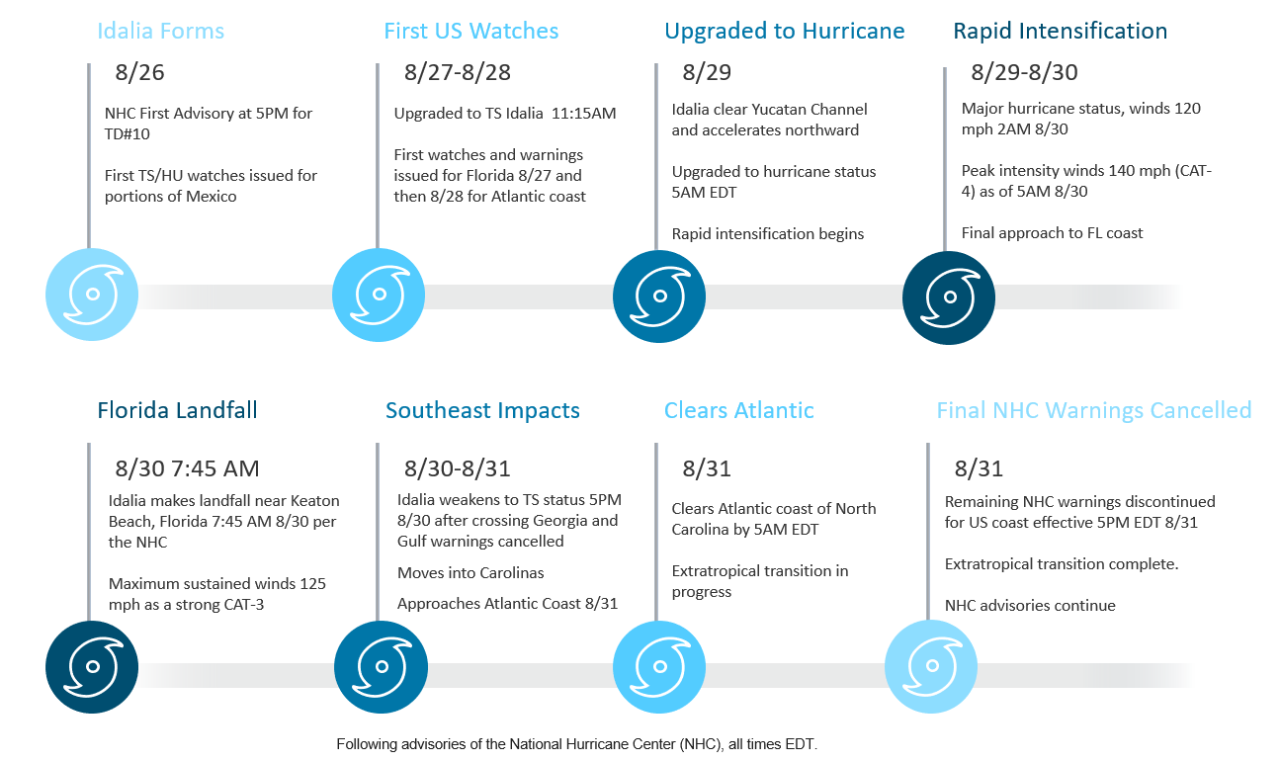 Near Ideal Track to Minimize Population Impact

Leveraging high resolution Kontur population data along with the swath of hurricane force winds, the placement of Idalia's landfall was in one of the least populated areas of the Florida coastline. Tracking across a heavily forested area of inland Florida, extensive tree damage was seen resulting in 288,000 customers without power on Wednesday August 30.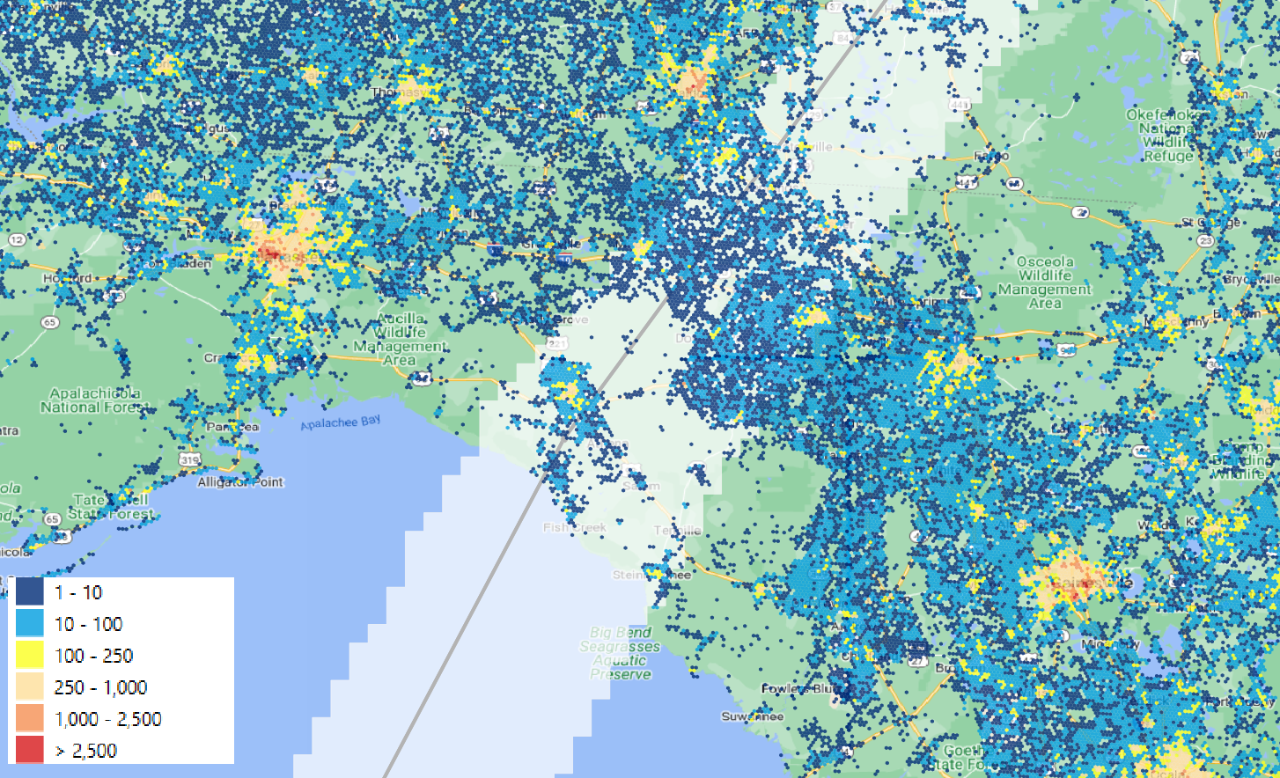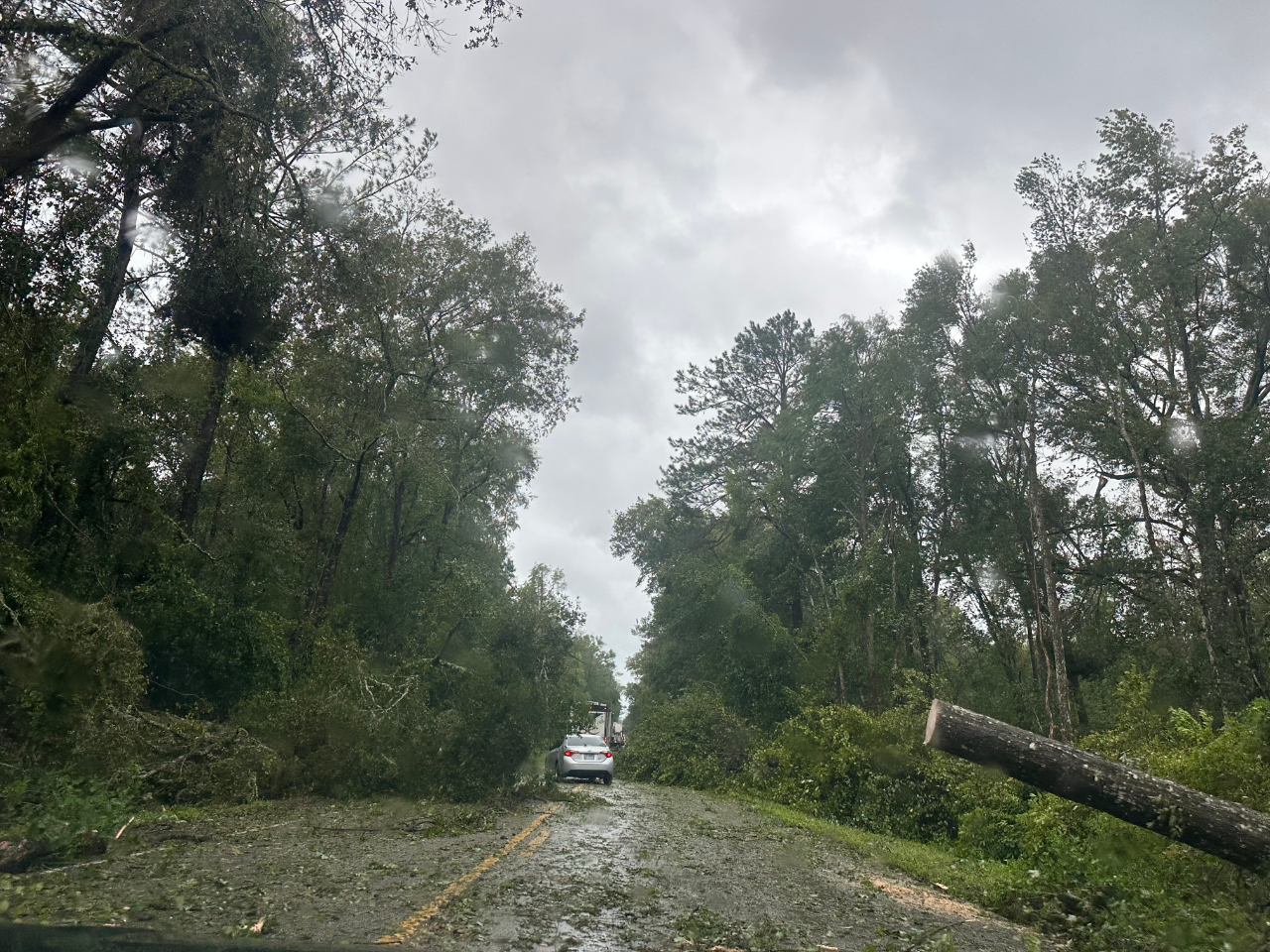 Storm Surge Worsening with Sea Level Rise
Along the Gulf of Mexico, coastal northwest Florida is a low-lying region with largely undeveloped tidal marsh and hardwood forest, which is adversely impacted by sea level rise due to global warming in recent years. According to NOAA's global and regional sea level rise scenarios for the US (2022), sea level rise in the Big Bend region is projected to be 22-25 percent higher than the global average by year 2060. This is above the 5 inches of sea level rise from 1920 to 2000 and an additional 6 inches seen in the last 20 years. Record storm surge occurred along the west coast of Florida at the Alafia River.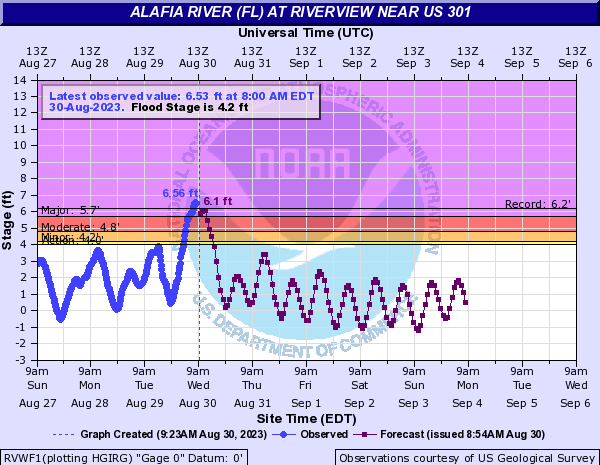 Due to its relatively low ground elevation and a higher-than-global-average rate of sea level rise, the Big Bend region is currently experiencing tidal marshland migrating landward to encroach and replace coastal forests at unprecedented rates, thereby creating "ghost forests". As a result of vegetation decline and higher tide level, coastal communities are more vulnerable to climate disruption through sea level rise and subsequent saltwater intrusion, as well as the wind and storm surge damage as hurricane events can push more water onshore.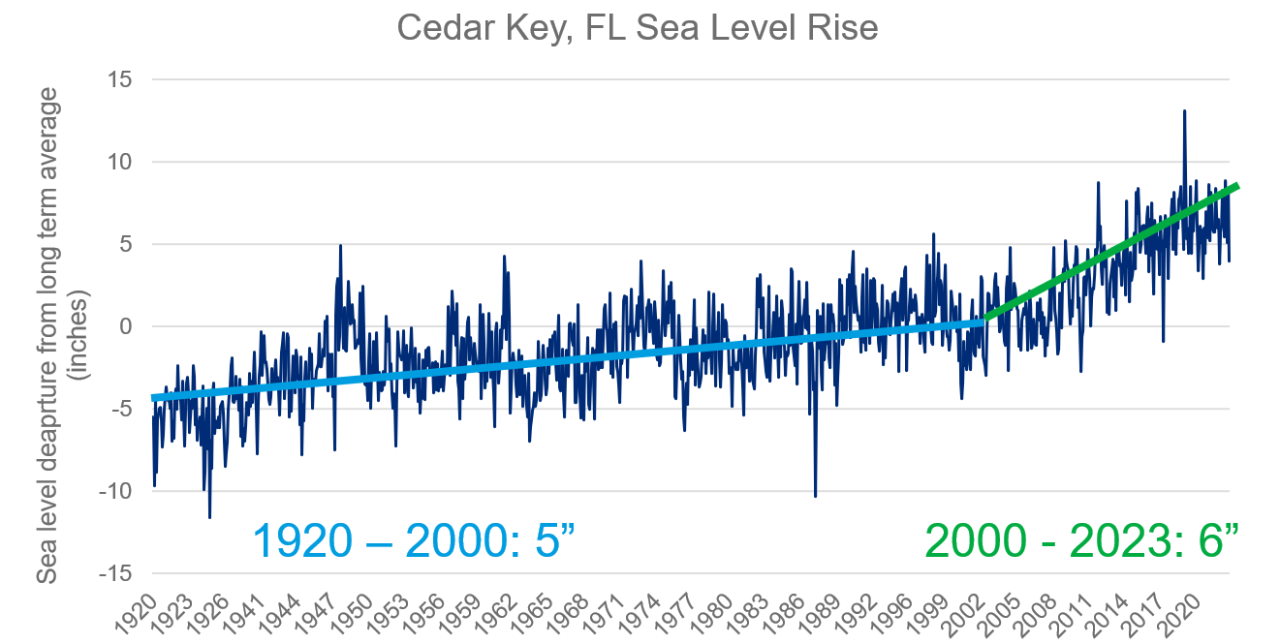 Areas of Confidence Relative to a Changing Climate
To enhance the advisory capabilities in quantifying climate change, GC developed US/Caribbean Sea Level Rise inundation maps and risk score maps (2020-2100) for use in portfolio physical climate risk assessment. With high confidence of continued sea level rise accelerating through the century, this product evaluates heightened areas of concern on the US and Caribbean coastline. Ultimately, the product assesses the sustainability of the long-term business growth strategies in coastal regions such as the Big Bend of Florida.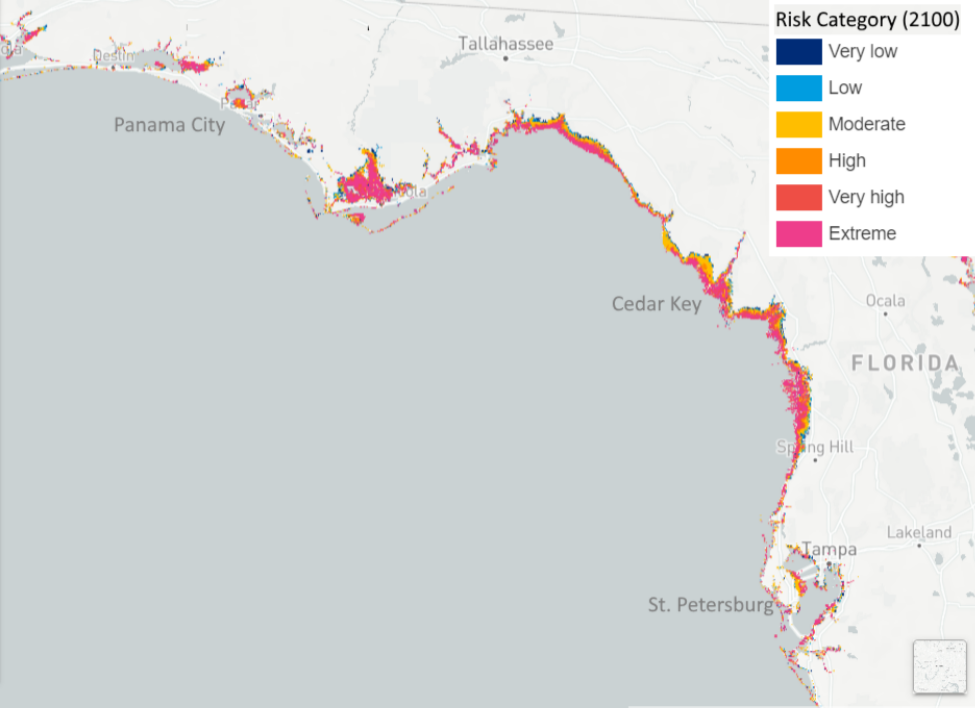 In addition to damaging storm surge, excessive inland precipitation transpired well inland from the Big Bend Region of Florida. As Idalia evolved into a post tropical storm, rainfall amounts in excess of 10 inches were recorded across the Carolinas and Georgia. 13.55 inches in Holly Hill, SC was the highest total recorded. Increasing precipitation potential in landfalling tropical cyclones is one of the stronger signals seen for impacts in a warming climate as the atmosphere can hold higher levels of moisture.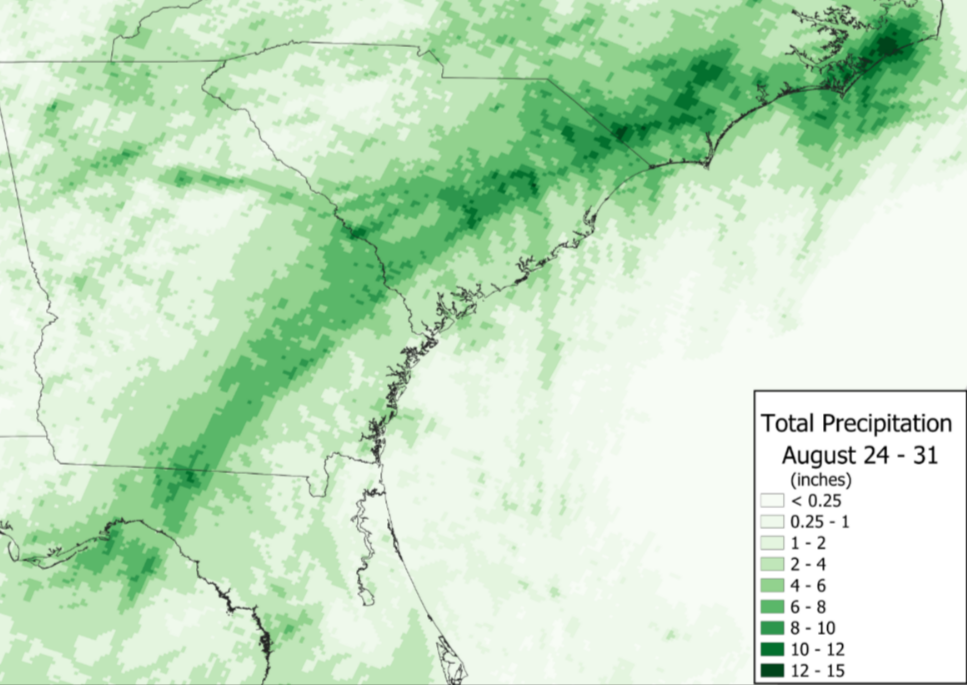 Post Event: Hurricane Idalia