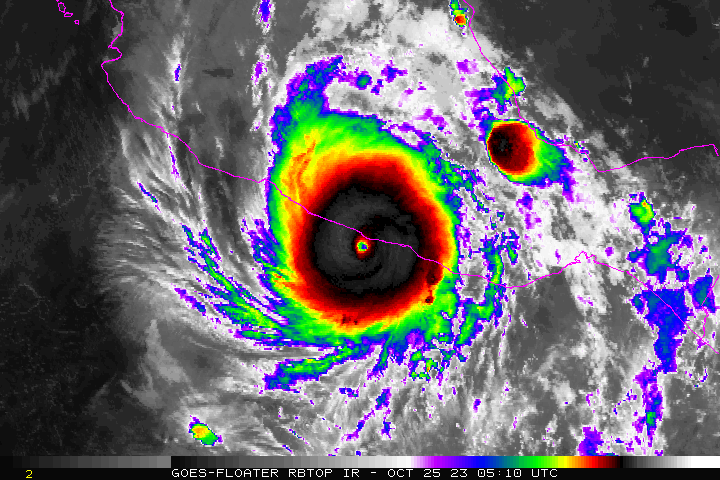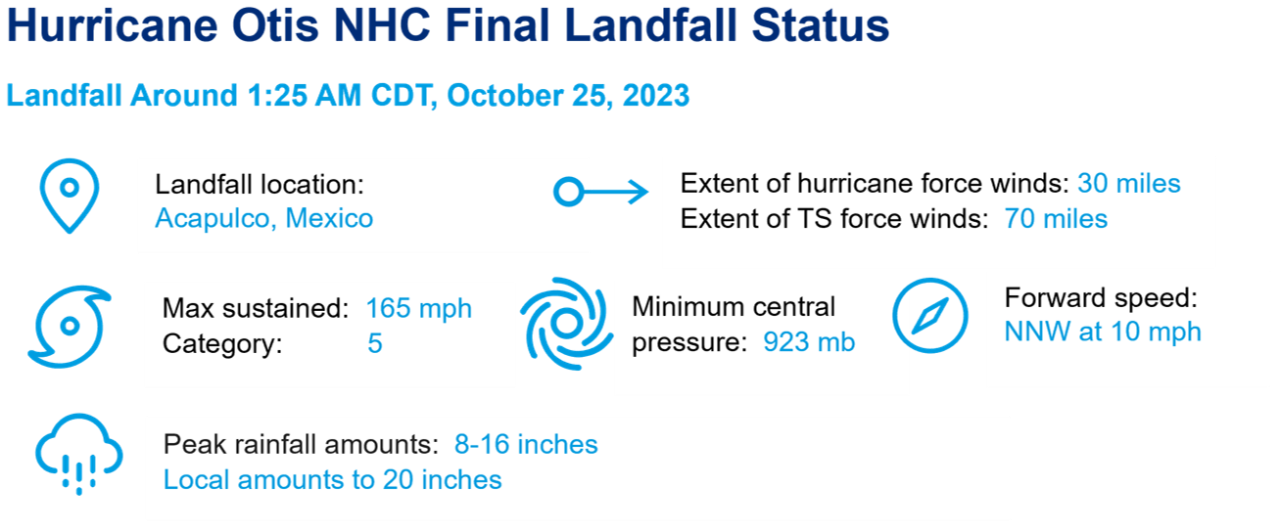 After making landfall near Acapulco, Mexico as a category-5 hurricane, Hurricane Otis became the strongest hurricane on record to make landfall along Mexico's Pacific coast. Packing sustained winds of 165 mph upon landfall, Otis underwent an unexpected period of rapid intensification of 110 mph in 24 hours, resulting in catastrophic damage.
Catastrophic Impacts from Category-5 Hurricane
Significant Damage Reported in Acapulco: Hurricane Otis's category-5 strength had devastating consequences for Acapulco and the surrounding metropolitan area. The region's tourism dependent economy which accounts for roughly 30% of the state's GDP, according to CoreLogic, was ravaged by the storm, with Guerrero state governor Evelyn Salgado stating that roughly 80% of the city's hotels were damaged. The city's high rise beachfront hotels and resorts suffered extreme wind impacts and beachfront locations also suffered flooding from storm surge. Damage to these properties, in addition to the luxury home and condominium properties are likely to drive insured losses. Further inland, 8-16" of rain combined with the mountainous topography of the region generated landslides and led to flooding in certain residential areas. Across the state of Guerrero, over 220,000 homes have been reported damaged.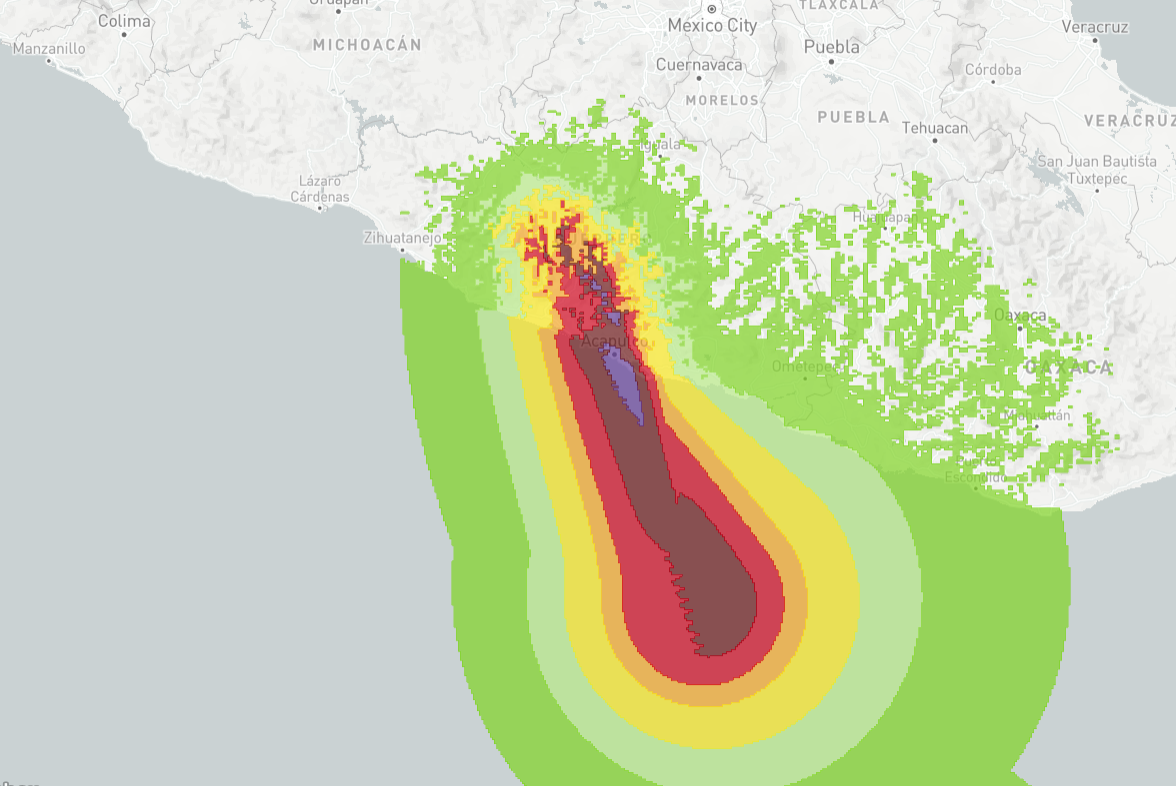 Otis also severed infrastructure and transportation throughout the Acapulco metropolitan area. An estimated 500,000 households lost power. Acapulco International Airport shut down due to damage from the storm, while local automobile transportation was blocked by landslides and damaged roadways. As of November 1, there were 46 reported fatalities and at least 58 additional remain missing.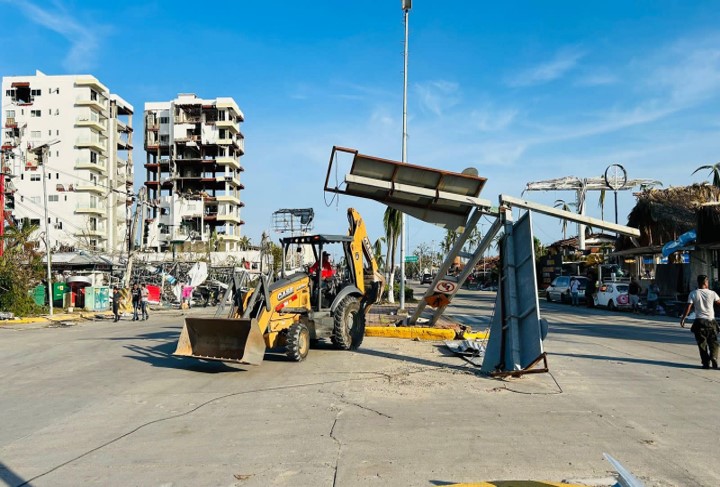 Publicly Available Loss Estimates
Industry Loss Estimates: Insured loss estimates have been provided for Hurricane Otis from publicly sourced data below. It is anticipated that Otis will be one of the most impactful hurricanes for Mexico's insurance market. 

The Timeline of Hurricane Otis

Unexpected Rapid Intensification
Tropical Storm to Category-5 in 24 hours: Before its landfall in Acapulco, Hurricane Otis increased from 75 to 145 mph (category-1 to category-4) in a 12-hour period and 50 mph to 165 mph (tropical storm to category-5) in a 24-hour period. The 12-hour and 24-hour intensity changes only trail Hurricane Patricia (2015) for fastest intensity changes in the East Pacific basin record (IBTrACS best track data). Using global data from the last 60 years, Otis' 12-hour intensity change is in the top ~0.01% of all 12-hour intensity changes.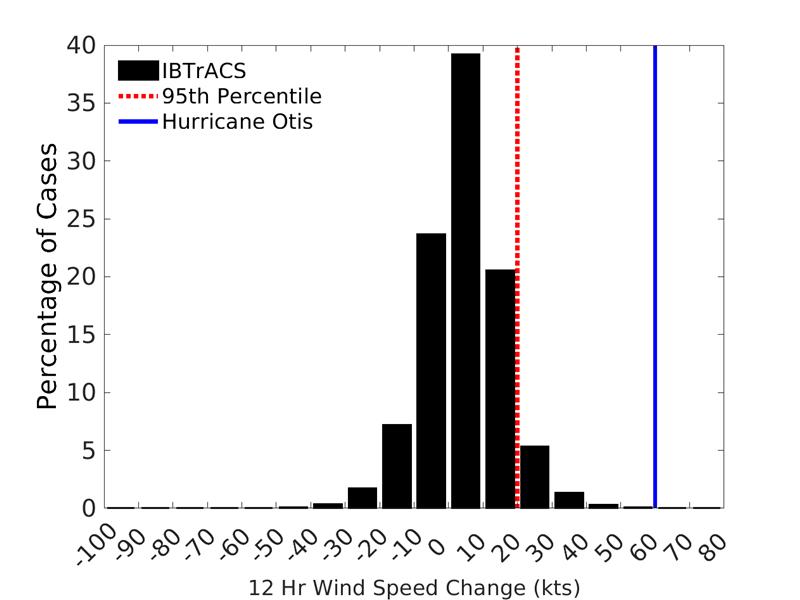 The extreme intensification occurred when Otis traversed over 30˚C+ ocean water on its final approach to Acapulco which coincided with a decrease in wind shear. The extremely moist mid-levels of the atmosphere as well as the anomalously high potential intensity of the environment were also contributing factors to the historic pre-landfall intensification. Even with these conducive environmental variables, hurricane model guidance did not capture the potential for rapid intensification which left communities less prepared. Otis represents yet another example of an increasing trend in tropical cyclones  jumping multiple categories before landfall.
Over the last 60 years, Hurricane Otis ranks 10th in 12-hour intensity change (60 knots) among tropical cyclones globally, according to 6-hourly best track data. Hurricane Wilma holds the record with 75 knots, followed by 4 storms with 70 knots and another 4 with 65 knots.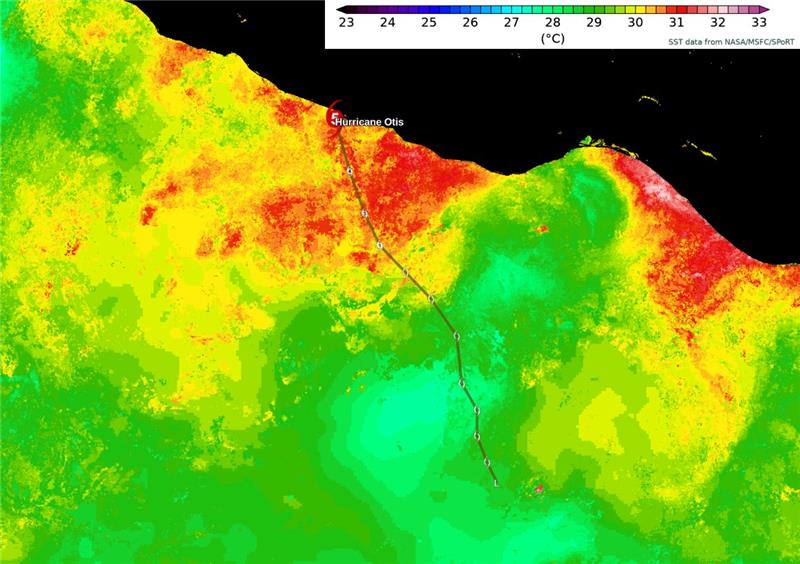 Historical Storm for Pacific Mexico
Hurricane Otis is among the strongest storms in recorded history to impact the Pacific coast of Mexico and the first category-5 storm to make landfall in this region of Mexico. Before Otis, only two storms had made direct landfall within 50 miles of Acapulco, both at category-1 strength. While the city has experienced close calls with bypassing category-2 Hurricane Bridget (1971), and category-4 Hurricane Pauline (1997) which made landfall near Puerto Angel and tracked northwest through southwestern Guerrero, Otis was the first landfalling major hurricane in this area. Only two other category five hurricanes have made landfall anywhere along the Pacific coast of Mexico: Hurricane Kenna (2002) and Hurricane Patricia (2015).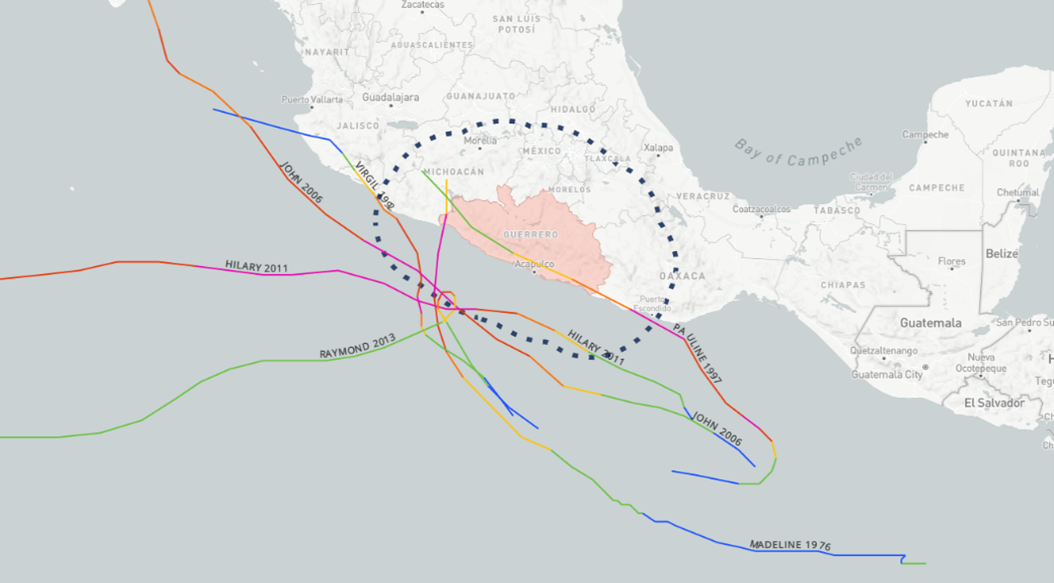 While this region of Mexico sees most of their tropical cyclone activity during September and October, more than 80% of these systems are usually tropical cyclone or low-end hurricane strength. Only three major hurricanes have occurred within 100 miles of Guerrero in the month of October, the most recent landfalling event being Hurricane Pauline (1997). 
As a quick moving storm with a narrow track, it is anticipated that the majority of insured loss from Otis will be wind driven, rather than from water (surge, heavy rainfall, flooding). However, due to Mexico's topography inland, localized heavy rainfall from tropical cyclones can often result in landslides and residual flooding, as referenced on page 1. Seen left is a 1-day rainfall accumulation from NASA's Global Precipitation Measurement Mission (GPM), indicating heavy rainfall produced by Otis.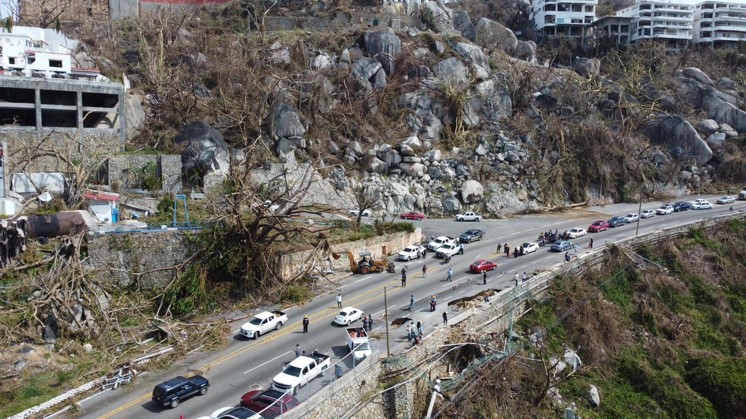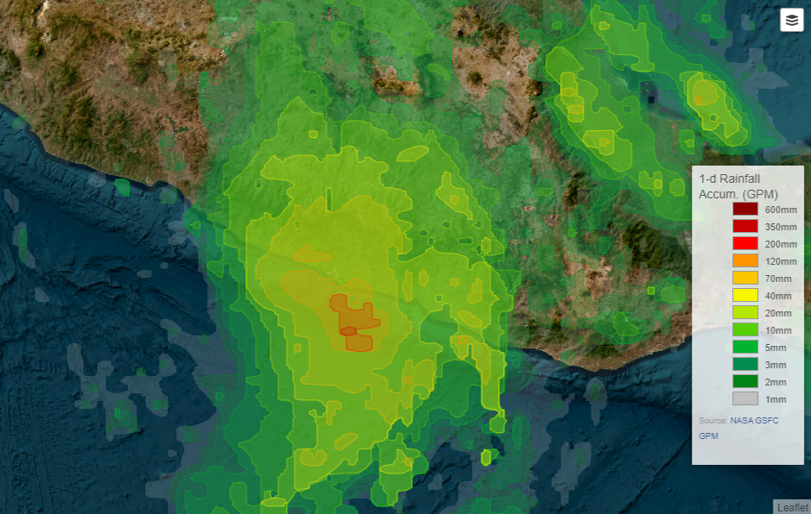 Download the Post Event Report