At the April 1 reinsurance renewals, property catastrophe pricing increased for the third year in a row. Following the first loss-free year since 2018, there was some consolation for buyers in that the average increase was the lowest of the past three years. Rates moved up on average by a small percentage for mutual buyers.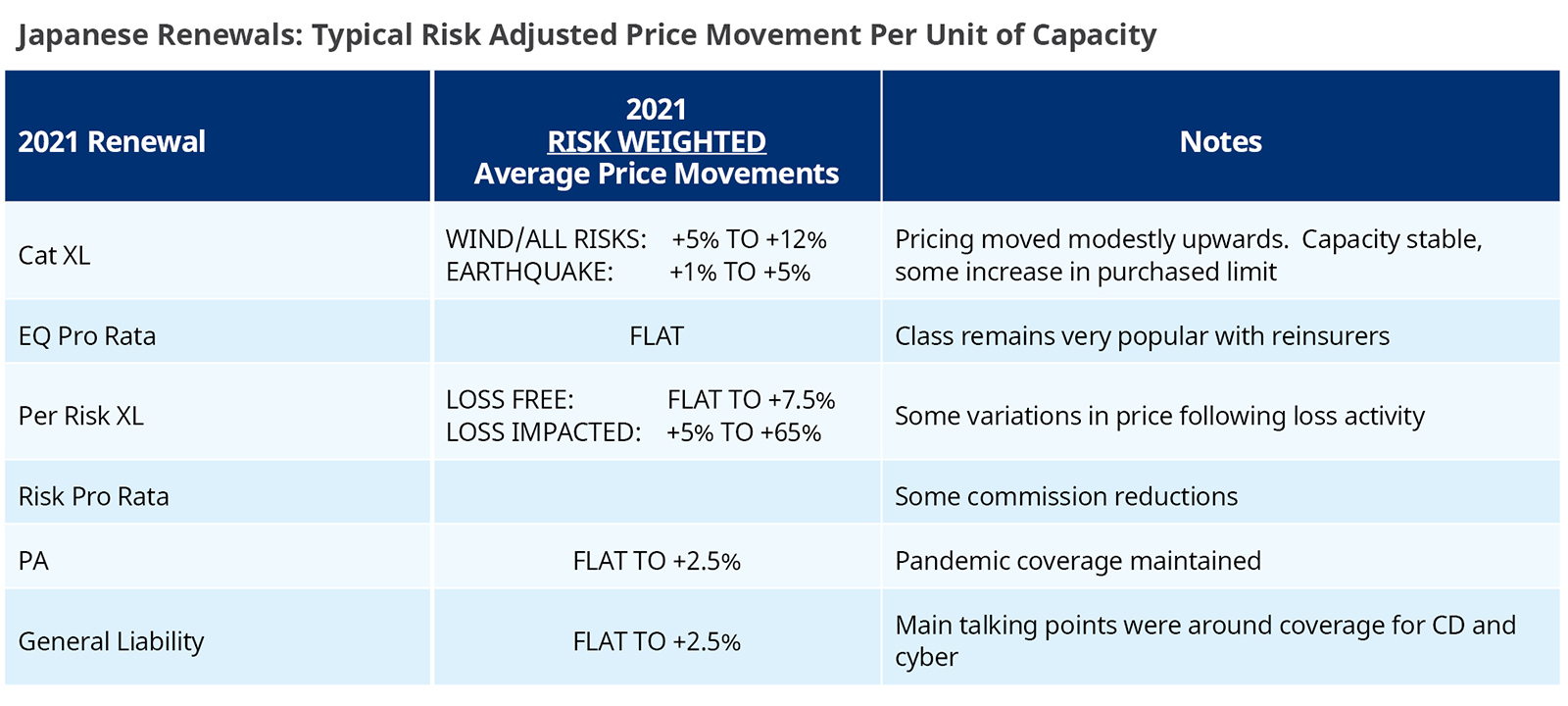 Quoting and Price Negotiation
Renewal timelines were similar to previous years. Before the start of the process, there was enough uncertainty over the likely outcome that quoting was a true stage of price discovery, as it had been in the two previous years. Quotes were thus actively sought from reinsurers.
Coverage – Communicable Disease and Cyber
Conversations about coverage were dominated by two big topics: communicable disease and cyber. All clients introduced bespoke clauses on the contracts where they were necessary. An early start was made to negotiations in order to get reinsurers' acceptance, and conversations went on for several weeks. The vast majority of reinsurers were able to agree to clients' proposed clauses, but some only after much discussion and the provision of additional information. In a few cases, agreement was only reached at the final stage.
Capacity
In general, there was a slightly increased supply of capacity, but there was no return to the huge oversupply enjoyed by buyers prior to the 2018 loss season. Capacity remained particularly tight in certain classes, such as engineering.
PROPERTY CATASTROPHE 
Catastrophe Excess of Loss
Prices increased in the range of 5 percent to 12 percent for loss-free programs covering windstorm, though there were outliers at either end of these ranges where specific factors applied. The average price for Japanese windstorm is now at a 25 year high. Buyers of protections including earthquake saw the pricing for that peril move up by low single digits percentages. Available capacity increased over 2020, resulting in a greater sign down percentage than in recent years.
The amount of multi-year cover purchased by the Japanese market has declined over the past few renewal seasons. There were no new additional purchases of multi-year capacity in the core areas.
Catastrophe Bonds
Catastrophe bonds are used to a certain extent by Japanese buyers and there were two successful new issuances to augment traditional capacity, one for wind and the other for earthquake. Rates for catastrophe bonds were relatively competitive. Total limit supplied by this form of capacity remains small as a percentage of the total program limits purchased.
Catastrophe Covers Outside of Japan
A number of overseas catastrophe covers are purchased by Japanese companies. In the past, Japanese buyers had traditionally purchased separate protections for their domestic catastrophe and overseas catastrophe exposures. However, there are now a number of covers that protect both global and Japanese domestic catastrophe exposures on a combined basis. This trend continued this year with yet more limit purchased on a global combined basis in 2021 than in the prior year. Pricing for non-Japanese exposures generally moved in line with that expected in the local geographies protected. As the market is generally hardening for all international catastrophe excess of loss treaties, this meant the price environment was challenging.
Aggregate Excess of Loss
Pricing increased for aggregate excess of loss covers at the renewal. Buyers were again keen to renew these covers, which have served them so well in recent years. Further losses for some in 2020 made the renewal even more complex. Careful planning and some restructuring was required to secure target placement.
Earthquake Pro Rata
Popular with reinsurers, this class is a stable renewal. Total ceded capacity increased by a small amount, but overall, there were no changes to treaty monetary terms.
PROPERTY PER RISK Fire Pro Rata
2020 was another year of poor results for reinsurers of pro rata treaties in Japan, with results well into the red for the market as a whole. There were some limited reductions in ceding commissions, but these were already at historic lows. Some quota share cessions were made to support surplus treaties. Improvements in the original market terms and conditions were a key factor in persuading reinsurers to continue supporting the class.
Fire Excess of Loss
A large fire loss in October 2020 had a significant impact on the renewal of several of the large buyers. Average rates increased, and the increases were significant in a number of cases. Total premium spend in the market was increased by about 25 percent.
CASUALTY Personal Accident
During the preliminary stages of the renewal there were concerns over the sustainability of the pandemic coverage feature that has traditionally been included in Japanese personal accident programs for many years. However, as in 2020, cedents were successful in maintaining the same coverage. Liability Coverage restrictions for communicable disease and "silent cyber" prompted the main points of contention at the April renewals. Clients were not willing to accept any coverage limitations for communicable disease. Prices were stable or modestly increased.
Engineering
Reinsurer capacity for Japanese engineering pro rata treaties has become increasingly tight over the past two years. There were no new entrants to the class and reliance was on larger capacity providers to assist in completing placements.
Cyber
Increased underwriting scrutiny from reinsurers followed recent global ransomware attacks. However, Japanese cyber business is a sought-after commodity with supply greatly outstripping demand.
Credit and Bond
These classes remain popular with reinsurers and ample capacity was available, leading to a smooth renewal.