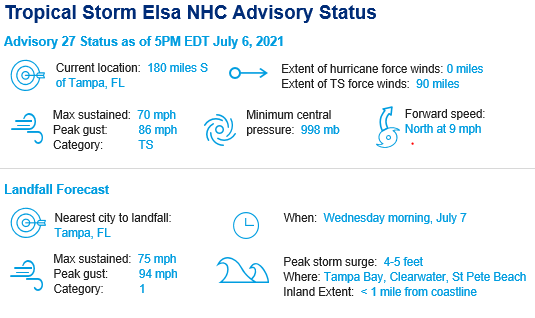 ​​​​​​Key Headlines
Hurricane Warning Issued for a portion of the Florida Gulf Coast: The National Hurricane Center (NHC) issued a special advisory at 2 pm EDT for TS Elsa, indicating the expectation of strengthening to a Category-1 hurricane prior to a landfall near or north of Tampa on Wednesday morning.
Current Impacts: Heavy rain is impacting Cuba today, with mudslides and flash flooding probable. Tropical storm conditions are already occurring in the Florida Keys and will spread northward along the Florida coast today and into tomorrow.
Possible Strengthening: Aircraft failed to sample hurricane force winds in Elsa during an earlier flight today, however even a slight increase in intensity would strengthen Elsa to a Category-1 hurricane prior to landfall.
What is Next?
Expected Impacts in Florida: Hurricane Warnings have been issued for portions of the Florida Gulf Coast, from roughly Tampa north to Horseshoe Beach. Areas south of Tampa are under a Tropical Storm Warning. Elsa is expected to produce widespread rainfall of 3-5 inches, with localized totals up to 8 inches. Additionally, a storm surge of up to 5 feet is expected from St Pete Beach to Clearwater. Maximum sustained winds of 75 mph with gusts to 95 mph are expected near the landfall location of Elsa.
Additional Strengthening? Elsa is currently a strong tropical storm, moving over waters that are slightly colder than average for this time of year. A weather system crossing the U.S. continent could provide favorable outflow to support a slight intensification of the storm, although significant strengthening is not expected prior to landfall. Even a small increase in intensity would categorize Elsa as a hurricane.
After Florida: Tropical storm warnings are also issued for the coastline of Georgia and South Carolina, as Elsa is expected to weaken to a tropical depression after crossing Florida, and gradually move inland along the southeast coastline. Heavy rainfall is expected, with localized flash flooding and urban flooding possible. It will eventually exit into the Atlantic and re-strengthen to a Tropical Storm.
NHC official forecast for TS Elsa , Tuesday July 6 at 2 pm. Source: National Hurricane Center
Tropical Atlantic 7 Day Sea Surface Temperature Anomaly.  Source: NCEP/NOAA

Additional links of interest:
U.S. National Hurricane Center