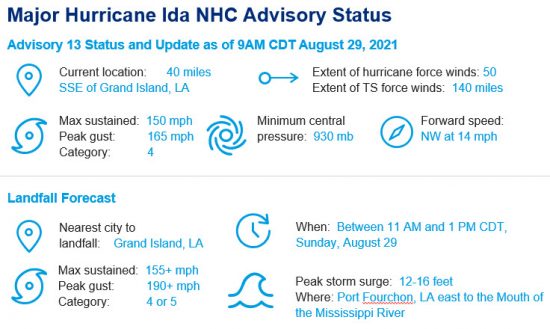 Key Headlines
Severe Hurricane Status: Ida has undergone rapid intensification and strengthened into a severe category-4 hurricane. Ida has a well-defined eye and circulation, and is approaching status as a category-5 hurricane. Ida is now the strongest hurricane of the Atlantic Hurricane Season thus far, and the second major hurricane of the 2021 Atlantic Hurricane Season (following Hurricane Grace). If Ida maintains its strength at landfall as anticipated, it will tie the Last Island Hurricane (1856) and Hurricane Laura (2020) as the strongest storms to make landfall in Louisiana on record since the 1850s.
Timing: The eye of Ida is forecast to make landfall along the Louisiana later this morning or early this afternoon, between the hours of 11 AM and 1 PM CDT. The outer bands of Ida are now moving ashore along with tropical storm conditions in southeastern Louisiana; hurricane conditions are expected shortly.
Location: The official NHC forecast brings Ida ashore near Port Fourchon and Grand Island in southeastern Louisiana. A slight jog east in Ida's track will bring more significant impacts to the New Orleans metropolitan region. Hurricane warnings are in place from Intracoastal City, Louisiana east to the Louisiana/Mississippi border. The Louisiana coastline, and the expected landfall location in particular, have been repeatedly impacted by tropical activity in the past. To view a chart of the strongest hurricanes to make landfall in Louisiana since 1850, click here to view yesterday's post.
[caption id="" align="aligncenter" width="550"]
Satellite loop of Hurricane Ida on its approach to the United States. Source: Tropical Tidbits.[/caption]
Severe Hurricane Impacts
Catastrophic Wind: Ida's core will render catastrophic wind damage to property and infrastructure on the southeast coast of Louisiana. Wind speeds of 155 mph or more can cause severe damage, including roof failure and wall collapse to well-built homes. Most trees will be snapped and uprooted and power poles downed. Widespread power outages of significant duration can be expected. Increases in wind speed cause exponential increases in damageability, and the winds of a category-4 hurricane are nearly 200 times more destructive than those of a minimal category-1 with winds of 75 mph. Those of a category-5 storm can be on the order of 400 times more damageable.
Life threatening Storm Surge: Ida's strong winds and large wind field will generate significant storm surge along the low lying Louisiana coastline. Maximum surge levels are likely to occur between Port Fourchon, Louisiana and the mouth of the Mississippi River where surge elevation is expected to reach 12 to 16 feet. To the east of the Mississippi River, 8 to 12 feet of surge is expected in a region which includes the east bank of the Mississippi River, Lake Borgne and the Louisiana/Mississippi border. At directly coastally exposed locations damage will be enhanced by large destructive wave action in addition to the seawater inundation caused by storm surge. While many areas of Louisiana are protected from catastrophic surge by large coastal defense projects, overtopping of levees and other barriers from surge and waves may occur.
Extreme Rainfall and Flooding: Rainfall accumulations on the order of 10 to 18 inches are forecast across portions of southeast Louisiana, with localized totals of up to 24 inches possible. Life-threatening flash, urban, and riverine flooding are likely as a result.
Additional Impacts: Tornadoes are possible today and tomorrow from southeast Louisiana west to the Florida Panhandle. Impacts from the COVID-19 could have drastic implications, as numerous hospital patients in the path of the storm were unable to evacuate due to nearby hospitals being at full capacity. Relief efforts could be delayed following the storm as a result of the pandemic as well.
Inland Impacts: Following landfall, Ida is forecast to rapidly weaken and take a strong turn to the north, then northeast as it moves through the Mississippi Valley. Strong winds, especially gusts, will occur well inland near the track of the center in portions of southeastern Louisiana and southwestern Mississippi through tonight and Monday. Significant flooding impacts are possible throughout the Lower Mississippi, Tennessee, and Ohio Valleys through Wednesday from heavy rainfall.
[caption id="" align="aligncenter" width="550"]
Position and best forecast, with official 5-day cone of uncertainty for Ida. Source: NOAA/NHC. [/caption]
[caption id="" align="aligncenter" width="550"]
Forecast peak storm surge.  Source: NOAA/NHC.[/caption]
[caption id="" align="aligncenter" width="550"]
Forecast 5-day rainfall amounts ending 7AM CDT September 3.  Source: NOAA/WPC.[/caption]
[caption id="" align="aligncenter" width="550"]
Flash flooding potential associated with Ida. Source: NOAA/WPC.[/caption] [caption id="" align="aligncenter" width="192"]
Hurricane wind damage potential, indicating the damage potential increase with increases in wind speed. Source: NOAA/NWS.[/caption]
 

 
Additional links of interest:
U.S. National Hurricane Center
Local Products Associated with Tropical Storm Ida
Guy Carpenter meteorologists will continue to monitor Ida upon landfall. Further updates will be issued during the upcoming week.
Statements from official forecast and emergency management agencies supersede this update, and should be closely followed concerning matters of personal safety.