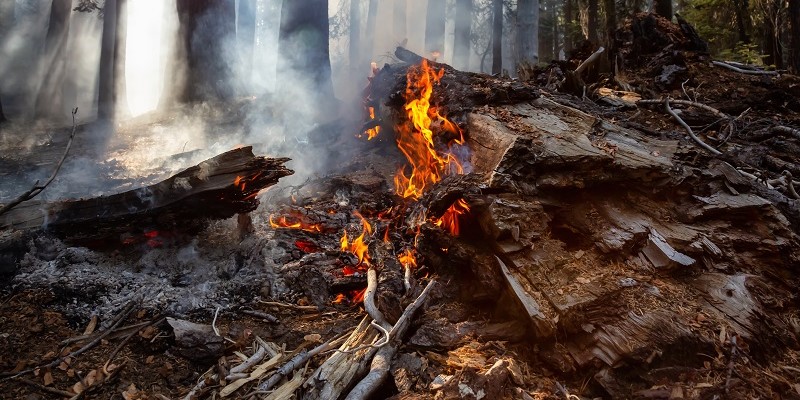 The combination of climate change and increasing development in wildland urban interface areas brings an elevated risk to human populations in the US. Once wildfires move into urbanized environments, they can spread rapidly from building to building. This condition is often intensified by very strong seasonal winds, such as the Santa Ana winds in Southern California.
This phenomenon is known as "urban conflagration." The confluence of very dry fuels, local seasonal winds and humans living in vulnerable environments could precipitate a wildfire disaster on an unprecedented scale.
The potential impacts spread far beyond a loss of structures. They could range from disruption due to electric outages pre-event to the destruction of entire communities by urban fire spread. This was the case with the Camp Fire, which devastated Paradise, California in 2018.
The risk of such a devastating scenario is widespread. Guy Carpenter's Urban Conflagration Index indicates that fires could impact tens of thousands of homes in a single large event on the fringes of most major metropolitan areas in California, as well as locations such as Boulder, Colorado, Miami, Florida and Prescott, Arizona. (These are represented by the pink and red shading in the maps below.)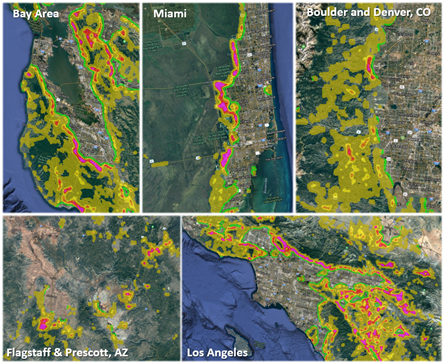 The larger the scale, the more pronounced the societal and environmental impacts. These could include widespread home price devaluations and mortgage defaults, as well as a disruption of society in the forms of water-supply contamination, increased health risks from air pollution, a reduction in tourism and issues related to insurability.

As recent history and ongoing weather patterns have shown, wildfire is a peril that demands improved modeling efforts to quantify and manage risk.
The GC Wildfire Diagnostic leverages the latest in wildfire science, allowing insurers to effectively quantify and manage their exposure to wildfire risk, which is of growing concern to all property insurers in California and beyond. It allows insurers to accelerate responsible growth without fear of unintended impacts to profitability. The GC Wildfire Diagnostic supports better risk management decisions, enhanced profitability and opportunities for an improved competitive position in a landscape of increasing wildfire risk.