Guy Carpenter is pleased to share our new briefing, Gene and Cell Therapy: Dealing with Rising Coverage Costs.
This briefing focuses on assessing costs, challenges and opportunities connected with high-cost gene and cell therapies, helping clients determine how the expense and benefits of these therapies could affect their businesses.
An estimated 95,000 individuals will be eligible for gene and cell therapy by 2025—at a cost of USD 25 billion to the US healthcare industry. Currently, health reinsurers provide gene and cell therapy coverage under standard medical excess of loss reinsurance contracts. However, with multiple new high-cost therapies entering the market every year, the need for innovative financing and risk management solutions is critical to maintaining cost-appropriate coverage for all in the long-term.
Guy Carpenter's Life, Accident and Health Segment understands that it takes more than one solution to address this multifaceted issue. Our broad industry relationships help risk bearers identify the best partners to help prepare, manage and finance gene and cell therapies.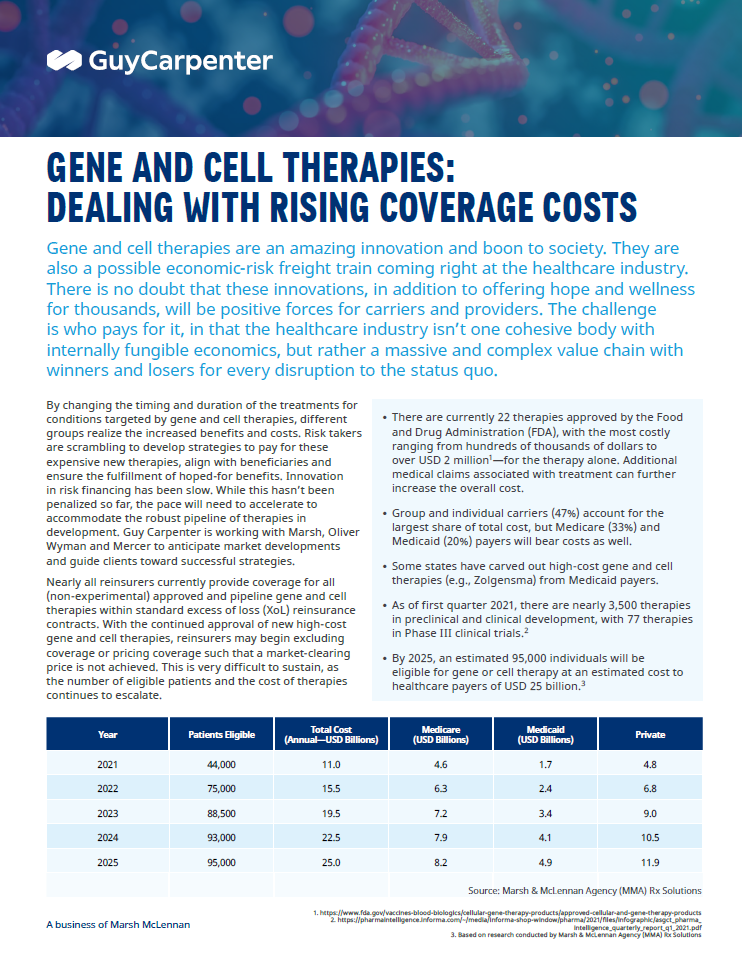 Gene and Cell Therapy
Controlling costs key for maximizing benefits