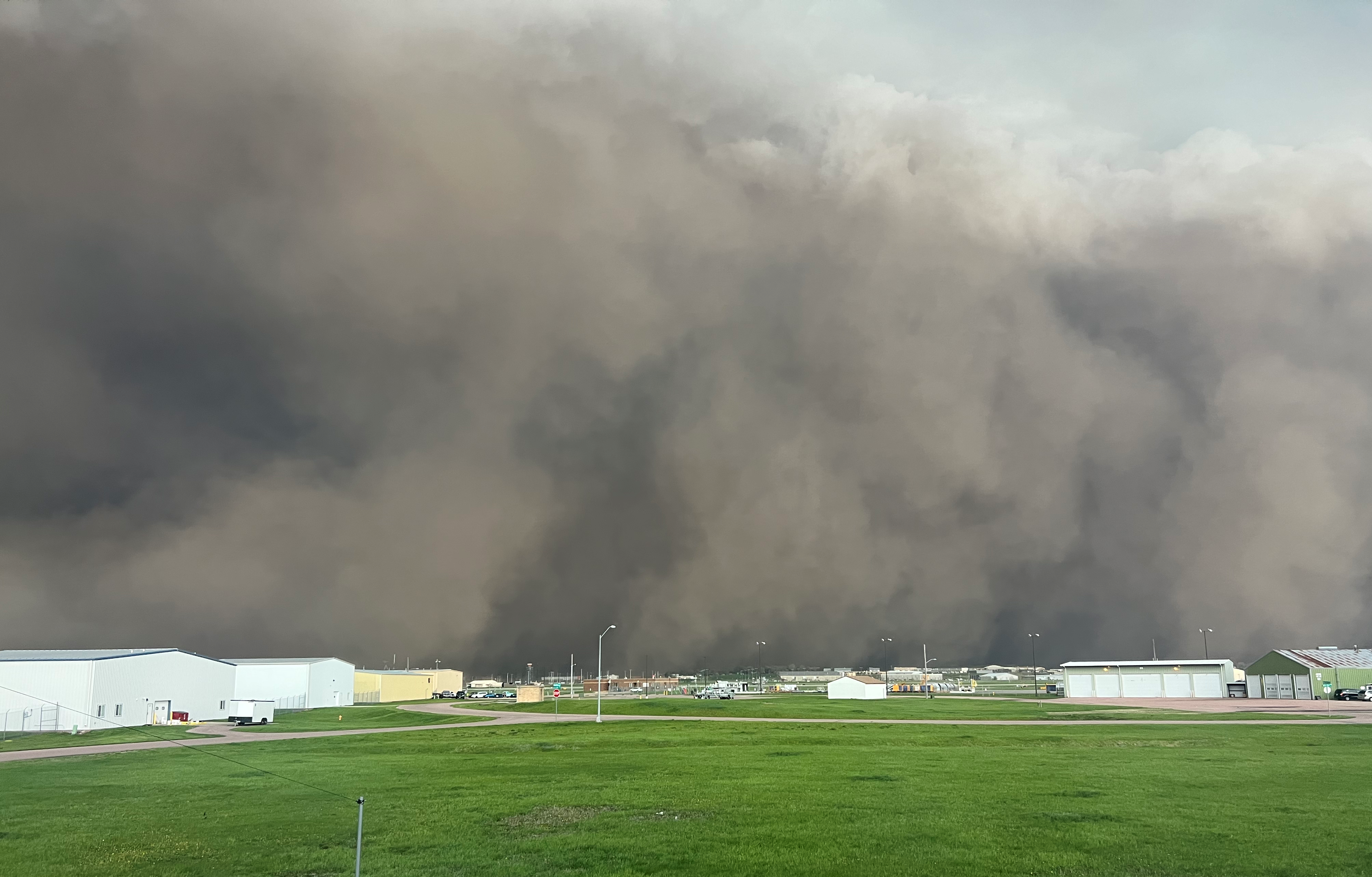 North America Severe Thunderstorm Season Update
After a faster than average start to the US tornado season through the month of April, attention has turned to multiple damaging wind and derecho events during the month of May.  Notably, two separate derechos that impacted the Northern US Plains and Ontario last month are meaningfully impacting carriers with exposure concentrations in these regions.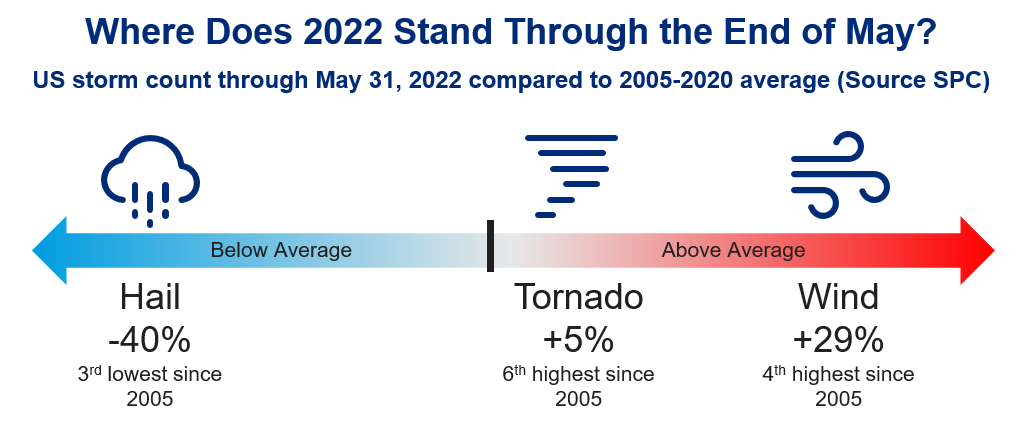 Regions of Heighted and Suppressed Activity through May 2022
The maps below show the areas of anomalous severe thunderstorm activity (top) and tornado activity (bottom) as measured by the amount of warnings issued by National Weather Service offices.  Red shading indicates heightened activity relative to average, including the Northern Plains, Florida and portions of the Eastern Seaboard. In contrast, areas of below average activity have been seen in potions of Texas, the western Plains, the central Mississippi River Valley and interior portions of the Southeastern US. As of June 1, the tornado season is 55% complete, while the wind season is just 30% complete.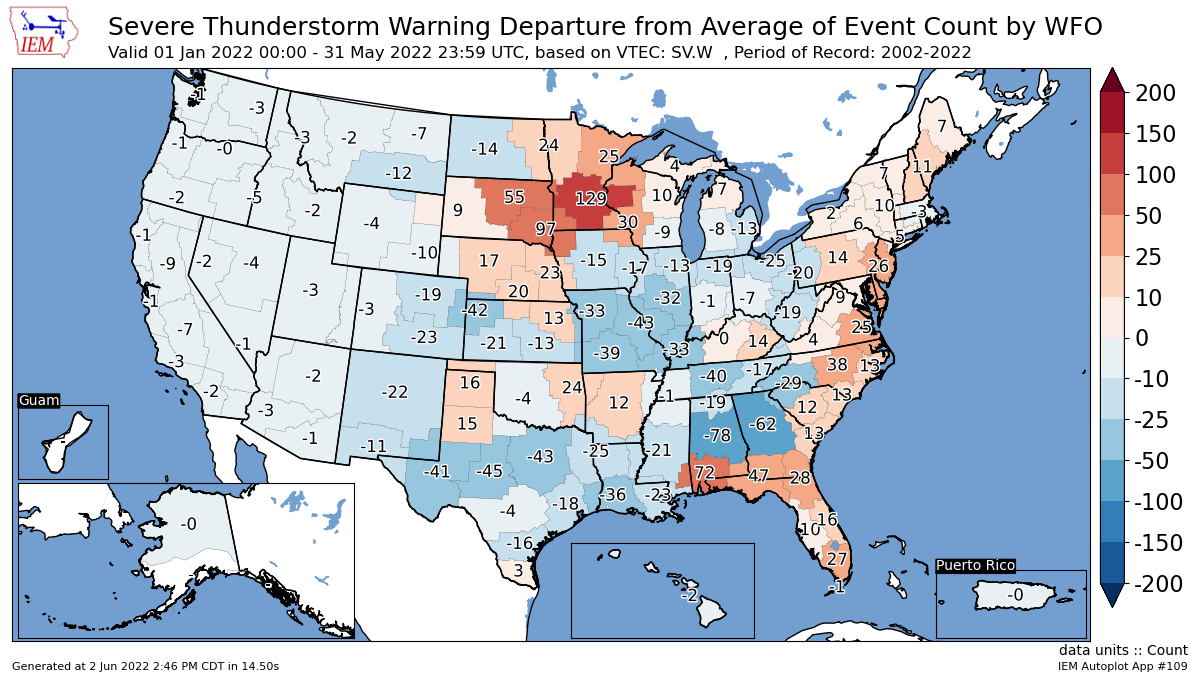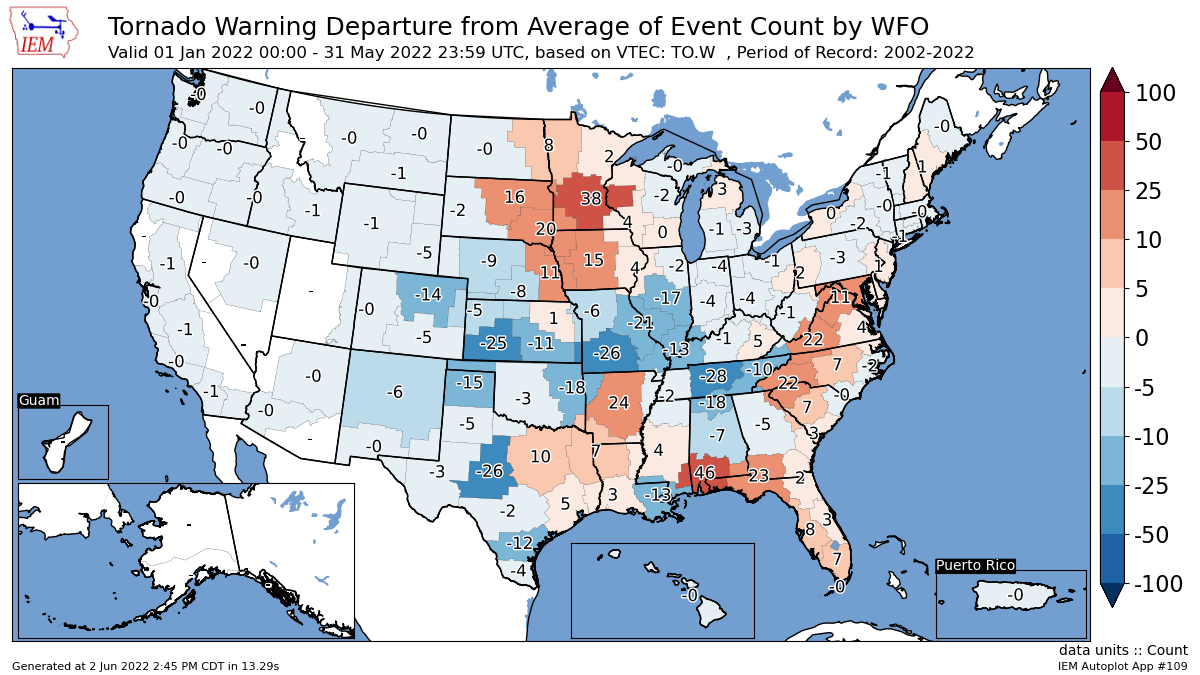 The Northern Plains Derecho
May 11-12, 2022
Thunderstorm activity that initiated in northern Kansas the morning of May 11 progressed north-northeast and matured into an intense and damaging squall line of thunderstorms by mid-afternoon.  Travelling at a forward speed in excess of 70 mph associated with an intensifying area of low pressure over the western Dakotas, numerous wind gusts in excess of 80 mph were reported from Nebraska to Minnesota with several of the strongest wind gusts in excess of 100 mph; the highest reported gust of 107 mph was measured in Tripp, SD. 
Incredibly, the 59 wind gust reports in excess of 74 mph over a 24 hour period stands second of any 24 hour total in the Midwest, behind the December 2021 derecho (see chart bottom right). The length of severe wind reports classified this squall line as a derecho.  Pockets of hail in excess of 2" in South Dakota and western Minnesota escalated damage due to wind blown hail breaking windows and rendering significant damage to siding and cladding of structures.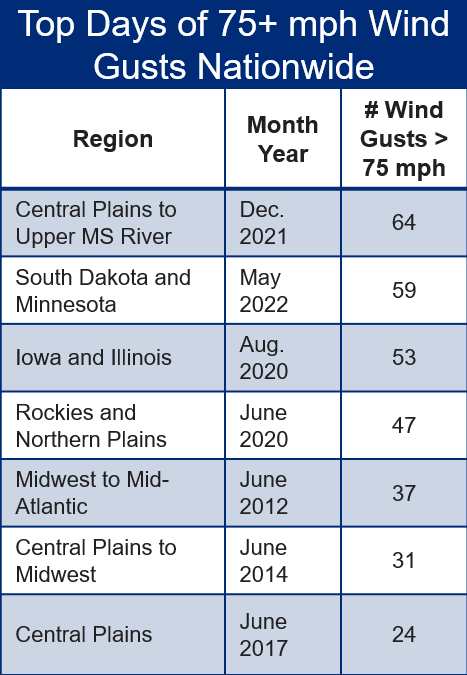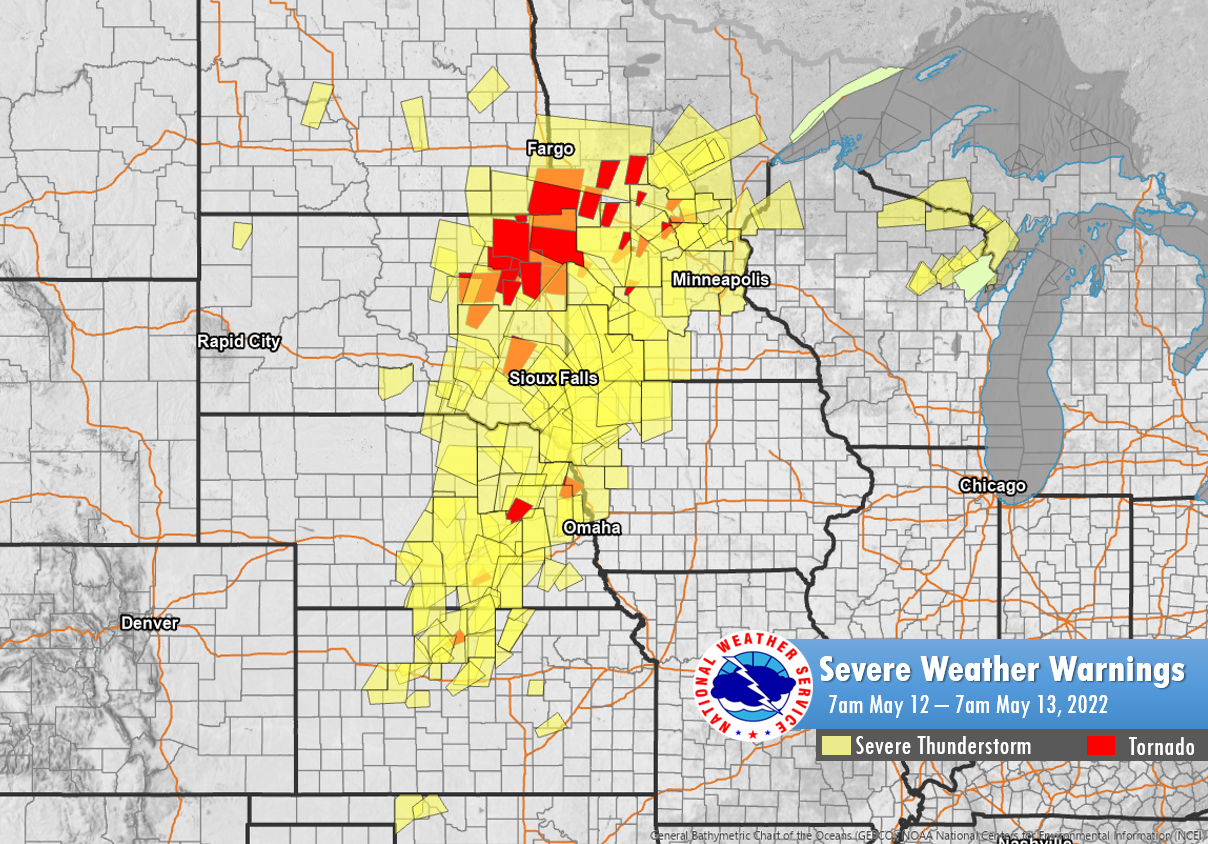 Accompanying the severe winds as the derecho progressed through South Dakota and western Minnesota was a major dust storm called a haboob. Severe to exceptional drought across the western Plains helped generate zero visibility with blowing dust and debris. The term haboob is derived from the Arabic word 'haab' where blowing dust can rise to many thousands of feet above the surface and last 10-30 minutes.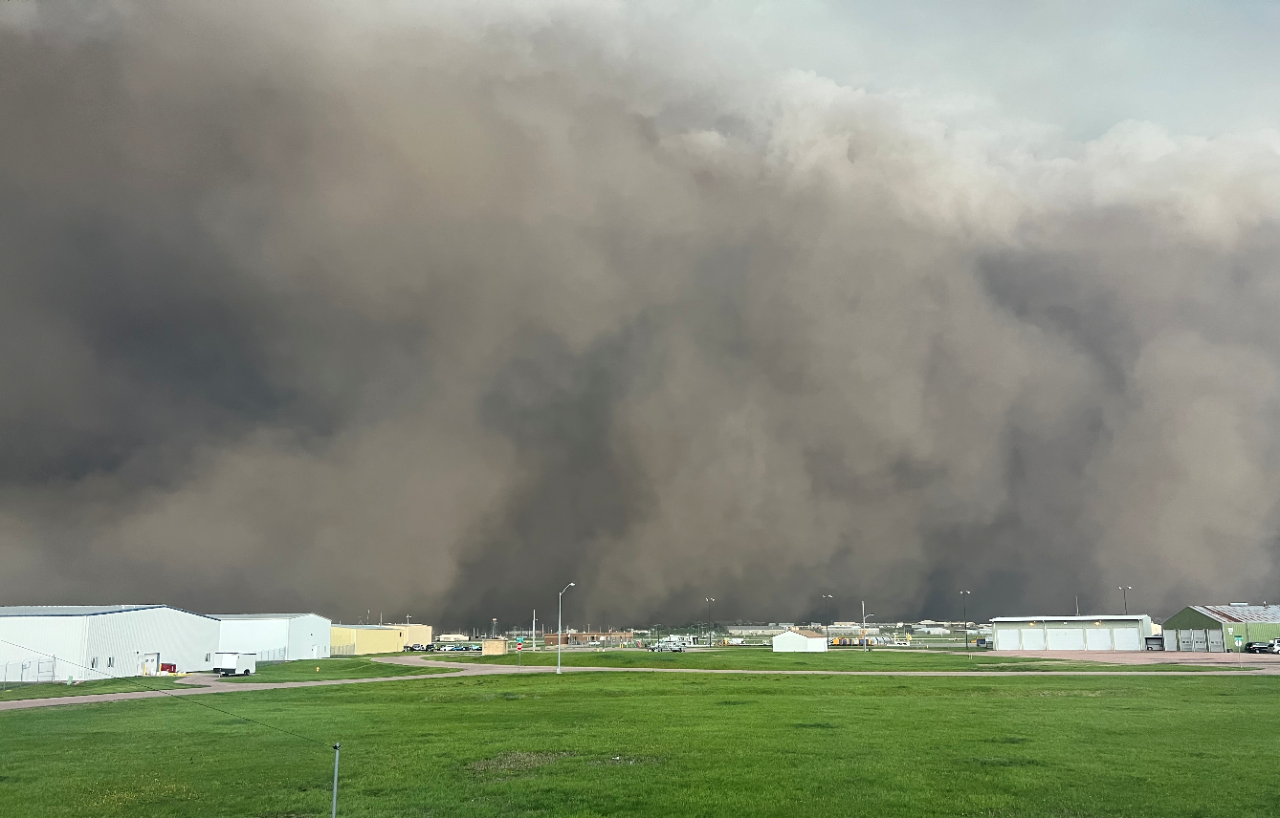 The Ontario Ottawa Derecho
May 21, 2022
Rare Spring Canada Derecho
Record breaking late May warmth was in place across the eastern Great Lakes region ahead of a strong cold front and a deepening area of low pressure over northeastern Hudson Bay (see map below). Thunderstorm activity initiated over eastern Michigan early the morning of Saturday May 21 grew into bowing line segments that eventually propagated for over 1,000 kilometers over nine hours.  In addition to straight line winds, the Northern Tornadoes Project declared a microburst with peak wind gusts of 190 km/h (119 mph) was observed in southern Ontario. Several EF-1 and EF-2 tornadoes also were embedded in the derecho.  On average, southern Canada experiences a derecho once every four years, traditionally in the peak summer temperatures months of July and August.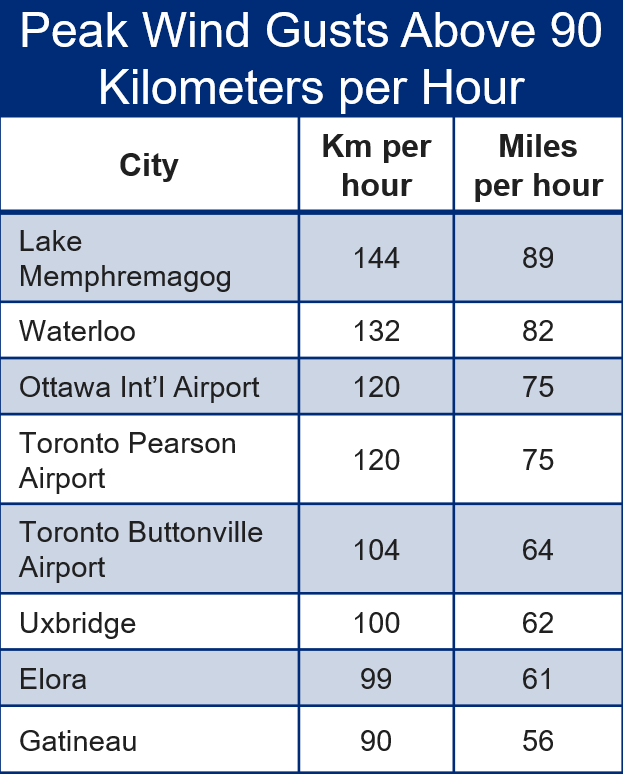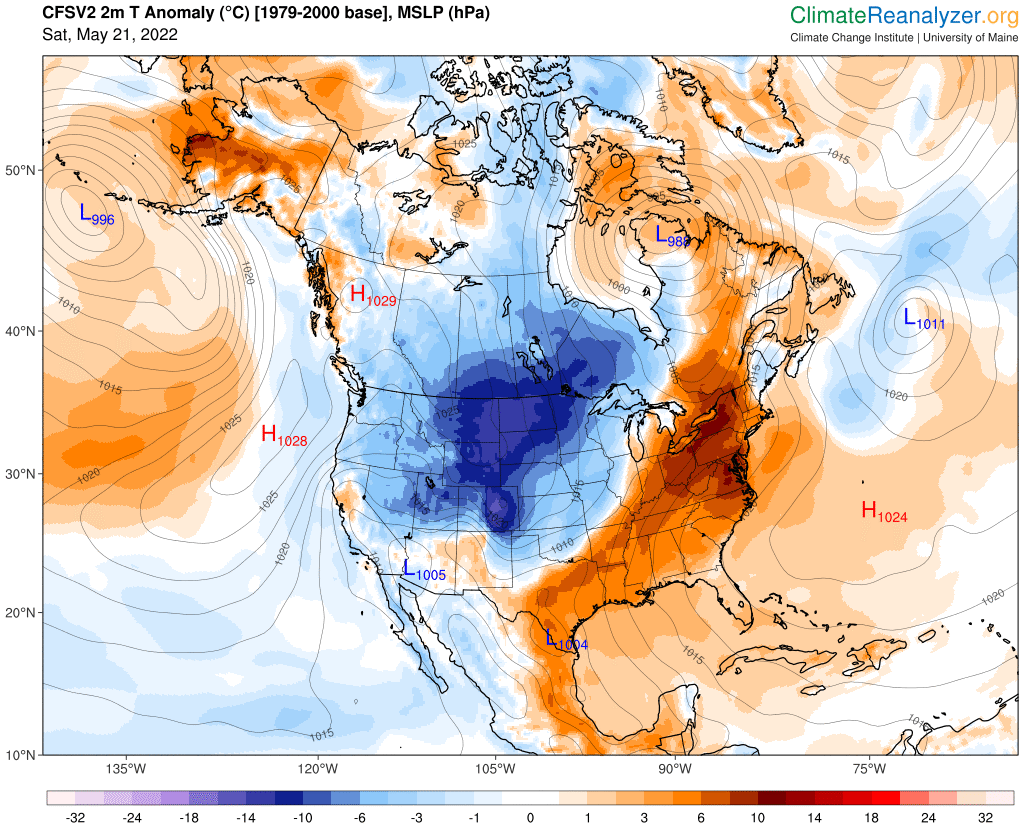 Impacts
Roughly 40% of Canada's population, estimated at 15.5 million people, were in the path of the derecho.  11 fatalities have been associated with the severe weather outbreak with over 1.1 million customers without power. The mayor of Ottawa described damage to power infrastructure as more severe than the 1998 ice storm.  Multiple agencies believe losses in the event will exceed $1 billion CAD, which would place the derecho in the top five loss events in Canadian history.  According to CATiQ, the Ft. McMurray wildfire in 2016 is the costliest event on record at $3.75 billion CAD, while the 2013 Calgary floods and 1998 ice storm were approximately $1.6 billion CAD each.