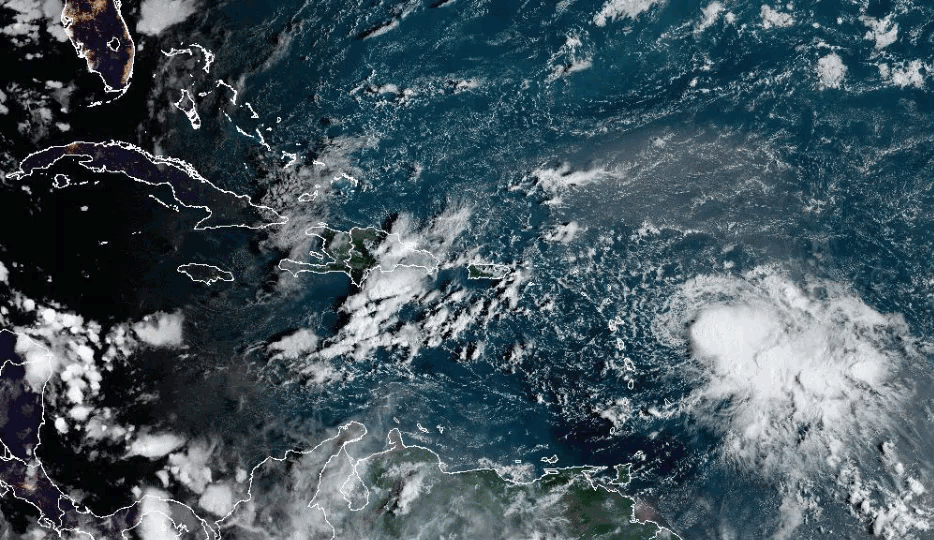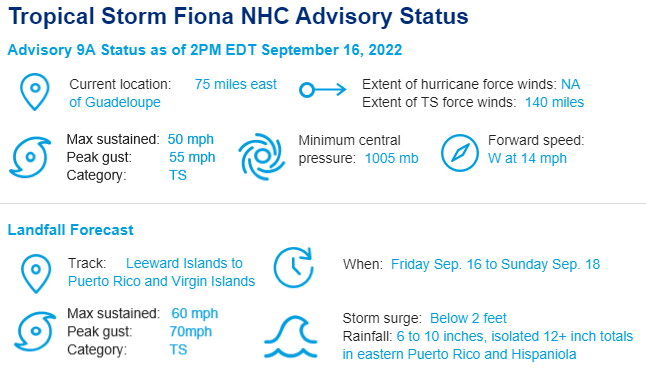 Questions to Gain Clarity on Over the Weekend

Fiona's Impact to the Caribbean? Tropical Storm Fiona drifted slightly south of yesterday's track forecasts through Friday morning but now appears the center of circulation will likely move westward between Guadeloupe and St Kitts this evening. Subsequently, the storm could start to move northward anywhere between Puerto Rico and Dominican Republic. Tropical warnings and watches have been issued for Puerto Rico and Dominican Republic respectively. The largest concern for the Caribbean islands is excessive rainfall that could result in mudslides and flooding, particularly in mountainous regions.
When will Fiona Make a Turn to the North? Thereafter, weather model guidance indicates Fiona will turn north over the eastern Hispaniola Monday morning. Due to the mountainous terrain of central Hispaniola, the circulation center could be significantly disrupted due to land interaction. However, the southern track affords Fiona an opportunity to track over very warm ocean temperatures, potentially partially offsetting some weakening due to land interaction.
How will Fiona Emerge and Recover in the southwest Atlantic?  Once the track out of the Caribbean is known, Fiona will be transiting some of the highest levels of ocean heat content of the southwest Atlantic through Wednesday while approaching or moving over the Turks & Caicos and Bahamas. Atmospheric conditions look conducive for strengthening as wind shear diminishes and upper level conditions also favor intensification. There is increasing concern of potential hurricane impacts to portions of these islands early next week.
Beyond Five Days, Are Further Land Impacts Possible? This is a question that will have some clarity after observing several factors over the weekend:

North America Jet Stream Pattern: By the middle of next week, a trough of low pressure is forecast to be situated across eastern Canada.  The strength and southern extent of the trough will be a significant factor determining Fiona's track in the western Atlantic next week.
Recurving West Pacific Typhoons: Super Typhoon Namandol is projected to hit southern Japan early next week and rapidly move northward, just on the heels of Typhoon Merbok which strengthened into a strong low pressure over Alaska. These two storms are increasing weather model uncertainty for the jet stream position and strength late next week. By early next week, weather models should have a better handle on the jet stream impact of these two typhoons.