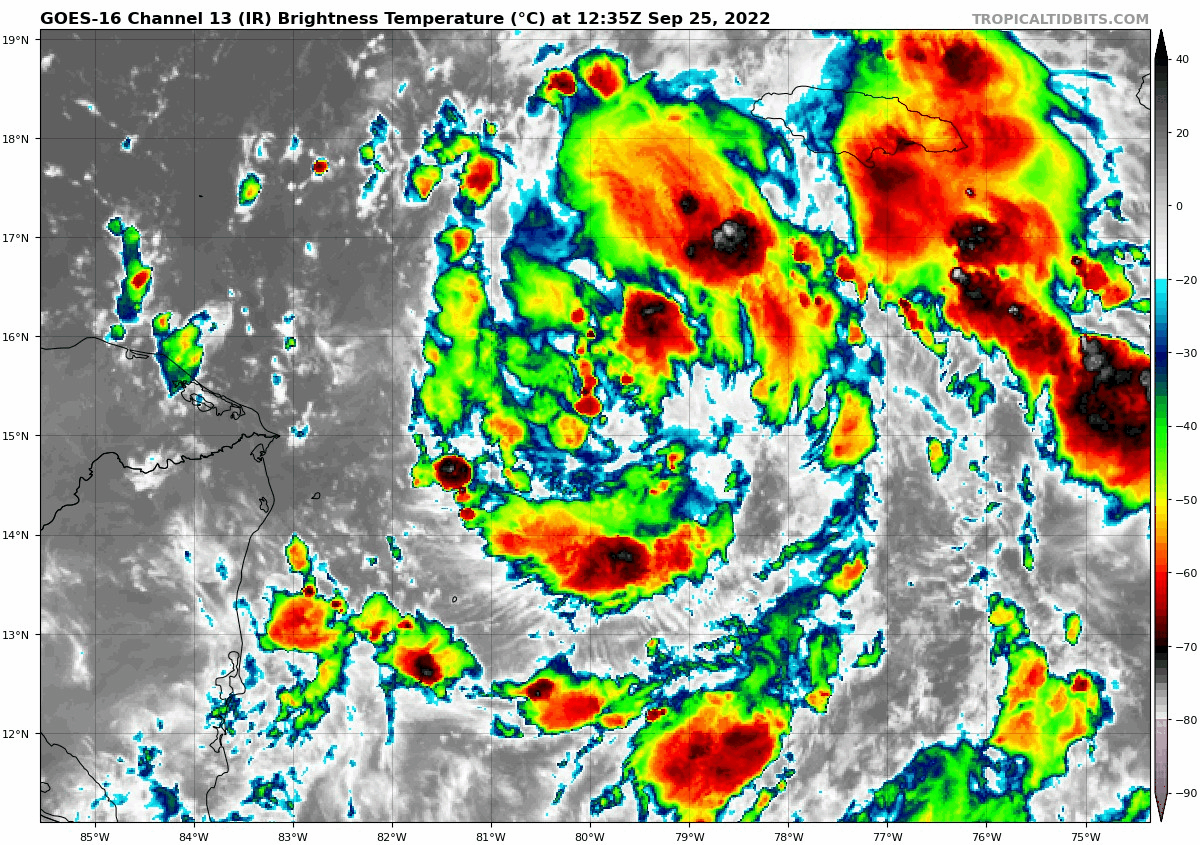 Summary
Tropical Storm Ian was classified by the National Hurricane Center (NHC) Friday night and as of this morning at 11AM EDT is a strengthening tropical storm moving through the Caribbean Sea. The storm should begin a period of rapid intensification later today before passing near or over the Cayman Islands early Monday and then moving into the southeastern Gulf of Mexico Tuesday. A range of landfall scenarios from the southwest Florida Peninsula to the western Florida Panhandle are very plausible this week. The NHC best forecast splits the difference with a track through the Florida Big Bend region, but explicitly noting a lower-confidence forecast than usual after 72 hours and a need to stay informed as the event unfolds.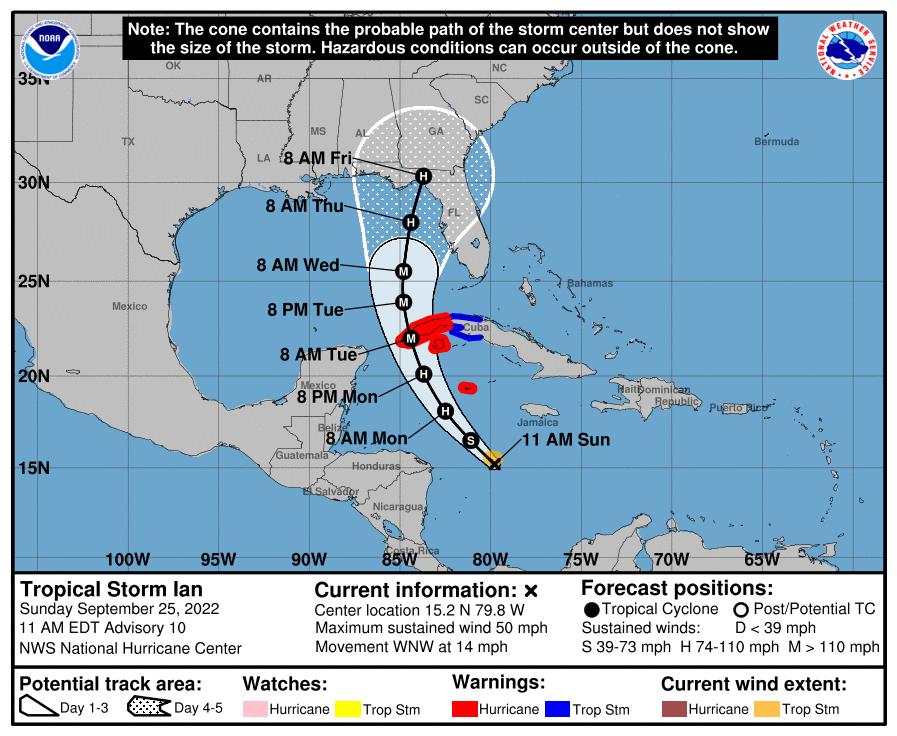 Short Term Track Forecast
Ian is now moving to the west-northwest at 14 mph in the Caribbean Sea. Ian is expected to make a turn to the northwest later today along the edge of the subtropical ridge and then to the north-northwest to move near or over the Cayman Islands on Monday. Ian should then enter the southeastern Gulf of Mexico on Tuesday. 
Long Term Track Forecast (Low Confidence)
Model track guidance still shows considerable spread with a range of scenarios from the western Florida Panhandle to the southwest Florida Peninsula, with lower forecast confidence than usual beyond 72 hours. The factors in play include the strength and placement of the subtropical ridge to the northeast of Ian, and a frontal system digging south from the mainland. The timing, placement and interaction of these features are critical to the timing of an eventual northward turn on Tuesday. Accounting for these factors, the NHC best forecast from 72-120 hours takes the center of Ian into the Florida Big Bend region next week, but with a wide range of plausible track scenarios and timing. Ian could approach the southwest Florida Peninsula as early as Tuesday overnight, with onset of conditions as early as Tuesday morning – a landfall further north in the Panhandle would be later in the week.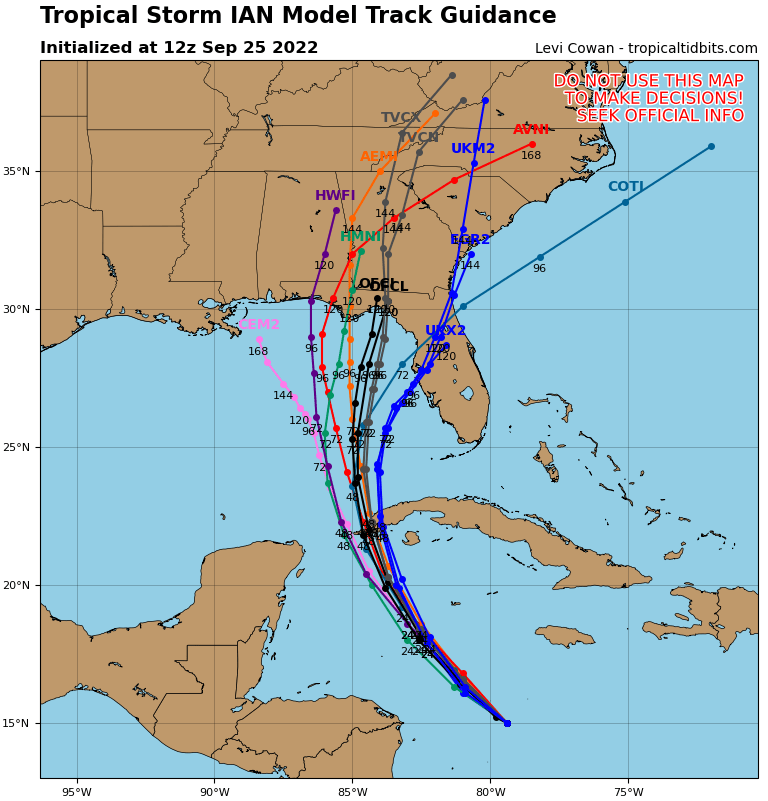 Intensity
Ian is now a tropical storm with a somewhat disorganized structure but showing some signs of increased activity and organization with gradual drop in pressure. Ian is moving through a moist environment with reduced wind shear over very warm waters, with additional storm ventilation from upper-level wind patterns. Accounting for these factors, the NHC best forecast takes Ian to hurricane status later today, and major hurricane status late Monday. Rapid intensification is probable per the NHC. Ian should affect the Cayman Islands Monday as a major hurricane and retain this status as it emerges into the southeastern Gulf of Mexico on Tuesday. Further strengthening over very warm waters is expected after clearing Cuba, and Ian should reach peak intensity of at least a category-4 hurricane. Later next week, wind shear should cause Ian to weaken and expand in size, although specifics will depend on the exact track and land interaction which remains a low confidence forecast per discussion above.
Expected Impacts
Hurricane to major hurricane conditions are probable for the Cayman Islands, and very possible from the southwest Florida Peninsula to the Florida Panhandle. Downed trees and powerlines with resulting power outages can be expected along with variable property damage. Areas subjected to major hurricane wind conditions will experience more substantial damage to property and infrastructure. Storm surge and excessive rainfall are also probable, regardless of the track and intensity of the storm, which will cause coastal and inland flood impacts with resulting damage to property and infrastructure. It is too early to determine specifics for Florida as this will depend on the still uncertain track and intensity of the storm. Hurricane and Tropical Storm Watches/Warnings are now active and will be issued further for areas under potential or active threat with coming forecast cycles. Specifics can be found at www.nhc.noaa.gov.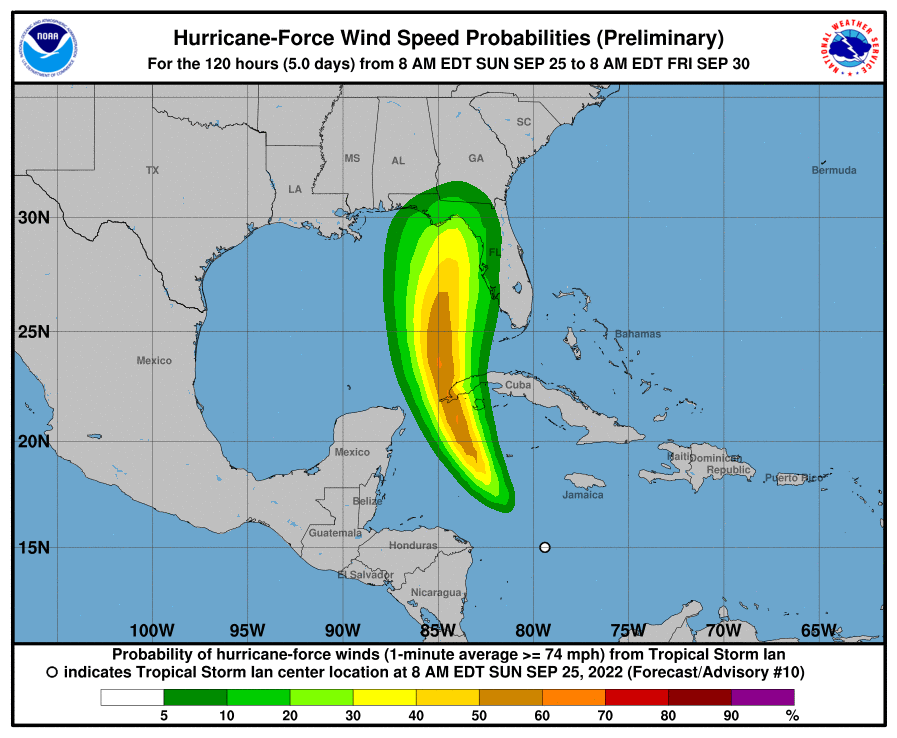 Additional links of interest:
U.S. National Hurricane Center
Further statements from the GC Cat Resource Center will be issued daily as the situation evolves and forecast confidence improves.
Statements from the National Hurricane Center and official emergency management and forecast agencies supersede this update and should be closely followed concerning matters of personal safety.