As spotlighted in The Insurer, Guy Carpenter's Dean Klisura, President and CEO, David Priebe, Chairman, and Lara Mowery, Global Head of Distribution, spoke at a virtual briefing event prior to the 2022 Monte Carlo Rendez-Vous.
Dean discussed how macroeconomic conditions present challenges to the reinsurance industry. He pointed to key factors including increasing inflation and interest rates, the continuing impact of the Russia-Ukraine conflict, the ramifications of environmental, social and corporate governance (ESG) considerations, and the need to address systemic risks such as climate change and cyber.
"We continue to see clear capacity constraints in the property cat market and retrocession markets across the global marketplace," he explained.
Despite these challenges, Dean indicated that "demand for strategic advice and solutions has never been greater" for Guy Carpenter.
"As we manage our clients through this, in particular, providing advice and insights to our clients on the key emerging risks like wildfire, floods and systemic storms," he continued.
Lara discussed the upcoming January 1, 2023, renewals for property catastrophe reinsurance, indicating that inflation will play a key role.
"Rising valuations on the underlying policies will increase the exposure to loss within existing property reinsurance structures, absent any other growth impacts," she said. "This means that for a reinsurer to renew their existing business, they must plan for this fundamental shift in exposure and be prepared to absorb additional expected losses across their portfolio."
David mentioned that despite the industry facing challenges on numerous fronts, data-driven strategies help the reinsurance market create creative solutions now and into the future.
"We face broad global issues that we have not experienced before during our careers," he said. "How lucky is the (re)insurance industry to have a seat at the table to make an impact at such momentous times."
Click the image below to read the full article in The Insurer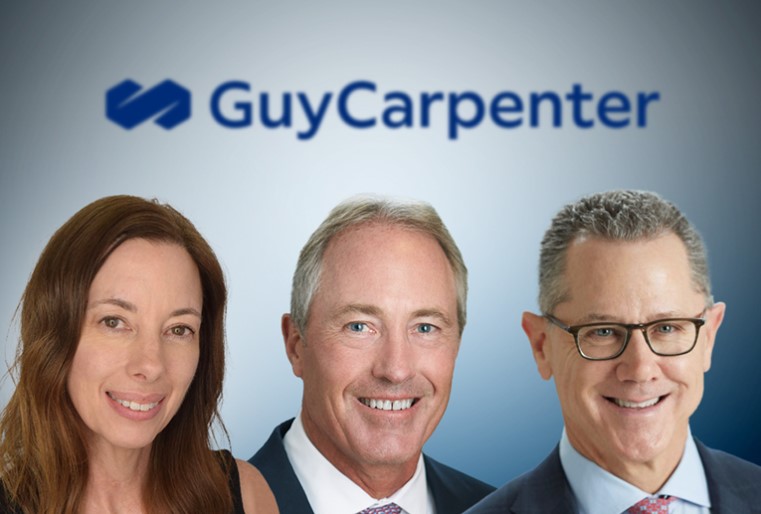 From left, Guy Carpenter's Lara Mowery, Global Head of Distribution, David Priebe, Chairman, and Dean Klisura, President and CEO.