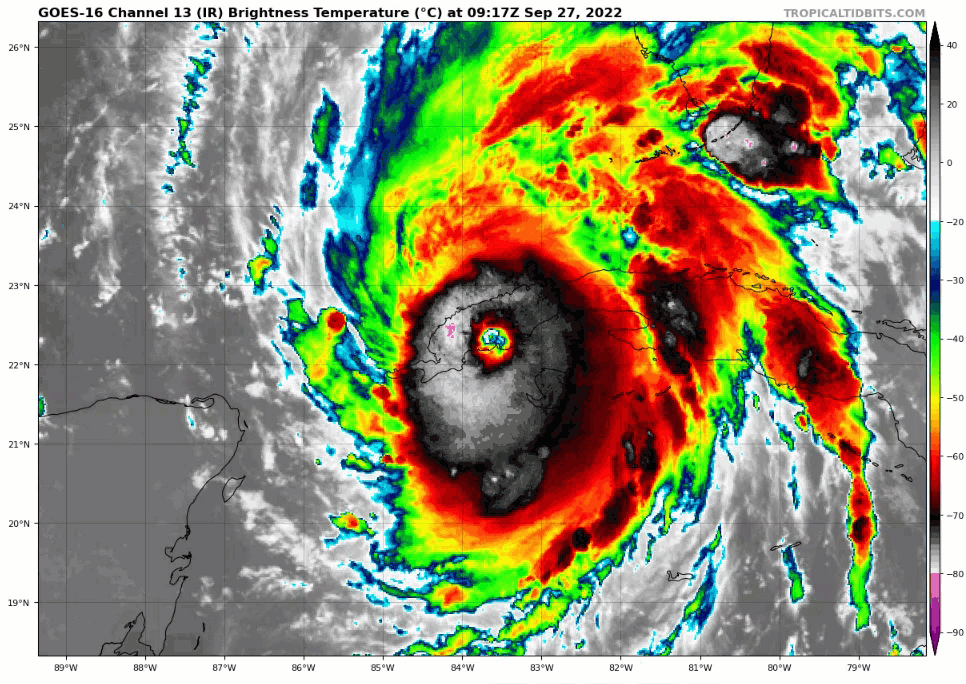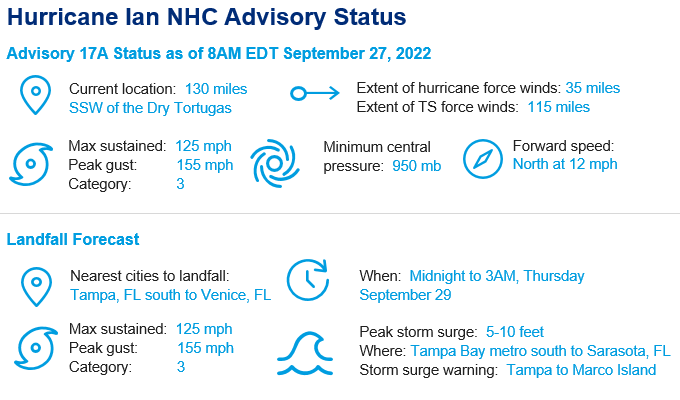 Key Ian Headlines
Tampa Metro Area at High Risk for Major Damage: Weather model consensus is building more evidence for catastrophic impacts to the Tampa, FL metropolitan region. As of 6PM EDT Monday September 26, mandatory evacuations for the lowest lying "Zone A" areas of counties were issued across the coastal Tampa region. Mandatory Zone B and C areas, with ground heights up to 20 feet above sea-level, went into effect 7AM EDT Tuesday September 27 across Pinellas and Hillsborough counties. Hurricane force winds are anticipated in the hurricane warning zones by Wednesday morning and could last for 48 hours in duration, with the current NHC forecast calling for a major category-3 landfall overnight Wednesday evening into Thursday morning.
Ian's Forward Speed to Slow Significantly, Bringing Devastating Flooding from Storm Surge and Inland Rainfall: The west coast of Florida is highly susceptible to large storm surge events due to the bathymetry of the Gulf of Mexico sea floor, gently rising over hundreds of miles to the shore. Specifically, Tampa Bay's coastal orientation increases the risk further, and the region is extremely vulnerable to storm surge inundation with peak surge levels potentially in excess of ten feet. In conjunction with rainfall totals now projected to be nearing 20" in the most heavily impacted areas, widespread and historic flooding is increasingly likely.
Recent Forecast Trends: Over the last two days, the main question was when would the spread of weather models start to converge on a more likely outcome? Unfortunately for the Tampa metro region, a track slowing just offshore with landfall likely within 50 miles of Tampa Bay is a near worst case scenario for damage to the region. Small wobbles that are challenging to forecast in advance are likely to be the final factor governing the severity of wind and storm surge impacts at any given location. Accordingly, the Guy Carpenter analysis of analog historical events with an industry loss ranging from USD 15 billion to USD 35 billion continues to grow an initial potential industry loss range.