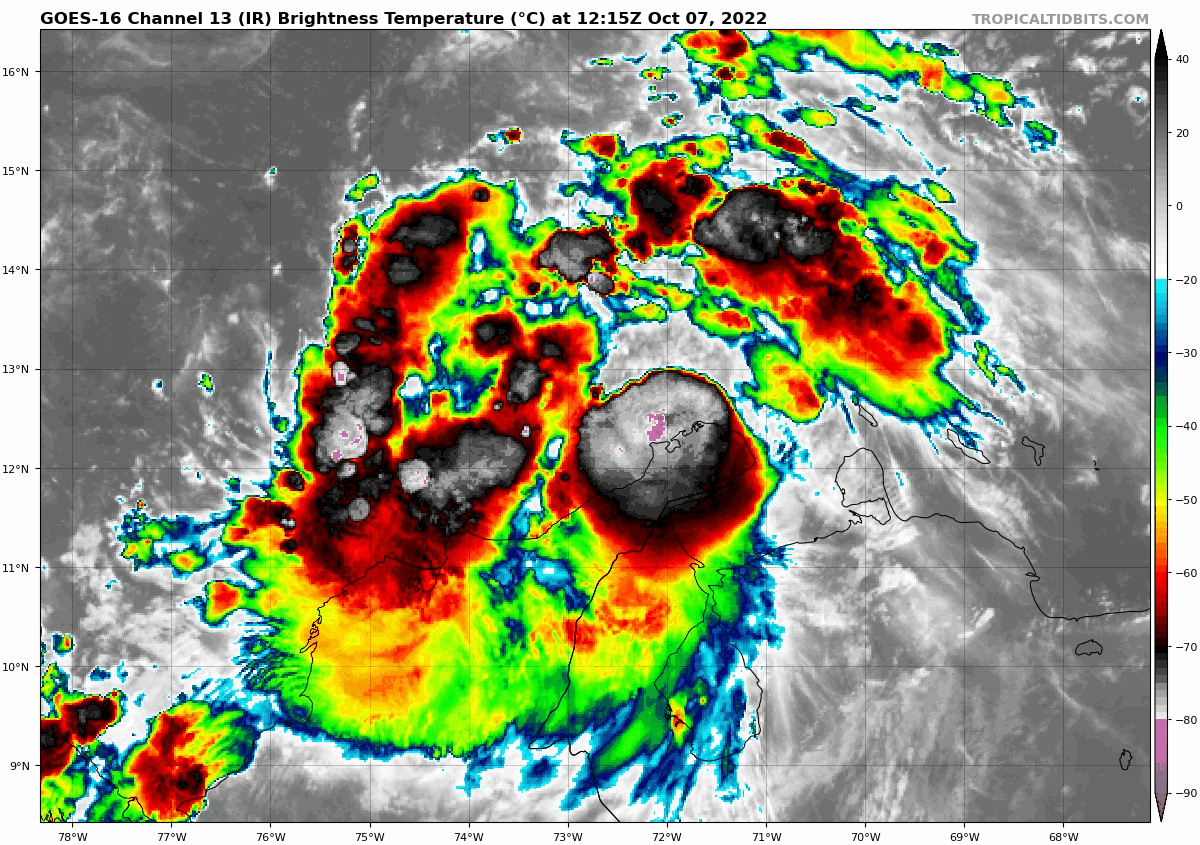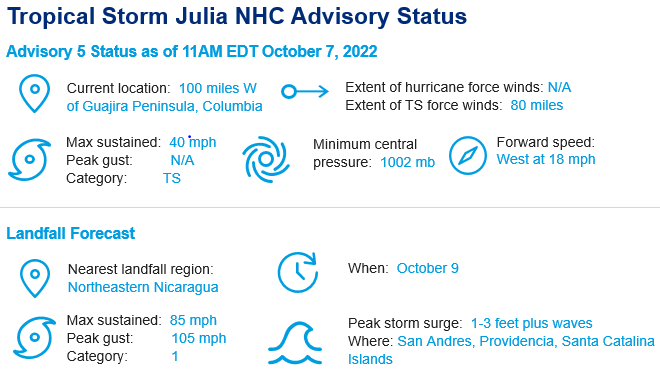 Key Headlines
A Rare Beginning: According to the 11 am update by the National Hurricane Center, the center of Tropical Storm Julia is located 110 miles west of the tip of the Guajira Peninsula in Columbia and the intensity is 40 mph.  Tropical Depression 13 preceded Julia last night and is only the fourth tropical cyclone to have its center cross the Guajira Peninsula (shared by Colombia and Venezuela) since 1900 and first to do so since Tropical Storm Cesar (1996).  A Tropical Storm Warning is still in effect for the coast of Colombia from Riohacha eastward to the Colombia/Venezuela border. Tropical storm conditions are expected along the coast of Colombia within the warning area this morning. Gusts to tropical storm force are possible across portions of the northwestern coast of Venezuela during the next several hours.
Window for Intensification: Julia is moving towards the west and a generally westward motion is expected to continue through Sunday. Gradual strengthening is forecasted today and between Friday and Saturday night, a period of rapid intensification (>35 mph intensity increase in 24 hours or less) is probable. During this time, the wind shear around the storm is projected to subside and the mid-level atmospheric moisture is incredibly high. The southwestern Caribbean remains one of the warmest portions of the entire Atlantic basin so ocean temperatures are also conducive for intensification.
Potential for a Hurricane Landfall in Central America: The system is forecast to pass near San Andres and Providencia Islands Saturday night, and approach the coast of Nicaragua on Sunday morning. 6 to 12 inches of rain are currently forecasted for these islands but this range could increase depending on the intensification of the storm over the next 36 hours. Isolated rainfall totals exceeding 15 inches are forecasted for portions of Central America with 1-3 feet of storm surge. A hurricane landfall somewhere in the northern half of Nicaragua is currently the most likely scenario- an area most recently affected by Hurricane Iota and Eta in 2020.  NHC mentions rainfall, flash-flooding and associated mudslides over the mountainous terrain as the main threats.