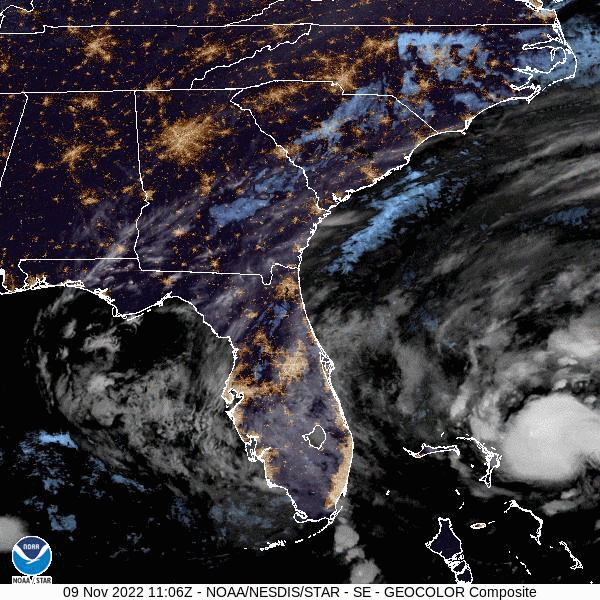 Key Headlines
Nicole's Forecasted Intensification: Overnight, convection has increased in both coverage and organization near the center of Nicole but the maximum sustained winds remain at tropical storm strength (70 mph). For the next 12 hours, Nicole is forecasted to remain over unseasonably warm sea surface temperatures (>81°F) but a combination of shear and dry air entrainment is likely to allow only gradual intensification. However, that gradual intensification should allow Nicole to become a hurricane later today while crossing the northwestern Bahamas. 
The Track Forecast: Nicole is forecasted to move westward across the Abacos and Grand Bahama in the northwestern Bahamas during the next several hours. Starting this evening, a slightly more northwestward motion should bring the center towards the Florida coast between Juno Beach and Vero Beach for a landfall near midnight tonight. After landfall, Nicole is forecasted to turn northwestward and northward across northern Florida or the northeastern Gulf of Mexico, and then across the southeastern US.
November Rarity? If Nicole does become a hurricane before landfall, it will be the first hurricane to hit Florida from the east since Hurricane Katrina in 2005 and the first November hurricane to hit the state from the east since 1935.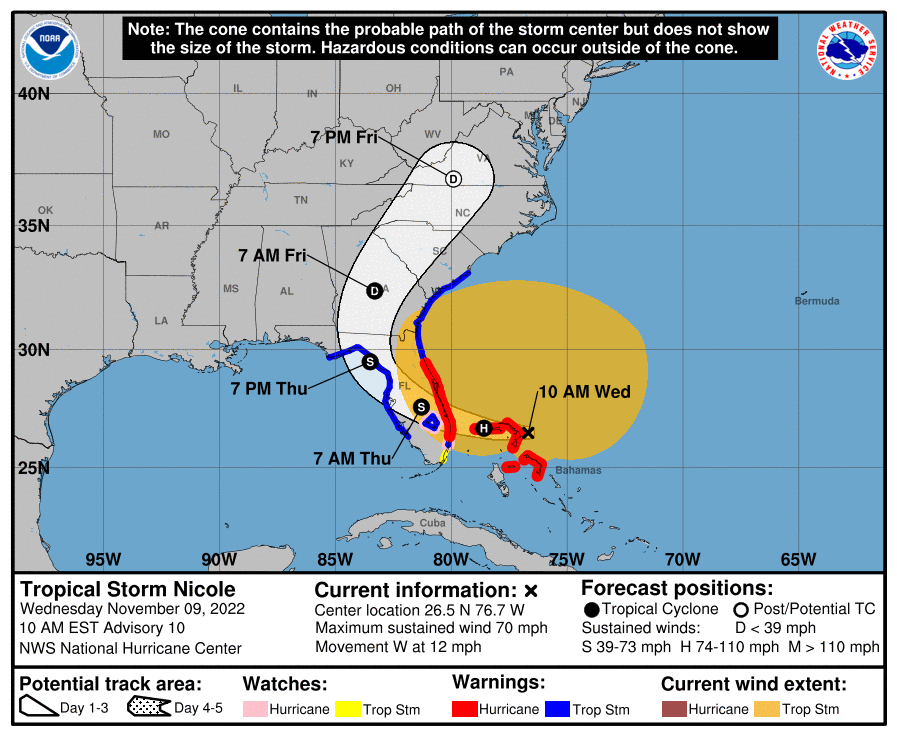 Projected Impacts
Hurricane Conditions and Dangerous Storm Surge: Impacts are expected in the northwestern Bahamas today and forecasted to begin along the warning areas of the east coast of Florida later this evening. Due to the massive extent of tropical-storm force winds associated with Nicole, it is important to note that dangerous hazards will extend far outside the forecast cone (especially to the north). Portions of northeastern Florida could get over 4 feet of storm surge and much of this coastline is extremely eroded by Hurricane Ian.
Flooding: The storm surge from Nicole will overlay some of the highest tides of the year so coastal flooding in low lying areas is expected from Florida to South Carolina. Nicole will produce heavy rainfall today into Thursday across the Florida Peninsula with highest totals projected to be around 4-7 inches. Flash and urban flooding will be possible across portions of the Florida Peninsula along with river rises on the St. Johns River. Isolated flash, urban, and small stream flooding will also be possible on Friday in the Southeast through the southern and central Appalachians, including the Blue Ridge Mountains, and extending northward through west central Pennsylvania into western New York by Friday night.