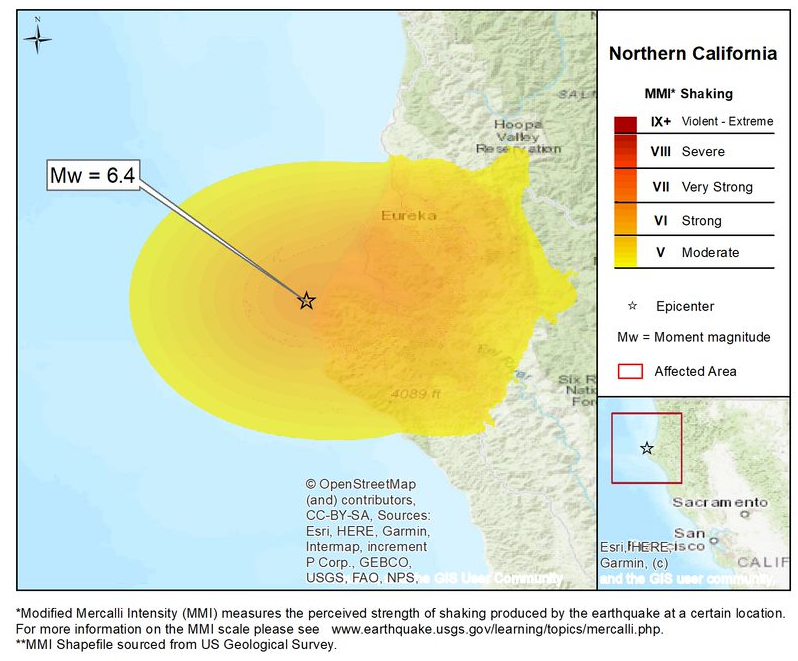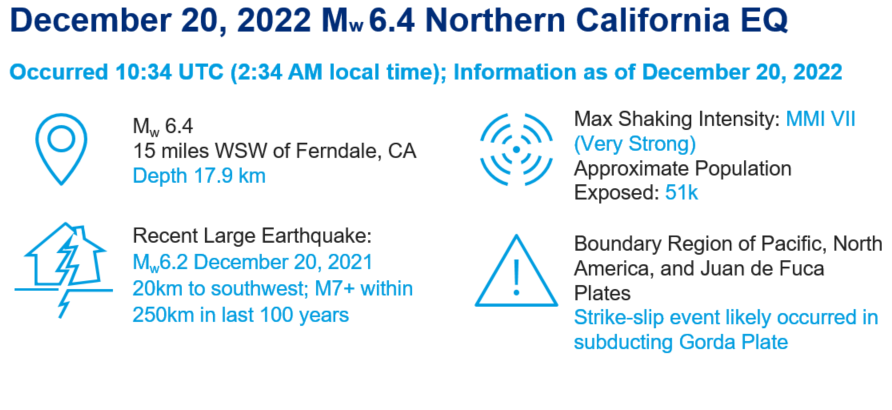 Event Summary
An early morning Mw6.4 (2:34AM local time) earthquake shook the Northern California region near the city of Eureka (population approximately 26,000). The earthquake's hypocenter was at a depth of 11.1 miles and located less than 10 miles west-southwest from the town of Ferndale, CA. Very Strong (MMI VII) shaking intensity was estimated to have been felt by at least 50,000 people in the region. Initial damage reports are relatively light in the region and an indication of effective seismic standards in the California building codes. The most significant initial impacts were from electric power outages in Humboldt County, where approximately 70,000 customers were affected. 
Hazard Summary:
Today's earthquake generated significant shaking hazard in Humboldt County, on a scale of MMI I-X it generated MMI VII or Very Strong shaking. Typically, structural damage begins to be observed at MMI VI for weaker or non-engineered structures.
Due to the size (M < 8.0) and type of event (strike-slip), there was no tsunami warning issued by NOAA / NWS U.S. Tsunami Warning System following the earthquake. 
More than 80 aftershocks of M2.5+ were felt in the region in the 12 hours following the earthquake. The largest aftershock was Mw4.6 and occurred within 5 minutes following the main shock (2:39AM). ​​​​​
Recent Seismic Activity:
One year earlier on December 20, 2021, an Mw6.2 earthquake shook the region. It was located 12 miles southwest and offshore from the 2022 event (which released almost 2x the energy of 2021), so did not impact the region as significantly as today's earthquake.
The seismic activity is relatively high in Northern California offshore Humboldt County and towards the Oregon border, with the Mendocino triple junction of the Pacific, North America, and Juan de Fuca tectonic plates. Six larger events (M7+) in the last century have been attributed to the Mendocino transform fault within the Cascadia Subduction Zone, which is within 250km of the December 20, 2022 event. 
Event Impacts:
A relatively moderately sized event for California, the impacts from this morning's earthquake are expected to be limited to both people and property. There are some isolated instances of road closures or damage to non-engineered or non-retrofitted (e.g., unreinforced masonry) structures. As the maximum shaking intensity was MMI VII, contents damage is likely to contribute most to losses (e.g., broken storefront windows). This event is unlikely to generate a significant loss for the insurance industry due to the initial limited reports of property structural damage and injuries related to Workers Compensation or otherwise.  
The earthquake triggered California's earthquake early warning system approximately 10 seconds before shaking was felt. California Governor's Office of Emergency Services (Cal OES) reported the alert was sent to 3 million people. The U.S. Geological Survey's PAGER estimated limited economic impact to the region in localized areas. 
In the hours following the earthquake, the Humboldt County Sheriff reported 70,000 customers without electric power, which is equivalent to 70 percent of the total customers. Two hospitals in the area were operating with generators after experiencing electric power outages.
The historic Fernbridge was closed due to structural damage and inspection by Caltrans; it connects the small town of Ferndale to Eureka. Debris slides were reported along Highway 36 up to 30 miles inland.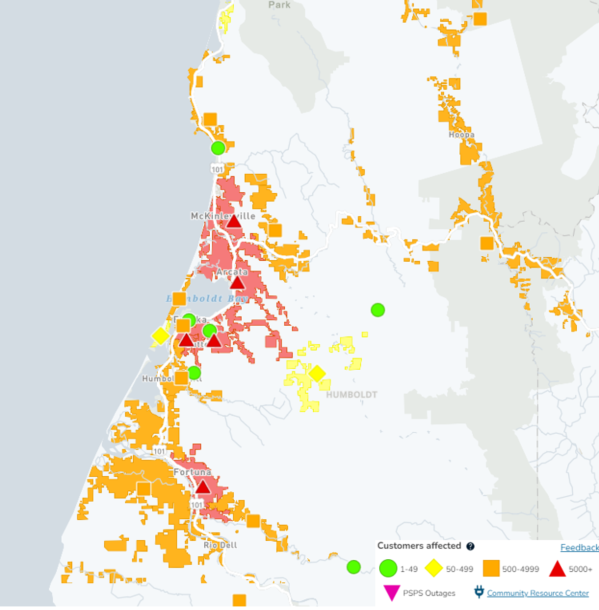 Electric power outages on December 20, 2022 following Mw6.4 earthquake. Source: Guy Carpenter / PG&E.