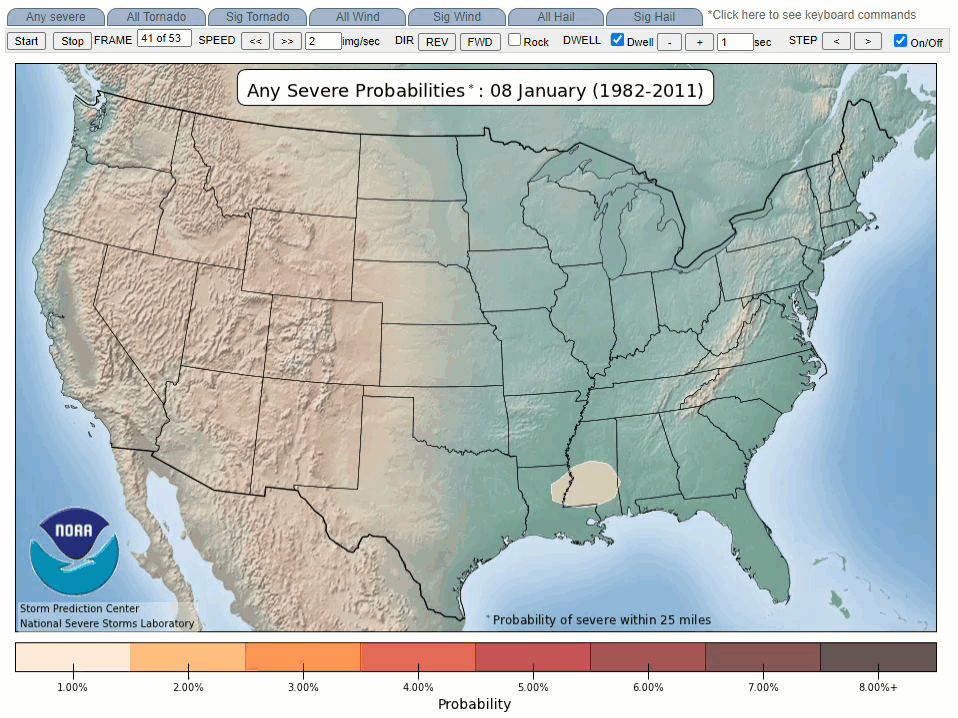 Recent Activity
On the last day of March, an outbreak of severe weather occurred from Iowa to Arkansas and areas farther east through the Ohio and Tennessee Valleys. Temperatures in the 80s along with an unstable airmass and area of potential lift resulted in a strong supercell (storm with rotating updrafts), producing an EF3 tornado that caused catastrophic damage along a 32-mile path from west Little Rock through North Little Rock to Jacksonville, Arkansas. In all, 2,700 structures were damaged and 60,000 residents lost power. This was the strongest tornado to impact Little Rock since 1999.
This tornado was just one of many that touched down from eastern Iowa to Georgia. The strongest tornado of the outbreak moved through several counties in southeast Iowa. It was rated EF4 with maximum sustained winds estimated around 170 mph. Damage surveys are still being conducted, but it's likely that the official number of tornados that occurred is north of 100.
In addition to the many tornado reports, there were many large hail and damaging wind reports. Maximum straight line thunderstorm winds were estimated at 80 to 90 mph.
Severe weather associated with the same system continued into April 1 across the Eastern US, bringing another bout of supercell activity. Isolated hail, widespread wind damage, and several tornadoes, including an EF3 in Delaware were observed.
Additional convective activity was observed in the Southeast US on April 2-3, where a handful of EF0 and EF1 tornadoes were confirmed in Texas, Mississippi, Alabama, and Georgia.
The active stretch of severe weather concluded with an additional outbreak on April 4-5, as another system produced damaging hail, wind, and tornadoes throughout the Midwest and Tennessee and Ohio Valleys. Multiple tornadoes have been confirmed in Iowa and Illinois by the National Weather Service, including an EF3 in Lewistown, Illinois.
Rotation Tracks derived from Radar Indicating path of tornados through Little Rock Metro Area (Source: NWS Little Rock)



Preliminary Storm Reports for March 31, 2023 (Source: Storm Prediction Center)

How Does this Season Compare to Average?
2023 is off to an active start compared to other recent seasons. In fact, activity in 2023 most closely aligns with 2011 and 2008, which were both extremely active seasons for tornado activity in the US. January 2023 was the second most active on record for tornado activity, with over 168 preliminary tornado reports. 
For the first time in over a year and a half, the ENSO signal is shifting from a La Liña to Neutral which climatologically amplifies the seasonal severe storm threat. This could be a contributing factor to the elevated activity thus far in the season.

United States Annual Tornado Counts (Source: Storm Prediction Center)
Sea surface temperature anomalies in the tropical Pacific, illustrating the transition from La Niña to Neutral conditions by April 2023 (Source: NOAA)
​​​​​
What Can We Expect Moving Forward?
Typically, February and March are generally quiet, but punctuated by short duration and sometimes severe outbreaks, followed again by a quiet pattern. During April and May, the ingredients for severe weather are more often in place. There is more sunshine to fuel thunderstorms, the jet stream pattern is conducive to storm activity, and there is ample moisture from a warming Gulf of Mexico. During this time tornado, hail and straight line wind events become more frequent.
Despite an expected increased seasonal threat due to the ENSO transition, forecast models are noting a shift in weather patterns that would mean reduced activity for the next several weeks. Severe thunderstorm activity tends to erupt along a sharp boundary from the southwest to the northeast (between cold air to the north and west with warmer air to the south and east); this pattern is not evident in the two week NOAA outlook.
Furthermore, the ongoing drought in the central and southern Plains could inhibit severe weather activity in these regions into spring, due to an abundance of dry air and heat.

Climatological evolution of severe weather season in the United States showing risk expanding and increasing from the Deep South in winter toward the Central Plains by late spring, and to the north and east by summer (Source: Storm Prediction Center)

​​​​


8-14 Day Temperature and Precipitation Outlook indicating generally warm and dry conditions in the central and eastern US, indicative of a reduced chance of convective storm activity (Source: Climate Prediction Center)




Areas of Drought in United States (Source: National Drought Monitor)
Additional links of interest:
NWS Little Rock, Arkansas
NWS Quad Cities, Iowa
Storm Prediction Center
National Drought Monitor
Climate Prediction Center