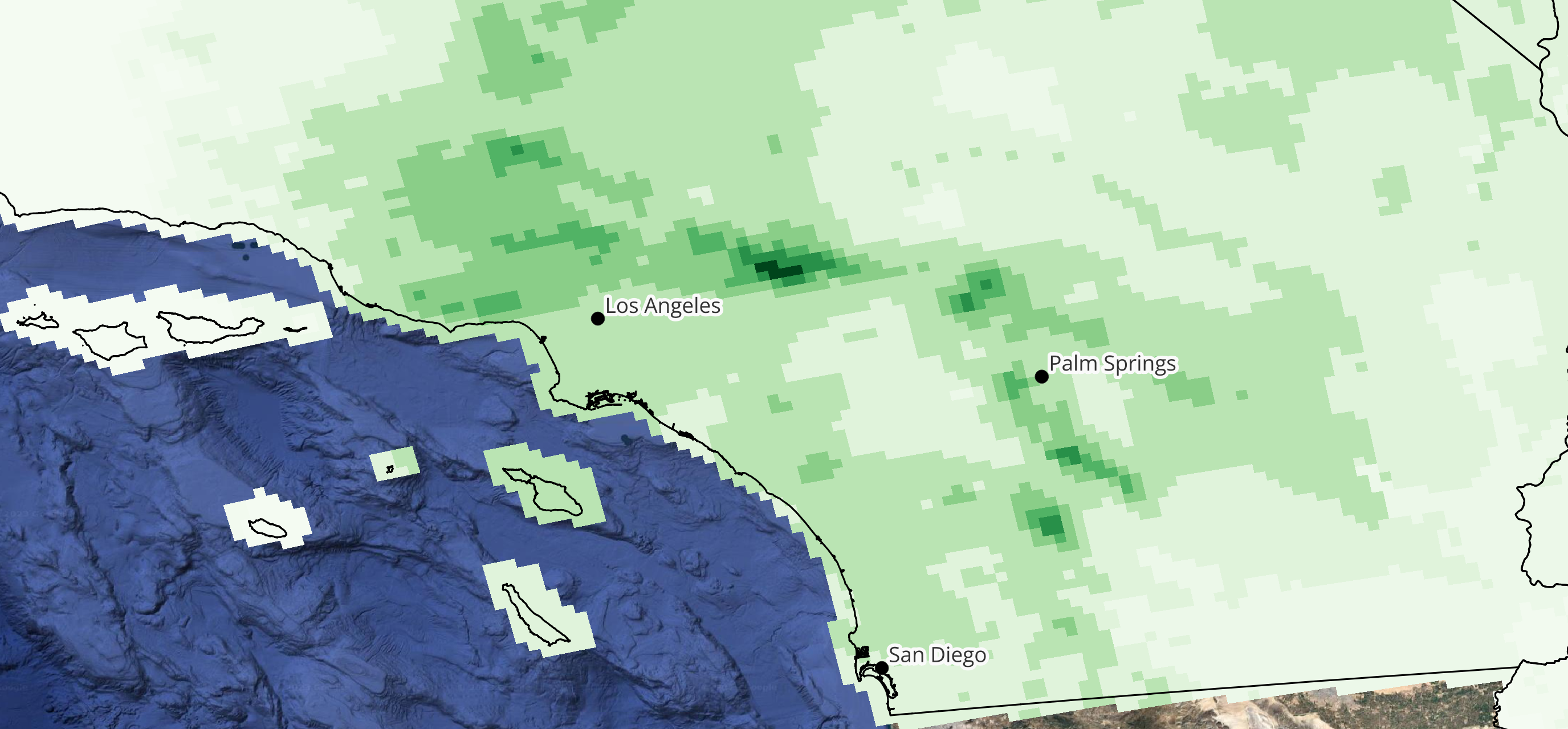 Event Headlines
Hilary made landfall around 11 AM PDT Sunday, August 20 as a tropical storm, with maximum sustained winds of 65 mph, after being downgraded from a Category 4 hurricane in the eastern Pacific Ocean.
The storm came ashore in Baja California, Mexico before moving into southern California, western Arizona, and southern Nevada. It was the first time since 1939 that a tropical storm had made landfall in California.
 Widespread flooding was seen throughout southern California and Nevada, with the highest rainfall totals found northeast of Los Angeles and south of Death Valley national park.
Meteorological Summary

On August 12, a tropical wave entered the eastern Pacific after bringing rain throughout Central America. This wave eventually developed into an area of low pressure on August 14, and by August 16, the National Weather Service classified it as Tropical Storm Hilary. Hilary quickly strengthened into a Category 1 hurricane on August 17 before undergoing rapid intensification, surging to a Category 4 hurricane by August 18. The rapid intensification was largely driven by abnormally warm waters in the eastern Pacific caused by the current El Niño.
As the hurricane tracked northwest, Hilary moved over cooler waters and into drier air. This weakened the tropical system, and by the end of August 19, Hilary had been downgraded to a tropical storm. Hilary eventually made landfall in the state of Baja California, Mexico on August 20 as a tropical storm, before crossing into California around six hours after landfall. In preparation, the National Hurricane center released its first ever Tropical Storm watch for southern California, and the Weather Prediction Center issued a high risk for excessive rainfall, the highest category for flash flooding risk.​​​​​​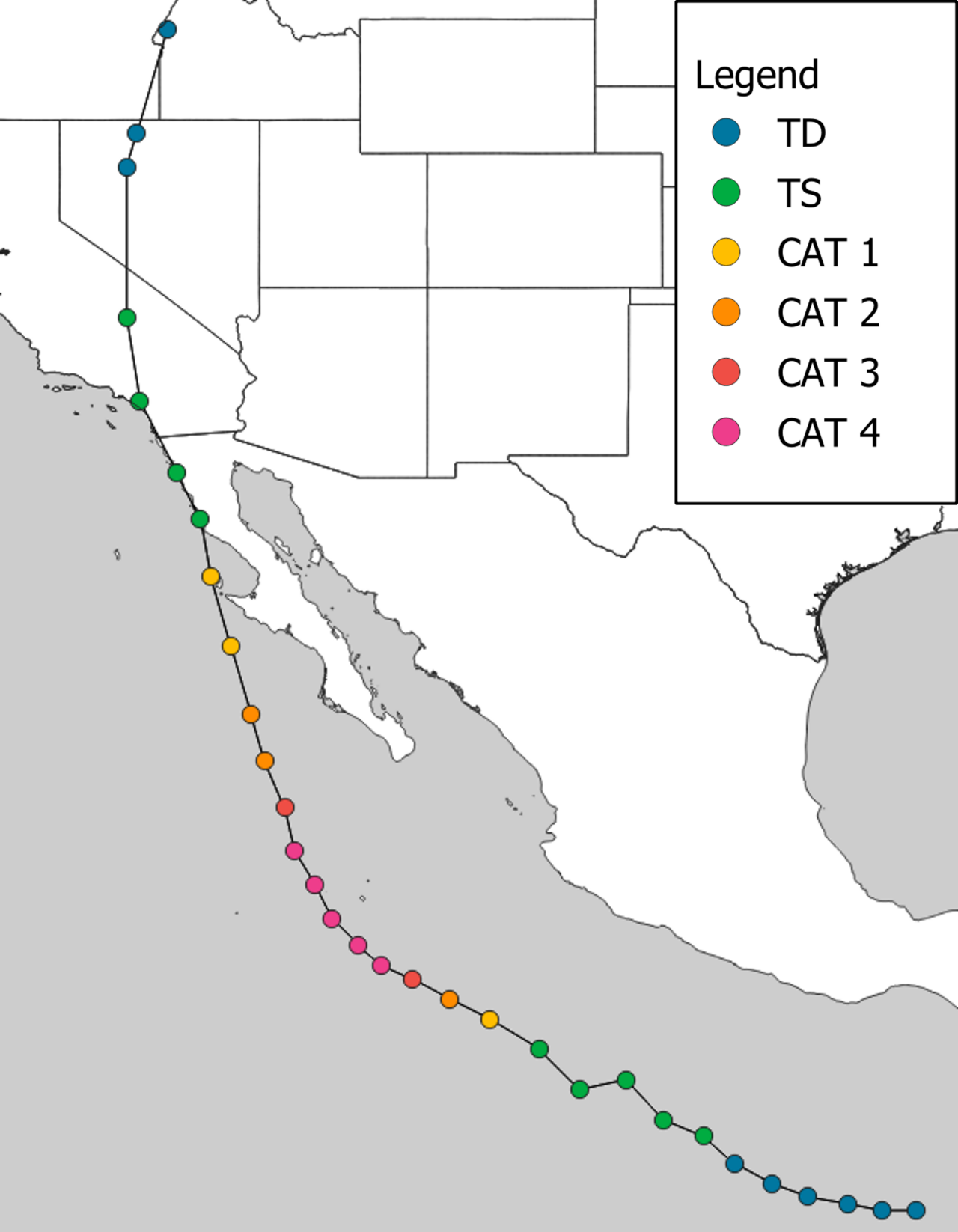 By early August 21, Hilary had transitioned into a post-tropical cyclone and moved into Nevada, bringing rain and flood watches along the Rocky Mountains in southwest Utah, eastern Oregon, and central Idaho. By the end of August 21 and into the early hours of August 22, the storm lost characteristics of a post-tropical cyclone, and the storm's remnants moved into Canada.
Rainfall Totals and Wind Impacts
Hurricane Hilary broke rainfall records for the month of August throughout southern California, including San Diego (1.82 inches), Escondido (2.66 inches), and Cuyamaca (4.11 inches). The desert town of Palm Springs saw 3.18 inches of rain, breaking its all-time summer record for rainfall. Los Angeles and the surrounding metro area saw rainfall totals between 2.5 to almost 5 inches. The highest rainfall totals were seen in the mountainous regions northeast of Los Angeles and south of Death Valley National Park, both of which saw over 11 inches of rain from NWS radar-derived precipitation totals.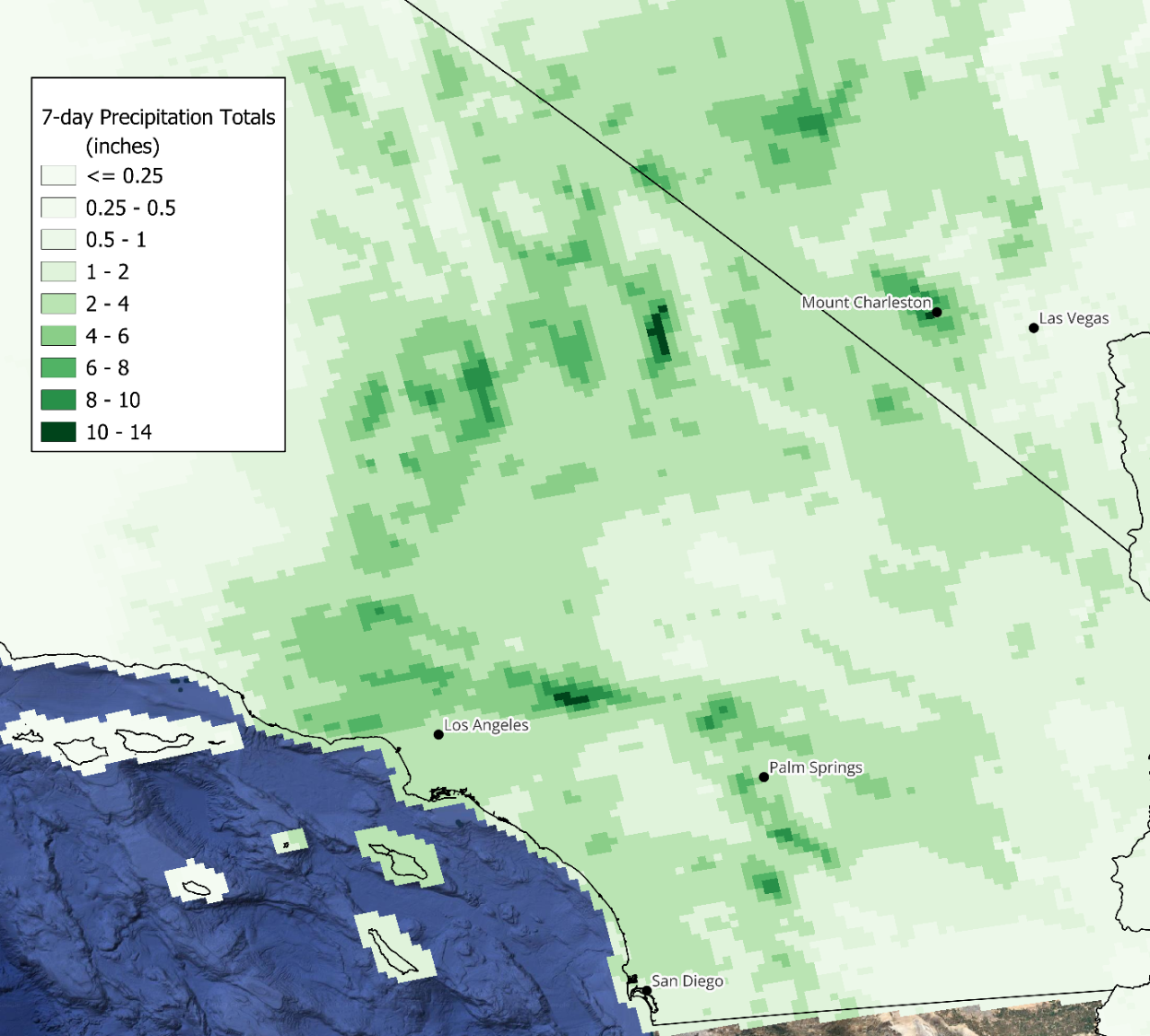 Due to Hilary making landfall in the United States as a tropical storm, southern California, western Arizona, and southern Nevada saw wind speeds between 39 and 49 mph, with locations in higher elevations and mountainous regions seeing wind speeds of up to 65 mph. These wind speeds were forecasted well in advance of landfall, with the National Hurricane Center predicting a high chance of wind speeds at least 39 mph but likely not exceeding 58 mph for the region at large. As a result, the impacts of wind-driven loss and damage will be relatively minor for this tropical cyclone event.
Riverine and Flash Flooding
Riverine flooding was reported across Rancho Mirage and Coachella Valley on Sunday, August 20 as the storm funneled precipitation across Southern California and Nevada. The Los Angeles River jumped over 9 feet within a few hours' time. The San Diego River in Mission Valley was also experiencing heavy flooding from the record-breaking rain. According to the NWS Advanced Hydrologic Prediction Service, the river reached 8.95 feet in height at 10:15 pm Sunday near Fashion Valley, marking the highest summertime height ever recorded for the San Diego River.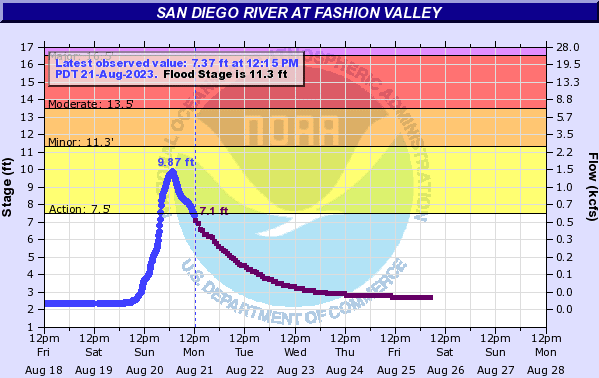 Hilary also affected Palm Springs, a desert town in Riverside County about 100 miles east of Los Angeles. Nearly four inches of rain caused severe flash flooding in the Palm Desert, specifically in the streets of Palm Springs. Intense winds also hit the region, as prior to reaching Palm Springs, Hilary had sustained winds at around 50 mph. Along the coastal area, some storm damages on the south side of the Long Beach Harbor were also observed, showing parts of a dock that have been destroyed. Hilary's record heavy rainfall also triggered mudslides at various locations. At least a dozen people are being rescued after being trapped by mud at a senior boarding care facility in Cathedral City, CA.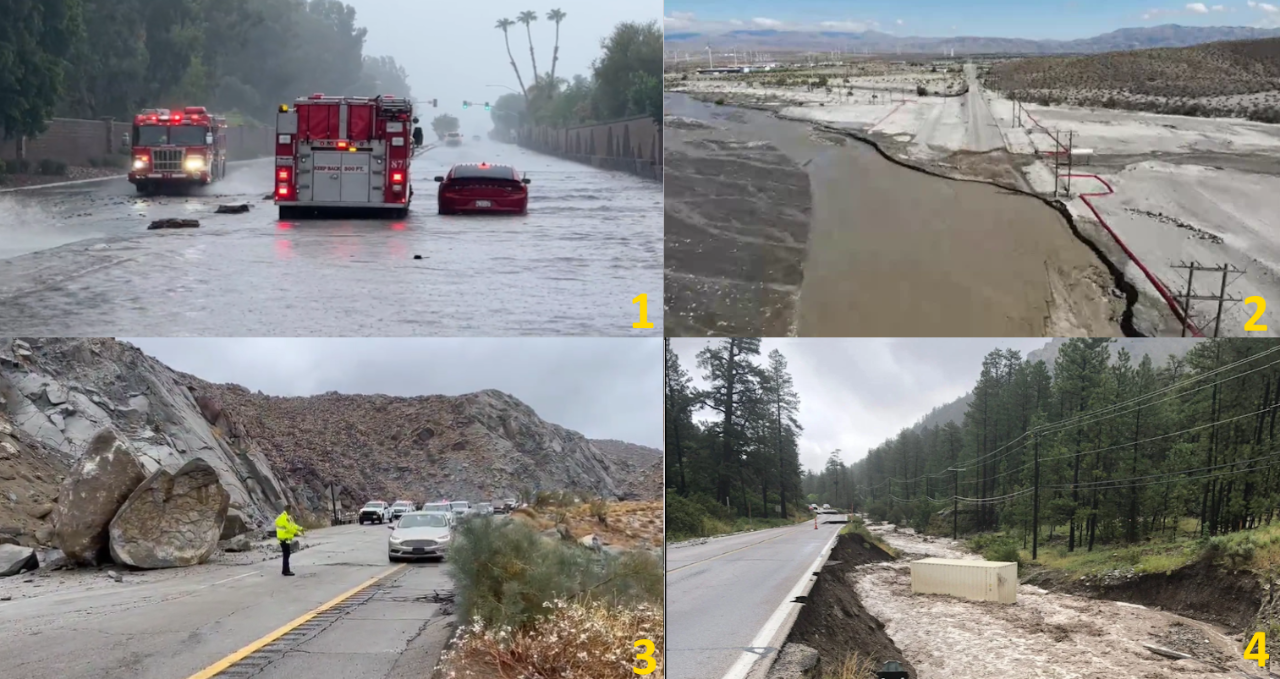 Infrastructure and Wildfire Concerns
The heavy precipitation brought by Tropical Storm Hilary led to mudflows, several swift water rescues from cars, and numerous highway closures, including Interstate-10 (main highway in and out of the Los Angeles metro area), Interstate-5, Interstate-210 and 405, and CA Route-118. According to the Nevada Department of Transportation, Kyle Canyon Road at Deer Creek Road had to be closed due to flood damage on Tuesday August 22. NDOT's crews are working to create a single, temporary lane to connect Mt. Charleston Community. The flood also caused over 4,500 flights in California and Nevada to be delayed or canceled across the US, per FlightAware.
Due to the wind and rain, over 57,000 outages were reported in California, 23,000 of which were in Los Angeles County and over 6,000 in San Bernardino County. Outages were also reported in southern Temecula, CA. A downed power line, caused by a reported lightning strike, has closed all lanes of I-15 in Barstowa.
On Monday August 21, Hilary's remnants helped fan a 500+ acre wildfire in Sacramento County in Northern California. This is similar to how Hurricane Dora and the associated winds helped contributed to the fire in Lahaina, Hawaii in mid August.
Climatic Conditions
Summers within the southwest United States are typically the driest months out of the year. NOAA's National Centers for Environmental Information reported that much of southern California, southern Nevada, and western Arizona have seen much drier conditions than average with some areas experiencing record low rainfalls for the month of July. However, most of the impacted area is only under abnormally dry or moderate drought conditions, driven in part by a particularly wet June within the region. This helped to reduce the impact of flooding, as dry and compacted soils can increase runoff during heavy rain events.
Many desert communities also received large amounts of rainfall, sometimes exceeding their annual average rainfall in a single day, especially in and around Palm Springs. According to water officials in California, the rainfall from Hilary is enough to completely remove drought conditions throughout the state, making it the first time in years that California is completely drought free.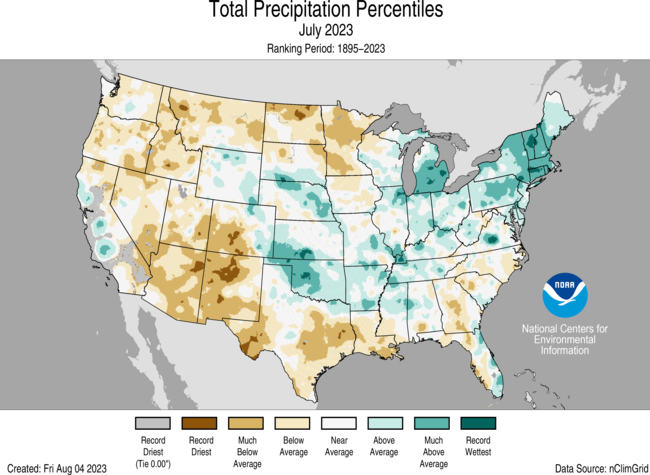 Southern California and Los Angeles Flood Defenses
Los Angeles flood defense system is mainly composed of concrete lined channels over 51 miles in length. It was built almost 100 years ago after a series of devastating floods in the early 20th century. This engineering project addresses nine goals related to flood risk, parks, ecosystems, access, arts and culture, housing, engagement and education, water supply and water quality. In 2022, Los Angeles County released an updated 2022 LA River Master Plan detailing plans for decreasing flood risk by reducing flow into the river, incorporating climate change research, and increasing emergency planning, public awareness, and management practices. During the Hurricane Hilary, the LA river played a key role of quickly diverting the surface runoff to the river channel, reducing the overtopping flow into the surrounding neighborhood.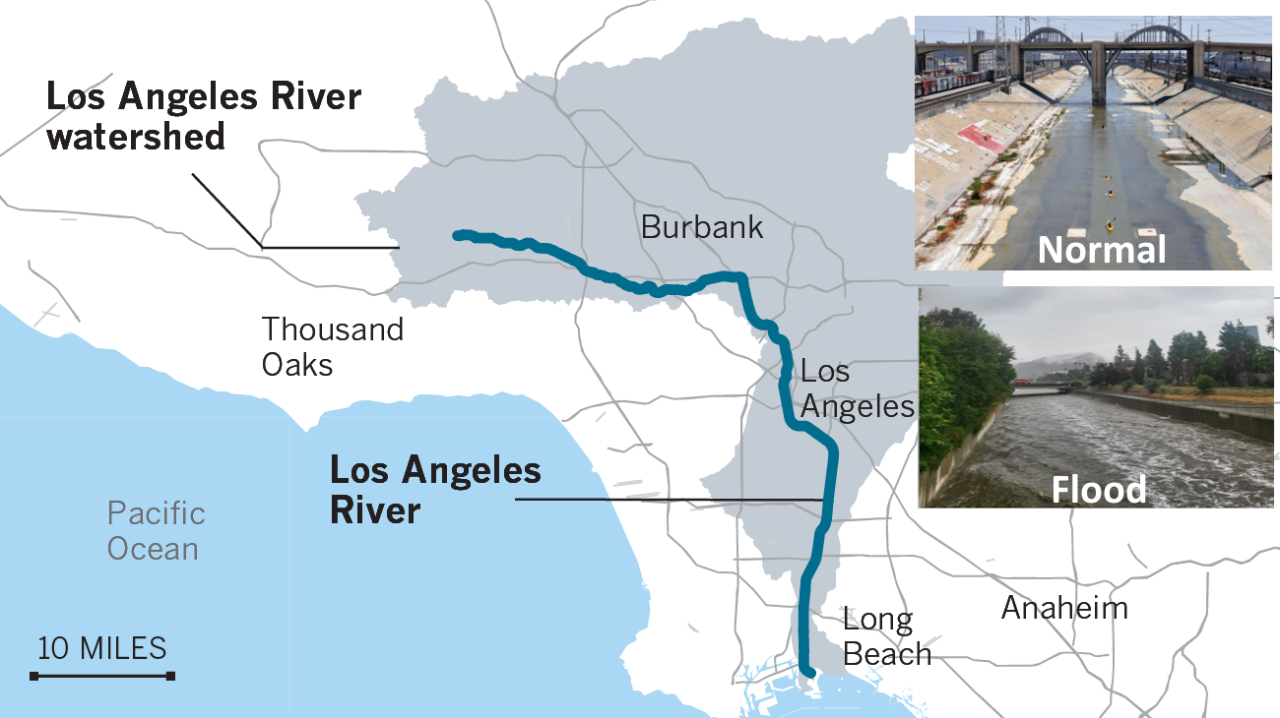 Flood Impact in Baja California, Mexico
Hilary made landfall around 11 am PDT Sunday, August 20 as a 65-mph tropical storm on the coast of Baja California, Mexico, about 215 miles south-southeast of San Diego. It brought hurricane-force winds to Cedros Island and near coastline of Bahia Tortugas. More than 300,000 customers in Mexico lost power, and one death was reported in Santa Rosalía, which was hit hard by flash flooding. According to a statement by Mexico government, 2,728 Mexican Armed Forces members were providing support in the towns of Bahía Tortuga, Loreto, Punta Abreojos, Guerrero Negro, San Ignacio, Vizcaíno, Santa Rosalía, and Mulegé.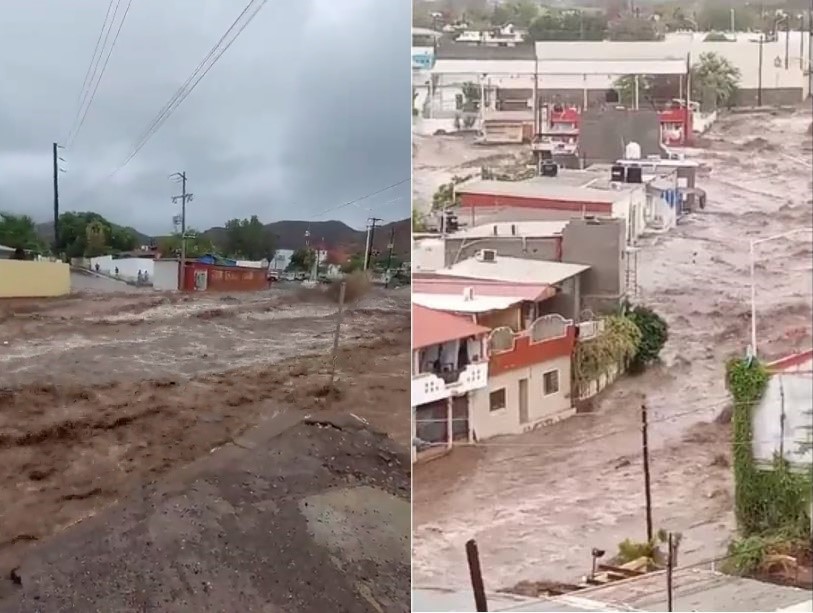 Comparable Historical Hurricane Events in Southern California
Hurricane Kathleen (September 7-11, 1976): Kathleen brushed the Pacific coast of US as a hurricane on September 9 and made landfall as a fast-moving tropical storm. The state received record rainfall from Kathleen, with 14.76 inches falling on the southern slopes of Mount San Gorgonio, and 10.13 inches accumulating on Mount Laguna. Overall, the storm resulted in 12 fatalities and economic losses from Los Angeles, Palm Desert and San Diego and Arizona Eastern Railway total at $860 million (2023 dollars).
Hurricane Nora (September 16-26, 1997): Hurricane Nora was the first tropical cyclone to enter the lower 48 states of US from the Pacific Ocean since Hurricane Lester in 1992. The storm ended up combining with high tides, areas of low pressure that moved into the Pacific Ocean from the desert, a strong northwesterly swell from Gulf of Alaska, and the ongoing effects of the 1997–98 El Niño. This included high waves, unseasonable rainfall and dry hot winds across California. Nora is responsible for two deaths in Mexico and four fatalities in the United States, as well as at least $285 million in damages (2023 dollars).
Hurricane Dolores (July 11-18, 2015): Dolores was a powerful and moderately damaging tropical cyclone whose remnants brought record-breaking heavy rains and strong winds to California. The interaction of the moisture with a low-pressure system brought record–breaking rainfall and heavy thunderstorms to Southern California, including major cities such as San Diego and Los Angeles. One resulting flash flood caused a bridge to collapse and ended up shutting down Interstate 10 between Indio and Blythe, effectively cutting off the primary Phoenix-to-Los Angeles route. The loss associated with Dolores was $66 million.