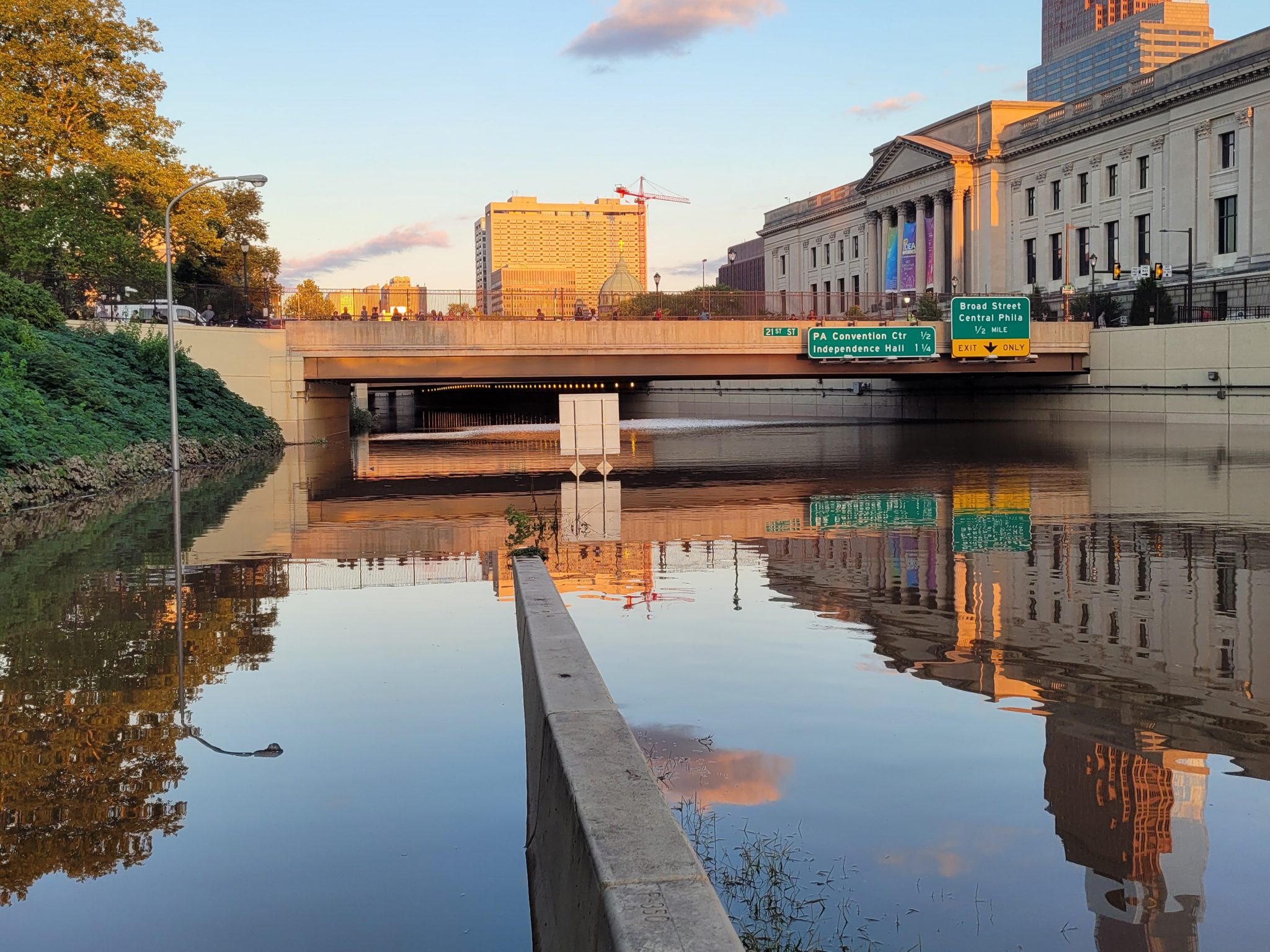 Hurricane Ida made landfall at 11:55 AM CDT Sunday, August 30 as a high-end category-4 hurricane, with maximum sustained winds of 150 mph. The storm moved ashore near Port Fourchon, Louisiana after a period of rapid intensification, tying for the fifth strongest landfalling continental US hurricane on record with Hurricane Laura of 2020, among three other hurricanes. Severe wind and large scale flood damage has been reported to property and infrastructure in much of southeast Louisiana, including significant damage in New Orleans, Louisiana. In addition, Ida has caused widespread damage across the Mid-Atlantic and Northeast US. Additional impacts outside the Gulf Coast will be discussed in a second Post Event Report on Ida to be issued the week of September 6 after conclusion of the event.
The Hurricane Ida post-event report comprises the following sections:
Insured Loss Estimates
Regional Impacts
Notable Impacts by Sector
Implications for the Insurance Industry
Key Dates in the Timeline of Hurricane Laura
Physical Discussion of Hurricane Laura
Peak Meteorological Statistics
Insured Loss Estimates
As of Thursday, September 2, the following companies have issued insured loss estimates in association with Hurricane Ida, according to media reports (losses in USD). Table 1. Insured loss estimates (USD)

Sources: Karen Clark & Company (KCC), CoreLogic (EQE)
Regional Impacts
Table 2. Impacts to key states and regions from Hurricane Ida on the Gulf Coast

Source: AP News, PowerOutage.US
United States
Hurricane Ida rendered significant damage across parts of southeastern Louisiana after making landfall as a category-4 storm on Sunday, August 29. More than 1 million homes and businesses were without power in Louisiana and Mississippi and at least six fatalities have been connected to Ida, with the number expected to climb as search and rescue efforts continue. Extreme and widespread flooding has been observed throughout portions of the Mid-Atlantic and Northeast, as well as significant tornadic activity as Ida moved through the region. Details on Ida's impacts beyond the Gulf Coast will be addressed in a subsequent report from Guy Carpenter.
Louisiana
Impacts in southeast Louisiana have been especially severe as winds of a category-4 hurricane and seawater inundation due to storm surge have rendered significant impacts to numerous properties and infrastructure. The storm was responsible for at least two deaths in the state, with the death toll expected to climb as rescue efforts continue. One victim drowned after attempting to drive through floodwaters in New Orleans, while the second was hit by a falling tree in Ascension Parish. In the town of Slidell, authorities are investigating the disappearance of a 71-year-old man after an apparent alligator attack in the floodwaters brought on by the storm.
While New Orleans escaped catastrophic flooding, other nearby communities bore the brunt of the storm. In LaPlace, Ida tore off roofs and flooded entire neighborhoods. The community of Crown Point was also devastated by floodwaters, with rescue workers deploying high-water trucks and swamp boats to reach stranded residents. At least 90% of the homes in the town of Jean Lafitte sustained serious damage after floodwaters overtopped a local levy, according to the town's mayor. More than 40 residents, firefighters, and police officers who rode out the storm on Grand Isle, just west of Ida's landfall location, remain stuck on the island. Emergency officials worked quickly to reach the stranded, according to media reports. The area was accessed by authorities as of Wednesday morning and found widespread devastation due to both seawater inundation and wind, with 5-6 feet of sand that had washed ashore. As many as 85% of the buildings on the island were damaged, according to the town's mayor. Multiple homes were reportedly moved from their foundations by storm surge in Galliano, about 25 miles northwest of Grand Isle, according to media reports.
Across the entire state, rescuers brought more than 670 people trapped by floodwaters to safety. According to the governor, the Louisiana National Guard alone rescued 191 people across St. John the Baptist, Jefferson, and Orleans parishes. More than 5,000 National Guard soldiers are working on the disaster response, with more soldiers from other states expected to arrive in the coming days.
More than 1 million customers in the state were without power at the height of the storm, including the entire city of New Orleans, according to PowerOutage.US, due in part to the twisting and collapsing of a giant tower carrying key transmission lines over the Mississippi River. According to power company Entergy, more than 2,000 miles of transmission lines were knocked out of service. As of Wednesday morning, September 1, power was restored to some areas of New Orleans East. Louisiana's governor described damage to the power grid as "catastrophic," and said more than 25,000 utility workers were on the ground to help restore electricity. Power officials stated it could be as many as six weeks before electricity is restored in some areas. In addition, power outages are straining major waste disposal systems in New Orleans. As of Monday, August 30, 80 of the 84 sewer pumping stations had lost power. Officials in Jefferson Parish asked residents to conserve water to prevent sewage system backups.
In New Orleans, city officials warned residents to not return to the city for at least a few days. Drinking water shortages are common throughout the area, with more than 441,000 people were without water service in 17 parishes, and more than 319,000 were under boil-water advisories, according to federal officials.
Four hospitals were damaged in the state and 39 medical facilities were operating on generator power, according to the Federal Emergency Management Agency (FEMA). At Lady of the Sea General Hospital in Lafourche Parish, Ida tore off a large portion of the roof. Members of the U.S. Coast Guard flew in and evacuated seven patients on Monday morning, according to the state's governor. Ochsner Health, which runs Louisiana's largest hospital network, evacuated 165 patients from three hospitals in Houma and Raceland, according to the company's CEO Warner Thomas. The Louis Armstrong New Orleans International Airport canceled all flights for a third day on Tuesday, August 31, citing a lack of power and water.
Mississippi
Two people were killed and at least 10 others were injured when a rural highway collapsed Monday night. Law enforcement and rescue workers responded to Highway 26 west of Lucedale, about 60 miles northeast of Biloxi, to find both the east and westbound lanes collapsed. Torrential rain from Ida is suspected as the cause of the collapse and work crews are checking other highways in the area.
Rescuers have brought more than 20 people trapped by floodwaters in the state's three coastal counties to safety, with rescue efforts continuing in hard-hit areas. In southwest Mississippi, entire neighborhoods were engulfed by floodwaters, rendering many roads impassable. In Jackson County, an estimated 300 homes were flooded and 150 road closures were prompted, according to media reports. Streets were also reported to be flooded in Hattiesburg and Meridian. More than 130,000 customers were without power in the state at the height of the storm.
Alabama
Two utility workers were killed in Jefferson County while trying to restore power after Ida. A reported tornado touched down north of Mobile, damaging a motel, downing trees, and flipping an 18-wheeler in Saraland. Other damage was documented in Clarke County, Alabama due to a possible tornado, according to media reports.
Caribbean
Soon after upgrading from a tropical storm to a hurricane, Ida struck Cuba's southern Isle of Youth, off the southwestern end of the island, downing trees and inflicting structural damage. Authorities from the Cuban Civil Defense said over 10,000 people were evacuated in Pinar del Rio province. There were no immediate reports of deaths.
Jamaica was impacted by heavy rainfall, producing landslides and resulting in many impassable roads. The Cayman Islands government closed nonessential government offices ahead of the storm and four shelters were activated.  
Notable Impacts by Sector
Offshore Energy
96% of offshore oil production and 94% of offshore natural gas production were shut-in pre-emptively ahead of Ida's landfall. Reports indicate as of August 31 that personnel had been evacuated from a total of 278 production platforms, or nearly 50 percent of the 560 manned platforms in the Gulf of Mexico. Personnel had also been evacuated from nine out of eleven drilling rigs in the affected area. Due to severe wave heights of up to 40 feet and category-4 winds traversing the offshore energy zone, inspection and recovery efforts are expected to take weeks before full production resumes.
Industrial Facilities and Onshore Energy
At least nine refineries in Louisiana have reduced production or shut-in operations in advance of Ida's landfall. This accounts for 2.3 billion barrels per day of US refinery capacity, equating to 13% of the total US operable refinery capacity. Port Fourchon, LA is the landbase for the Louisiana Offshore Oil Port (LOOP), a significant US asset for oil and gas production and distribution. LOOP is the only US deepwater port capable of offloading Very Large and Ultra Large Crude Carrier ships. Damage to Port Fourchon could delay the ability for deepwater oil and gas production in the Gulf of Mexico to resume as the port services over 90% of offshore drilling production. Reports indicate that the main access road to the port was underwater Sunday, restricting access. Infrastructure damage is limiting the ability to start investigation of damages multiple days after landfall.
Supply Chain and Transportation
The Port of New Orleans reopened at 3PM on September 1 as inspections concluded on the Mississippi River. Containerized and breakbulk operations at the Port remain closed due to lack of power as of September 2. Multiple reports indicate many ocean vessels lost mooring during the peak of Ida on the Mississippi River. Port Fourchon is closed until further notice after experiencing Ida with storm surge in excess of 6 feet and maximum sustained winds of 150 mph.
Rail traffic for Kansas City Southern is suspended from Baton Rouge, LA east to Gulfport, MS. Crews are assessing the safety of the rail network and making repairs commencing Monday August 30. Norfolk Southern expects the New Orleans intermodal facility to be closed early in the week with normal operations commencing as early as Tuesday August 31.
Agriculture and Livestock
Cotton crops were most susceptible to damage from Hurricane Ida due to portions of the cotton belt entering the open boll stage. Prior to the landfall of Ida, 48% of Louisiana and 42% of Mississippi cotton crop were in open boll stage.  Strong winds can dislodge cotton bolls from the plant as well as suffer quality declines due to excessive rainfall. Secondarily, soybean plants also experienced some lodging of pods but overall damage appears less than for cotton. Several grain export elevators for storage of corn and soybeans sustained meaningful damage as reported by global grain transporter Cargill.
Utility Infrastructure
The Entergy transmission system suffered extensive damage. Entergy Louisiana, the main utility provider for southeast Louisiana, indicates on Monday August 30th that it will take days to determine the extent of damage to the power grid and far longer to restore electrical transmission to the region. Transmission towers traversing the Mississippi River into Jefferson Parish have been destroyed with transmission lines reported in the Mississippi River. All eight transmission lines carrying electricity into New Orleans, LA failed during Ida's transit across the region on Sunday and remain out of commission.  The number of transmission lines supplying New Orleans has been reduced from 14 when Hurricane Gustav made landfall in 2008; 13 of the 14 lines were knocked out of service in Gustav. A statement from Entergy indicates that nearly 20,000 workers will be needed to fully reconnect affected customers.
Drinking water and sewerage infrastructure have also been disrupted, both as a result of power outages but also direct damage during the storm. Residents of affected Parishes have been encouraged not to run washing machines or dishwashers (in cases where they have power) in order to reduce strain on sewerage systems. Entergy is prioritizing this infrastructure in power restoration efforts. Extensive disruption to communications infrastructure has been reported, which has impeded coordination and response efforts. 
Emergency 911 service was disrupted as Ida moved onshore Sunday with service remaining offline 24 hours after landfall. Verizon celluar service is being provided with unlimited calling, text messaging and data for the next week across 22 Louisiana parishes and two counties in Mississippi.  
Implications for the Insurance Industry
While rescue operations to save lives and early damage assessment takes hold in the days after Ida, there are multiple longer-term implications for the insurance sector as recovery begins.
Hurricane Storm Risk Reduction System
Preliminary accounts in southeast Louisiana suggest that the majority of US Army Corps of Engineers infrastructure enhancement (Hurricane and Storm Damage Risk Reduction System) to bolster storm surge defenses after Katrina in 2005 have endured Ida, a $14B investment in the last 15 years. Several flash flood emergencies south of New Orleans due to levee failures are transpiring in lower populated areas outside the infrastructure enhancements of the last decade. While reports of ongoing high water rescues are transpiring, initial data suggests the extent of catastrophic flooding due to infrastructure failure is meaningfully lower than in Katrina. As discussed in further detail in the physical discussion, Ida had stronger maximum sustained winds than Katrina at landfall. However, Ida was a smaller hurricane, both from the radius of hurricane and tropical storm force winds, which has a more significant impact on the depth of storm surge moving onshore.
Power Transmission and Grid Electrification
As highlighted above in sector impacts, the largest utility for the region, Entergy, indicates the catastrophic failure of the southeast Louisiana utility infrastructure will take weeks to months to fully recover. Meaningful delays in recovery due to lack of power will likely escalate insured losses due to rainwater and flood intrusion for compromised structures and subsequent mold damage. The analysis below highlights the efforts required to rebuild the grid in Hurricane Laura compared to the progress after Hurricane Ida as evaluation and restoration continues.
Table 3. Entergy Louisiana and Affiliated Entities; Power Disruptions in Hurricane Laura Compared to Ida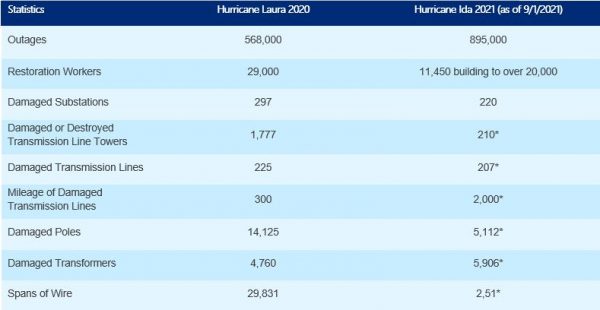 Source: Entergy Storm Center. Note: Estimates with asteriks traditionally grow larger as recovery efforts continue with 36% of assets inspected
Wind versus Water
Insurance policy terms will play a meaningful role in claims adjustment as many locales damaged in Ida endured a combination of winds capable of meaningful damage, freshwater flooding due to rain totals in excess of a foot across the region, and coastally exposed locations seeing significant seawater inundation. A Guy Carpenter analysis of NFIP flood policies as a percentage of home units, informed by FEMA and the American Community Survey, indicates NFIP take-up rates exceed 50% in southeast Louisiana parishes. In terms of inland rainfall and resulting flooding in New Orleans, LA, back-up power generation was able to power the majority of pumps for rainwater, alleviating widespread pluvial flooding that could conflate wind and water loss sources.
Elevated Repair Costs Likely due to a Confluence of Factors
Cascading disasters inclusive of wind, rain and storm surge historically drive an increase in repair costs, quantified by the surge in demand for laborers and materials. Compounding the traditional demand surge impacts are the following factors:
Key Dates in the Timeline of Hurricane Ida
Figure 2. Key dates in the timeline of Hurricane Ida (all times EDT)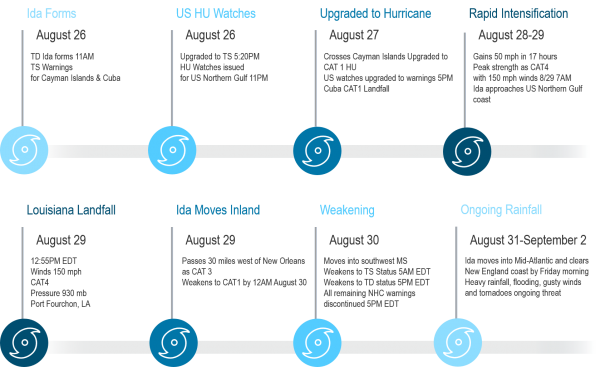 Source: Guy Carpenter
Physical Discussion
Looking back at the progression of Hurricane Ida from formation over the western Caribbean to landfall in Louisiana 73 hours later, several key aspects are noteworthy to highlight:
rapid intensification over the Gulf of Mexico
the accuracy of the National Hurricane Center forecast but without enough lead time for evacuations
the impact of storm surge relative to the Katrina experience
the widespread inland flooding due to excessive rainfall
Rapid Intensification over Warm Gulf of Mexico
Ida completed a rare feat of intensifying by 50 knots within 24 hours as the hurricane tracked across the exceptionally warm and deep waters of the Gulf of Mexico Loop Current south of Louisiana.  Ocean temperatures more than 31 degrees Celsius at significant depth provided nearly unlimited energy for Ida to rapidly intensify. Only seven hurricanes rapidly intensified at the impressive magnitude of 50 knots in the period of 1982 to 2017, whereas the last three years have seen three additional hurricanes (Michael 2018, Laura 2020, Ida 2021). The recently released 6th International Panel on Climate Change assessment report for the first time commented that there is likely trend of increased rapid intensification tropical cyclone events with medium confidence there is partial human attribution to the increased trend.
Figure 3. Rapid intensification Gulf of Mexico events since 2017, all of which went on to category-4 or 5 US landfall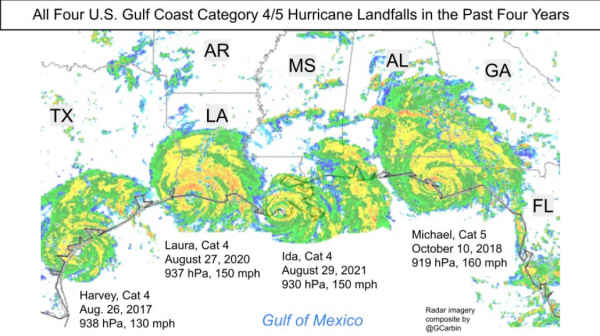 Source: Greg Carbin, Weather Prediction Center / NOAA
National Hurricane Center Forecast Details and Accuracy
Several aspects of the National Hurricane Center forecast of Ida were exemplary. Firstly, from classifying Ida as tropical depression south of Cuba, the track forecast error was less than 50 miles to the U.S. landfall location of Port Fourchon, LA. Equally, if not even more impressive, was the initial intensity forecast calling for rapid intensification of at least 35 knots within 72 hours.  Not only did the intensification forecast verify, but it was also the most aggressive forecast issued by NHC between the day 2 and day 3 forecast of initiating advisories of any storm since 1990. While intensity forecasts tend to lag in skill relative to track forecasts, in Ida the intensity forecast was exceptional.
For New Orleans, LA, the minimum time required to issue evacuation orders before the onset of hurricane conditions is 84 hours. While the NHC forecast was exemplary from both a track and an intensity standpoint, the storm went from tropical depression to category 4 landfall within 73 hours. Thus, once Ida was named and hurricane watches were issued shortly thereafter, it was under the minimum time required for New Orleans to issue a mandatory evacuation.
Figure 4. Verification of the National Hurricane Center forecast from first advisory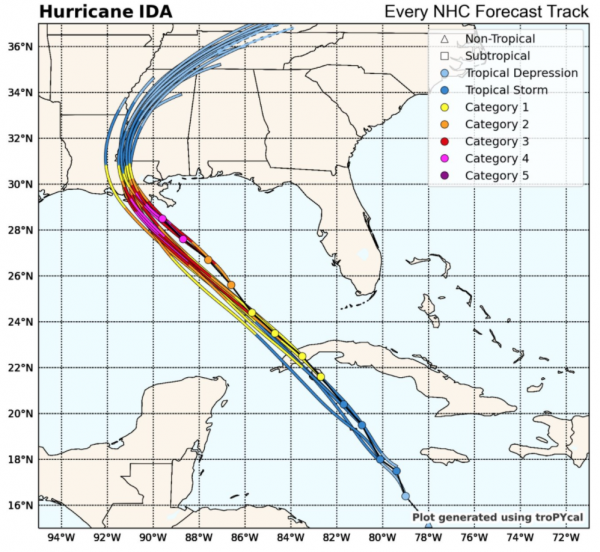 Source: Sam Lillo, University of Oklahoma
Figure 5. All US category-5 hurricane landfalls had rapid intensification from tropical storm strength 72 hours before landfall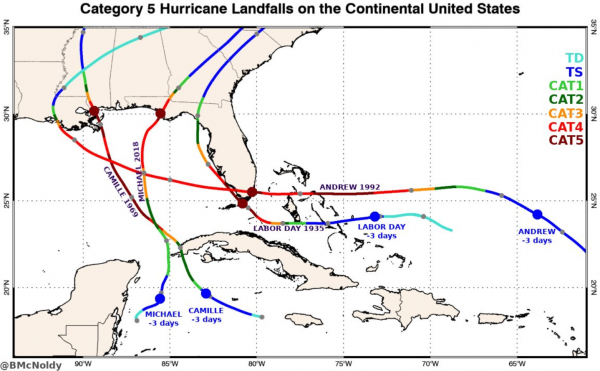 Source: Brian McNoldy, University of Miami
Storm Surge Inundates Southwest Louisiana and Mississippi Coast
Due to the complex geography of the coastline in the region of landfall and the extensive system of lakes, bays, and bayous inland to the east of landfall Ida's maximum surge will take time to discern via on the ground observations. Based on permanent NOAA water level gauges preliminary measurements for surge indicate surge elevations reached 4-6 feet at sheltered locations on the inland side of the coastal islands (Figure 6). Preliminary modeling by the Coastal Emergency Risk Assessment (CERA) organization indicates that surge elevations exceeded 12 feet on the seaward side of Grand Isle, Louisiana. The maximum surge from Ida according to CERA exceeded 13 feet to the east of Cut Off, Louisiana located approximately 30 miles to the north of landfall. Closer to the New Orleans metropolitan area surge elevations exceeded 8 feet at the southern shore of Lake Borgne and 6 feet at the Lake Pontchartrain lakefront according to preliminary NOAA observations. The effects of Ida's wind and surge in southern Louisiana were significant enough to cause the Mississippi River to flow backwards for a period on August 29 according to USGS measurements at Belle Chasse, Louisiana (Figure 7). On the Mississippi Coast surge elevations exceeded 7.5 feet near Bay St. Louis, MS.
Prior to landfall, the potential impacts from Ida's storm surge were being compared to the catastrophic impacts from Hurricane Katrina's (2005) storm surge. Fortunately, Ida's impacts from storm surge were significantly less than Hurricane Katrina's due in large part to the difference in the storm's maximum surge elevations: approximately 13 feet for Ida and in excess of 25 feet for Katrina. This difference in peak storm surge elevations is notable particularly when considering the fact that Ida was a stronger hurricane at landfall in terms of windspeed than Katrina. The difference in the storms' pre-landfall behavior largely accounts for this difference.
Approximately 24 hours prior to landfall Katrina was a category-5 hurricane which degraded to a category-3 at landfall. This weakening coincided with a broadening of the wind field resulting in a large hurricane with its strongest winds over much of the shallow lakes and sounds to the east of New Orleans generating catastrophic storm surge that penetrated into the core of New Orleans. As Katrina made landfall hurricane force winds extended nearly 120 miles from the center of the storm.
Approximately 24 hours prior to landfall Ida was a category-1 hurricane which rapidly intensified to category-4 by landfall. Ida's landfall location near Port Fourchon, Louisiana meant that its strongest winds prior to landfall were limited to open coastal waters with strong winds affecting shallower inland water bodies only after landfall. At landfall Ida's hurricane force winds extended approximately 50 miles from the center of the storm.
In terms of Integrated Kinetic Energy (IKE), a metric that considers the total energy of a storm based on the size and intensity of its wind field, at its maximum Katrina produced 127 terajoules of energy with Ida producing 32 terajoules of energy at its maximum. While IKE is not the only factor in quantifying storm surge impacts it does provide useful guidance in terms of a storm's ability to generate storm surge.
In terms of surge impacts to the New Orleans region it is nearly impossible to compare Ida to Katrina not only because of the meaningful difference in the maximum storm surge elevations but also due to the presence of the Hurricane and Storm Damage Risk Reduction System (HSDRRS). The HSDRRS is a system of storm surge barriers, gates, and levees that was designed and constructed following Hurricane Katrina to defend the New Orleans region from significant storm surge inundation. The HSDRRS includes the 1.8 mile long Lake Borgne Storm Surge Barrier which prevents the intrusion of surge from Lake Borgne into the canal system that adjoins the city of New Orleans which provided an inlet for surge to affect the core of New Orleans in Hurricane Katrina. The Lake Borgne Storm Surge Barrier is built to a height of 26 feet above sea level which easily held back Ida's estimated surge of 8 feet against the barrier.
It should be noted that levee overtopping was reported in some areas of the New Orleans metropolitan region, most notably in LaPlace, Louisiana, which lies outside the HSDRRS, as well as localized impacts in other leveed communities in southern Louisiana.
Figure 6. Preliminary storm surge elevation time series for Grand Isle, LA, approximately 17 miles east of Ida's landfall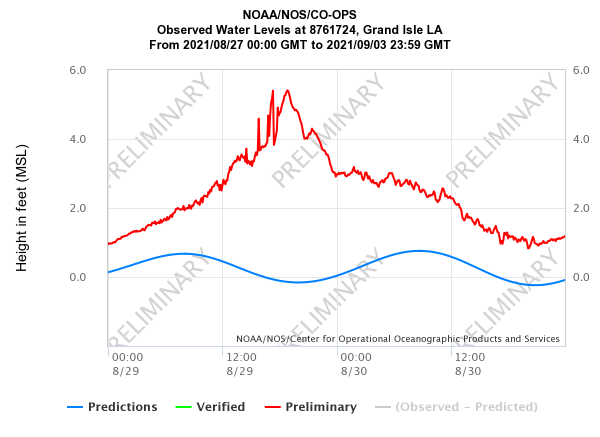 Source: NOAA Tides and Currents
Figure 7. Reversal of flow of the Mississippi River at Belle Chasse, LA on August 29 due to Ida's wind and surge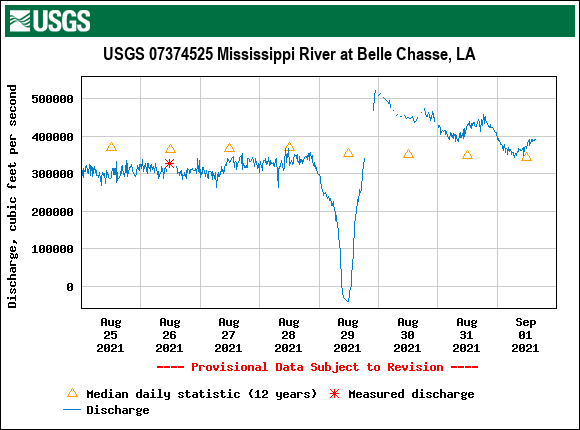 Source: USGS
Figure 8. The Hurricane and Storm Damage Risk Reduction System (HSDRRS) of the New Orleans region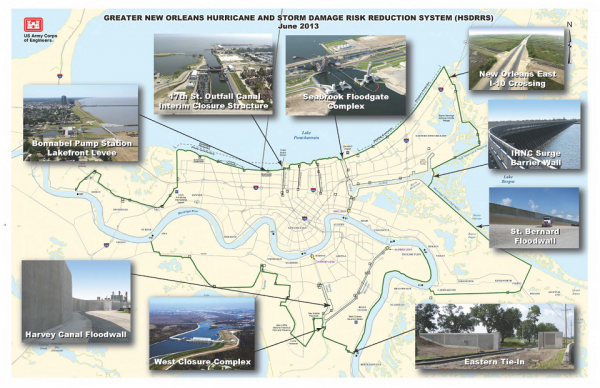 Source: US Army Corps of Engineers, New Orleans District
Significant Rainfall along Entire Path of Storm
Hurricane Ida and its remnants have caused significant precipitation over the entire track of the storm. Major observed precipitation amounts include 15.73 inches in Rigolets-Slidell, LA, 13.73 inches in New Orleans, LA, and 13.12 inches in Bay St Louis, MS. Prior to landfall large rivers have been at a relatively low stage due to drier than normal conditions in the upstream river basins of the Arkansas and Missouri rivers. While this mitigated some of the worst case flooding along the Mississippi, smaller rivers whose flow is more influence by direct precipitation saw waters rise well into moderate and major flood stage.
Heavy, record-breaking rainfall has been observed in other areas of the country from Ida's remnants, including Tennessee, the Ohio Valley, Mid-Atlantic, and Northeast. Further information addressing the flooding and severe weather activity associated with Ida will be covered in a subsequent report from Guy Carpenter.
Figure 9. USGS River gauges under high flow as of September 2, 2021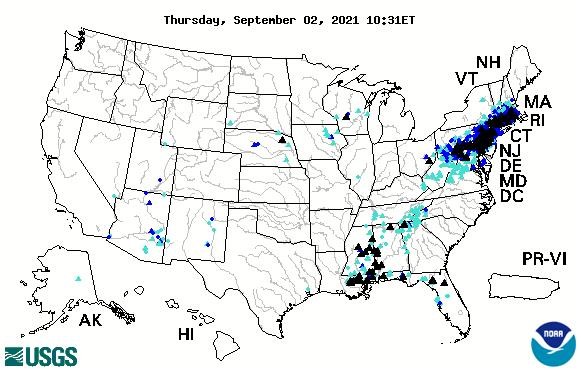 Source: USGS
Peak Meteorological Statistics
Table 4. Peak meteorological statistics

Source: NWS, NOAA, CERA, Guy Carpenter.  For the peak meteorological statistics, storm surge elevation are all above NAVD88 datum. Highest rainfall reported by local media in a 48-hour period. Other noteworthy peak wind gust measurements (mph) across Louisiana include Leeville (153), Grand Isle (146), Dulac (138), Southwest Pass (128), Golden Meadow (125), New Orleans (110).  
Report Sources: Reuters, Everstream Analytics, PortFourchon.com, PortNOLA.com, The Washington Post, The Weather Channel, Associated Press, BBC, PowerOutage.US, CoreLogic, Karen Clark & Co., U.S. National Hurricane Center, U.S. National Weather Service, Insurance Journal, Energy News Room, Wall Street Journal, Bureau of Safety and Environmental Enforcement, Freight Waves
Post Event Report: Hurricane Ida Gulf Coast Landfall