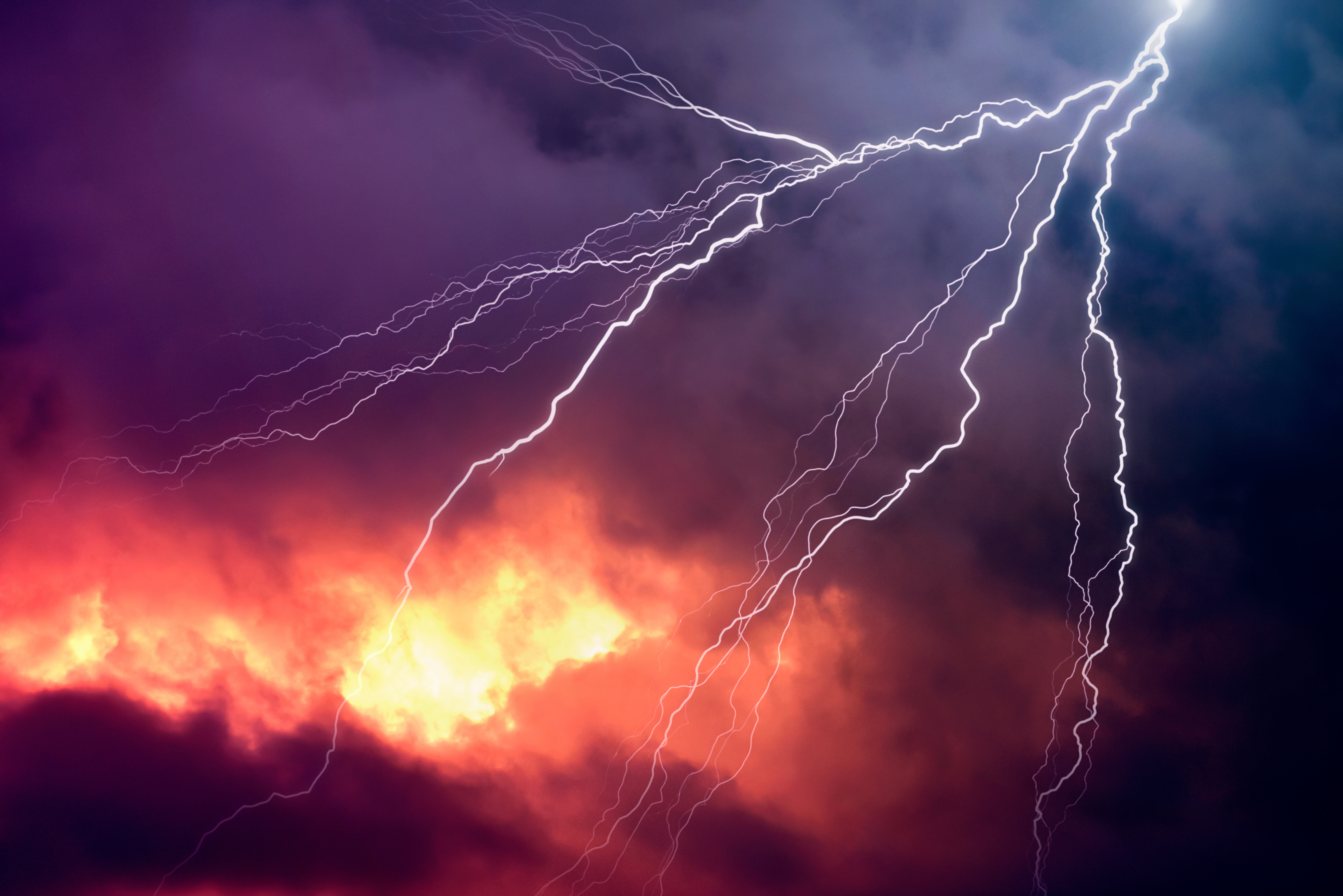 Severe thunderstorm outbreaks commenced on 18 June in France after an intense heatwave. 
2022's heat wave started on 15 June, and this is the earliest since 1947, when recordkeeping began.
With over 190,000 lightning strikes in June, 2022 broke all June since 1989, when recordkeeping began.
The event was widespread in France, damaging property, motor vehicles and crop, with major impact on the wine industry. 
This severe thunderstorm post-event report comprises the following sections:
Insured Loss Estimates
Key Dates in the Timeline
Regional Impacts
Physical Discussion of Meteorological Conditions
Historical Severe Thunderstorm Losses
Climate Change
Insured Loss Estimates
Thunderstorms started on the weekend of 18-19 June, and they were followed by many more days of destruction in much of France.  According to France Assureurs, the latest event has an estimated loss of EUR 2.4 billion from losses accumulated from 18 June to 4 July. Together with the earlier June Pentecost weekend event and the 19-23 May event, the total estimated loss from all three events is around EUR 3.9 billion.
Table 1: Insured Loss Estimates

Source : France Assureurs, Guy Carpenter
Key Dates in the Timeline of June 2022 Severe Thunderstorms
Figure 1: Key dates (consecutive dates with large impacts) for France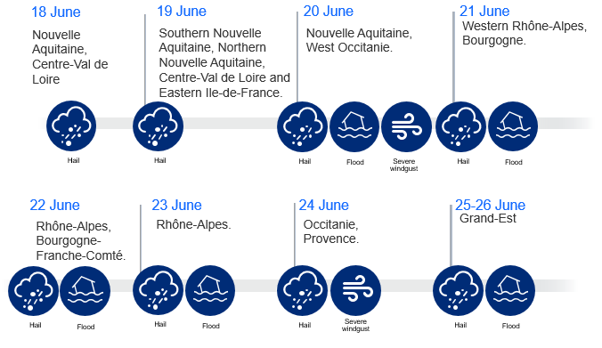 Regional Impacts
France
On Saturday, 18 June, supercells brought hailstones up to 5 centimetres in diameter from Gironde to Touraine. On the night of Sunday, 19 June, golf-ball-sized hailstones fell on Nemours in the department of Seine-et-Marne. Automobile windshields, roofs and verandas were damaged and injuries occurred to attendees of the Nemours carnival. The storm tore through Seine-et-Marne in a northeasterly direction, and impacted the towns of Avon, Moret-sur-Loing to Chevru, Choisy-en-Brie, Rebais, and La Ferté-Gaucher. Further south in Indre, motor vehicles were dented, roofs were pierced, houses were flooded, and roads needed clearing with the help of firefighters. Large hailstones were observed in Buzançais in Indre, and Contres and Cheverny in Loir-et-Cher. Hail also affected Saint-Junien to the west and Bellac to the north of the capital, Limoges, in neighboring Haute-Vienne. At least 500 lightning strikes were recorded in Creuse, Corrèze, and Haute-Vienne, and the town of Vigeois in Corrèze lost electricity. The Centre-Val de Loire region was most affected by heavy rain. Up to 73 millimetres was recorded in Lorris in Loiret.
By Monday, the series of storms emerged potentially as one for the record book. The southern border departments of Pyrénées-Atlantique and Hautes Pyrénées were heavily affected, with notable damage in Pardies, Ogeu-les-Bains, Gan, Baliros, Bosdarros, Pardies-Piétat, Assat, Nousy, Soumoulou, Lourenties, Nay, and the capital, Pau, in Pyrénées-Atlantique. In addition, Vic-en-Bigorre, Saint-Lézer, Montaner and Séron in Hautes Pyrénées experienced extensive destruction from hailstones of up to 13 centimetres in diameter. Further north, Cap-Ferret and Bordeaux Mérignac in Gironde, experienced wind gusts of 109 km/h and 106km/h, respectively. Clion,in Charente-Maritime, experienced 55 millimetres of rainfall. In Charente, La Couronne had 42 millimetres and Angoulême had 41millimetres. Angoulême also recorded a wind gust of 113km/h, and Cognac a gust of 112km/h. Late into the night, hail and rain fell on Dordogne. The town of Ribérac was hit particularly hard, with damage to roofs, vehicles and crops, and a loss of electricity and drinking water. Dordogne's Chamber of Agriculture estimated losses of around EUR 15 million. The storms moved into central France as well, and Châteauroux in Indre had 33 millimetres of rainfall. There were spots of heavy, localized precipitation of up to 55 millimetres in Loiret.    
On Tuesday, hailstorms and thunderstorms proceeded eastward to the Bourgogne-Franche-Comté region. Paray-le-Monial and Digoin in Saône-et-Loire saw ping-pong ball-sized hailstones that damaged roofs of homes, public buildings, motor-vehicle windshields, and the Plexiglas dome of a gymnasium. As a result, firefighters needed to intervene on more than 500 occasions to help cover damaged roofs. In Jaligny-sur-Besbre, Thionne and Saint-See in Allier, firefighters were called 145 times, mainly to assist with roof coverings.
On Wednesday, Gevrey-Chambertin, south of Dijon in Côte-d'Or and to the north of the Pays de la Loire, was heavily inundated.  Hailstorms hit Lyon in Rhône, causing a temperature drop of 20°C. However, the most violent hailstorm hit the Loire communities of Roanne, Perreux, Montbrison and Coteau, with concomitant flooding. Coteau was especially hard hit, with its town hall, the Pierre de Coubertin hall, and the Amicale laïque building all suffering substantial damage. Moreover, the glass roof of Autour du linge was broken, leading to water damage and road closures. Motor vehicle damage also occurred. Firefighters carried out 466 interventions in Roanne and its outskirts to assist residents with roof coverings. The Lyon airport in Rhône-Alpes has 64 millimetres of rain, and the town of Mayenne in the department of Mayenne had 89 millimetres.
On Thursday, the southeast department of Isère in the Auvergne-Rhône-Alpes region experienced hailstones and floods. In addition, the southwest departments of Gers and Lot-et-Garonne were seriously flooded. In the city of Agen in Lot-et-Garonne, 40.4 millimetres of rainfall occurred in one hour. As a result, several schools and stores needed to close because they took on water. Some roads were impassable, and the grand hall of Les Montreurs d'Images was flooded, and closed indefinitely. Agen was impacted by the extreme flood of 8-9 September 2021, and certain properties were affected a second time in this storm. Apparently, two additional drains and evacuation grids installed after last year's event were insufficient to stop the new flooding.
On Friday, the department of Herault was affected, with notable damage to vineyards on the estate of the Château de Lancyre in Pic Saint Loup. Furthermore, the capital city, Montpelier, was not spared by the hailstorm, and there were reports of heavy rainfall in the south: 32 millimetres in 30 minutes at Aigues-Mortes in Gard, 29.6 millimetres in 24 minutes at Narbonne in Aude, and 20.9 millimetres in less than an hour at Mallemore in Bouches-du-Rhône.
Over the weekend, golf-ball-sized hailstones fell on the Territory of Belfort and neighboring Vosges from Saturday night to Sunday. The next day, 5-8 centimetre-sized hailstones impacted the Alsace area. In Bas-Rhin, hailstones damaged vehicles and buildings in Strasbourg, Villé and Saint-Martin, flooding closed the Schirmeck tunnel, and firefighters were called to assist with roof coverings. In Haut-Rhin, firefighters intervened to help drain flooded basements.
Germany

On Monday, 20 June, severe storms passed through parts of Swabia, and Upper and Lower Bavaria. The town of Moosburg an der Isar and its surrounding communities were particularly affected. A falling tree killed a cyclist in the district of Freising. Other people were injured. In the Moosburg area, there was a power outage that lasted for hours, affecting thousands of households. Train traffic was also disrupted due to damage to the overhead line or trees blocking the tracks. In the south of the district of Augsburg, the storm uprooted numerous trees, tore down power and telephone lines. Cellars and streets were flooded because of the heavy rain. The storm moved from Scherstetten via Konradshofen, Klimmach and then west of Schwabmünchen to Großaitingen, where it caused the most damage. According to the police, a dozen fallen trees were also reported in Lower Bavaria. The southwestern district of Landshut was particularly affected by fallen trees partially blocking the roadways, and damaged roofs. In the district of Rottal-Inn, there were reports of fallen trees and flooded cellars. Also, a few small streams overflowed. In Munich, the district of Bogenhausen suffered a power outage.
Switzerland
Several distinct parts of Switzerland were hit by severe thunderstorms between 21-24 June. Lightning, hailstones (golf-ball-sized in some locations), wind gusts up to >100 km/h, and heavy rain (up to 100 millimetres in one day) were reported across different regions. In Zurich, a scaffold was torn off a building by the violent storm and landed on tram tracks; two buildings were damaged by lightning in Winterthur; and numerous cellars were flooded in the cantons of Aargau and Solothurn. There were also reports of fallen trees or construction site barriers. At Zurich Airport, aircraft were temporarily unable to take off and land.
Hailstorms and heavy rain also caused significant damage to agricultural crops, mainly in the cantons of Geneva, Vaud, Jura, Bern, Lucerne, Aargau, Zurich, Schaffhausen and Thurgau. As of 23 June, Swiss Hail expected more than 1,200 claims, with an estimated damage to insured crops around CHF 6 million.
Austria
Strong thunderstorms passed through parts of Austria on 20 June, causing heavy rain, storms and hailstones approaching the size of golf balls, some of which caused severe damage. Initially, Salzburg and Upper Austria were most affected by the storms. In the afternoon, the storm moved on to Styria. Also large parts of Carinthia were hit. The districts of Spittal, Hermagor, Villach-Land and Wolfsberg were particularly affected. In Lavanttal, one village was flooded. The hail, heavy rainfall and the storm caused damage to agriculture in Upper Austria, Styria and Carinthia. Around 22,500 hectares of agricultural land were affected, mainly in Upper Austria. Experts estimate the total damage at more than EUR 6 million.
Physical Discussion of Meteorological Conditions

During May and June 2022, parts of Europe were affected by intense heatwaves and repeated occurrence of regions of low pressure. These conditions resulted in atmospheric instability conducive to severe thunderstorms.

At least 3 intense storm outbreaks affected France between mid-May and the end of June. In the month of June 2022, more than 190,000 lightning strikes occurred.
Between 18 and 26 June, storm activity was intense, particularly for hailstorms. The storms ended a heatwave, which arrived earlier (15 June) than ever recorded, with recordkeeping begun in 1947.
Several storms–Ophelia, Petra, Qiara and Roberta–travelled close to France during this period, but Qiara, a storm named by the German meteorological institute, played a crucial role. Qiara was located near Portugal on 18 and 19 June and approached the heatwave in France. This resulted in a major thermal shock between the warm air that was hovering over the country and the fresh air from higher altitudes carried by this cut-off low pressure system. This resulted in instability and triggered convective storms.
For 4 days, from 19 to 22 June, Qiara was stuck between 2 high pressure systems close to the Atlantic coast. This resulted in several hailstorms with hailstones of significant sizes (up to 13 centimetres and frequently above 5 centimetres, in Vic-en-Bigorre). The storm moved to the east on 23 and 24 June, causing heavy thunderstorms in the south and the eastern areas of France.

On 26 June, upstream of Rebecca, new supercell thunderstorms with destructive hail broke out near the eastern and north-eastern borders of France and caused additional damage.
Figure 2: Hail Footprint (18 - 26 June, 2022)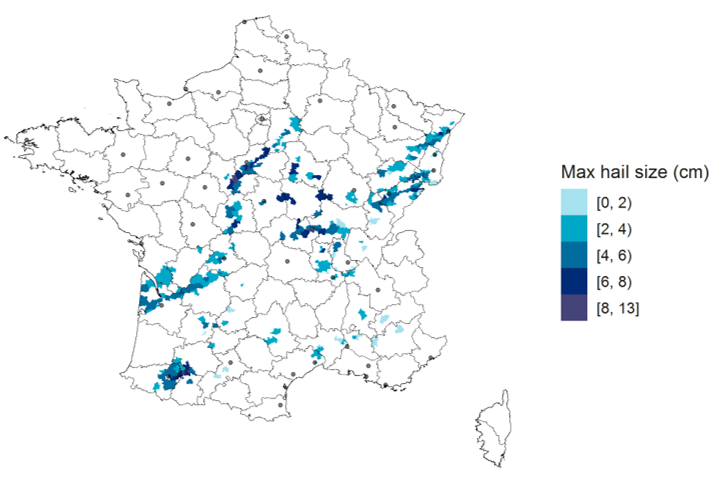 Source: Guy Carpenter
Historical Severe Thunderstorm Losses
The France Assureurs (FA) estimated the overall cost of Ela at EUR 850 million for 363,000 claims in 2014. This was the most expensive hail event to occur since FA began providing loss statistics. The year 2014 alone accounted for nearly a quarter of all hail losses between 1990 and 2015.
To put the current event in perspective, a table of recent severe thunderstorm events is presented below:
Table 2: Severe Thunderstorm in Recent Years in France

Sources: France Assureurs, Le Point, France Bleu, Guy Carpenter
This latest series of severe thunderstorms has the potential of surpassing Ela in claims. Together with the thunderstorms in mid-May and early June of this year (refer to earlier Guy Carpenter report), 2022 may be the record year for claims from severe thunderstorms.  The impact is on property, motor vehicles and crops. The wine industry, an important economic contributor to agricultural revenue, will see losses in domestic sales, exports and tourism, as it suffers material losses from the latest event.
Climate Change
June 2022 was a particularly active month for hailstorms in France, with several hail events and large-sized hailstones. This activity was associated with a heatwave that was unusually intense for early summer. Individual events cannot be directly attributed to climate change. However, model simulations indicate that the changing climate will increase the likelihood of heatwaves and conditions such as those seen this spring, which enabled severe thunderstorms to develop.
Future climate projections are typically conducted using global and regional climate models, run at relatively coarse resolution for long periods. This means that small-scale thunderstorm or hail events cannot be represented directly in these models, and projections rely on the proxy relationships between large-scale atmospheric patterns and small-scale weather events.
In addition, various atmospheric and oceanographic mechanisms are affected by climate change in a multiplicity of ways that do not all push in the same direction simultaneously. Consequently, the future impact of climate change on thunderstorms and hail events is difficult to forecast with a reasonable degree of accuracy.
Nevertheless, there is some agreement that climate change is likely to increase low level moisture and instability, thereby fostering environments conducive to severe thunderstorms (Raupach et al., 2021[1]; Allen 2018[2]; Púčik et al., 2017[3]; Rädler et al., 2019[4]). Regional climate model simulations project an increase in the frequency of lightning, large hail and straight-line wind throughout most of Europe by 2100 (Rädler et al., 2019), with short-term changes likely to be dominated by natural variability. The challenges of modelling the future impacts of climate change on hail and straight-line wind, result in significant uncertainty in future projections, particularly in the near future.
Sources: InsuranceERM, Keraunos, Le Parisien, France3, France Bleu, Sud Ouest, L'Indépendant, Le Progrès, Le Monde, Midi Libre, Météorage, Institut für Meteorologie of Freie Universität Berlin, Mission Risques Naturels, France Assureurs, Le Point, Bayerischer Rundfunk, blue News, SRF Schweizer Radio und Fernsehen, t-online.Nachrichten für Deutschland, Schweizer Hagel, Kronen Zeitung
[1] Raupach, T.H., Martius, O., Allen, J.T. et al., 2021. The effects of climate change on hailstorms. Nat Rev Earth Environ 2, 213–226 (2021).

[2] Allen, J.  (2018, July 30). Climate Change and Severe Thunderstorms. Oxford Research Encyclopedia of Climate Science. Retrieved 20 Apr. 2021, from https://oxfordre.com/climatescience/view/10.1093/acrefore/9780190228620.001.0001/acrefore-9780190228620-e-62.
[3] Púčik, T., Groenemeijer, P., Rädler, A.T., Tijssen, L., Nikulin, G., Prein, A.F., van Meijgaard, E., Fealy, R., Jacob, D. and Teichmann, C., 2017. Future changes in European severe convection environments in a regional climate model ensemble. Journal of Climate, 30(17), pp. 6771-6794.
[4] Rädler, A.T., Groenemeijer, P.H., Faust, E. et al., 2019. Frequency of severe thunderstorms across Europe expected to increase in the 21st century due to rising instability. npj Clim Atmos Sci 2, 30 (2019).